William Kentridge, Rose Shakinovsky and Claire Gavronsky were at DKW at Arts on Main, in February 2011 to handpaint and sign their collaborative prints that were started in 2009. Jillian Ross, at the AOM DKW only recently has been able to print them and as Shakinovsky and Gavronsky are in South Africa for the next month or two, the prints can finally be editioned and signed.
Expectant Fluid was created collaboratively at the Nirox Foundation, in February 2009, by William Kentridge, Rose Shakinovsky and Claire Gavronsky. At the time, Shakinovsky and Gavronsky were artists in residence. Each of the three artists drew a self-portrait from their reflections on the copper plate. There are two portraits of Kentridge; one drawn by him and the other was done by Gavronsky.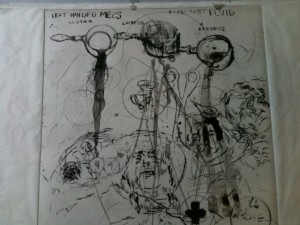 Above each of the three artists' portraits there are three pots pouring liquid – expectant fluid – that correlate with the words Clotho, Lachesis and Atropos. These are the names of three sisters, from Greek mythology, who each deal with controlling people's lives from birth, life expectancy and death. The circle under the first pot represents life, while the scissors underneath the third pot represents death.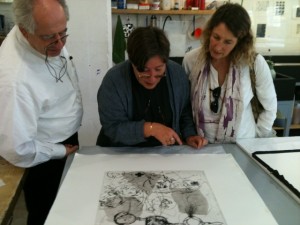 The last collaborative artwork the three artists did together was History of Art (2005). The print, much like Expectant Fluid, is based on Kentridge, Gavronsky and Shakinovsky's views of the history of art. They sat and discussed who was important in art and who influenced them. The print includes references to Cézanne, Picasso and Rauschenberg.
Shakinovsy and Gavronsky will be staying at the Nirox Foundation for a few weeks in March. During this time Gavronsky will be handpainting two editions that were printed at DKW last year.