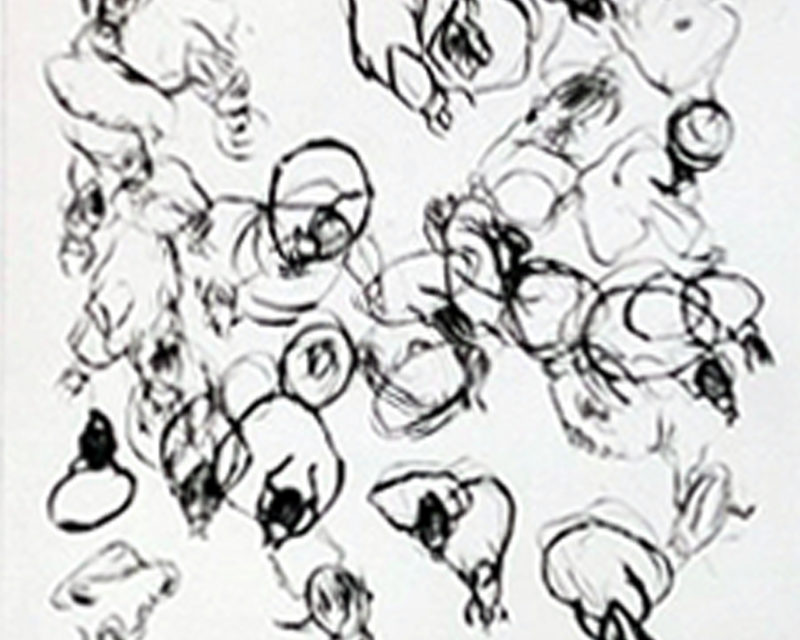 Claire Gavonsky and Rose Shakinovsky are fellow artists collaborating under the name Rosenclaire. They are based in Italy, where they have established an international artist's residency workshop in Tuscany. They frequently visit South Africa to discuss and create artworks with William Kentridge, who through the print medium is the third component of the collaborative team. They have been creating collaborations at David Krut Print Workshop in Johannesburg since 2004.
Expectant Fluid was created collaboratively at the Nirox Foundation, in February 2009. Each of the three artists drew a self-portrait from their reflections on the copper plate. Above the three artists' portraits are pots pouring liquid – expectant fluid – that correlate with the words Clotho, Lachesis and Atropos. These are the names of three sisters, from Greek mythology, who each deal with controlling people's lives from birth, life expectancy and death. The circle under the first pot represents life, while the scissors underneath the third pot represents death.
The process and the close interaction between the artists played an active role in the creating of Expectant Fluid. Interlaced within the portraits and symbolism are various other references shared and understood by the three artists. Other editions created through this collaboration include Lesheba (2005), History of Art (2005) and another new work in progress for release in the coming months.