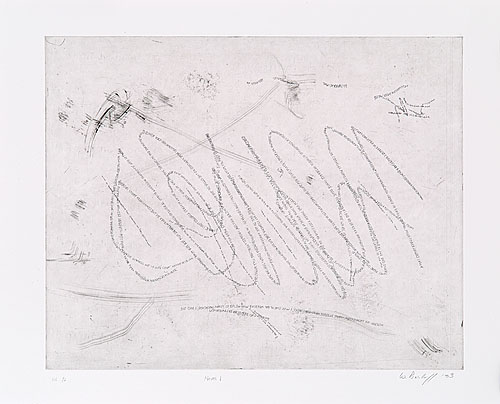 Willem Boshoff's relationship with David Krut extends back to the early 1980s, around the time of his exhibition at the Natalie Knight Gallery in Johannesburg, with artist Joe Tilson who had work published by David Krut on show.  The first work by Willem Boshoff published by David Krut was a sculptural multiple called Seven Pillars of Justice (1997). Since then he has also printed the etchings Neves I and II (2003) and David Krut Publishing has produced a TAXI book on Boshoff, in 2005, with the text by renowned South African writer, Ivan Vladslavic. In 2007, David Krut collaborated with Boshoff on the editioning of a linocut featuring a tree, created by Boshoff in 1976. In 2008 Highveld was created and finally published in 2010 for his show Big Druid in His Cubicle at Arts on Main in Johannesburg.
More information on Neves I and II.
Willem Boshoff as the Big Druid.
Willem Boshoff studied at the Johannesburg College of Art, from 1970 to 1974. His qualifications from the Technikon Witwatersrand include a National Art Teacher's Diploma (1980), a National Higher Diploma in Fine Art, specialising in printmaking (1984) and a Masters Diploma in Technology in Fine Art (Sculpture). In 1982 and 1993, he visited various countries, including Austria, Germany, England, Wales and Scotland, to further his studies.
Boshoff is a conceptual, multi-media artist whose art deals with the play between the verbal and the visual. From a prolific career, spanning three decades, he has produced idiosyncratic dictionaries, intricately crafted wooden sculptures, detailed prints and monumental works in stone, to name a few. The persistent thread throughout Boshoff's body of work is an interest in language, books, communication, music, divination and nature.
The first dictionary that Boshoff compiled was the Dictionary of Colour in 1977. After that, he expanded his research and wrote a Dictionary of Perplexing English, a Dictionary of Manias and Phobias, a Dictionary of Morphology, a Dictionary of –ologies and –isms, a Dictionary of Beasts and Demons, a Dictionary of Winds, as well as a Dictionary of Obscure Financial Terms.
He has researched hundreds of dictionaries and traveled the length and breadth of South Africa gathering data and samples of wood, soil, seed and stone. He has visited botanical gardens around the world to gather knowledge of some thirty thousand plant species. His more challenging works like The Blind Alphabet, which addresses blind 'viewers', and Writing in the Sand, which seeks to open a dialogue between speakers of different languages, show his interest in the diversity as well as the limitations of language.
In 2009, Boshoff moved into a custom-made gallery space, where he lived for the duration of the Basel Art Fair as the "Big Druid". This was followed by a second exhibition, Big Druid in His Cubicle, at Arts on Main in 2010. Boshoff moved into the Nirox Projects gallery as a part of the Goodman Gallery exhibition In Context. Many of Boshoff's sculptures and prints were on show in the gallery, including the etching Highveld. During this time he conducted his "Druid Walks" along Main Reef Road, documenting the surroundings and, at the same time, compiling his latest dictionary What Every Druid Should Know.
Boshoff explains that a druid is a healer, diviner and teacher as well as a man of the trees and plants.The name itself relates to trees; in Greek drus is 'tree' or 'oak tree'[1]. As the Big Druid, it is his duty to know and recognise all trees and plants. Over a period of seventeen years of Druid Walks, Boshoff studied and identified tens of thousands of plant species. This knowledge culminated in the works Garden of Words, an installation at the Kirstenbosch Gardens in Cape Town (2007), and House of Herbs, a home in Sasolburg with architectural facades displaying the names of all the herbs and plants found in the Highveld. Similarly, Highveld is an etching that lists every known tree and plant found on the Highveld.
When talking about his reasons for focusing so much on the flora of this particular region, Boshoff states, "This is where I was born and I like it more than any place on earth."[2] Although he exhibits extensively abroad, Boshoff continues to work from his studio at his home in Johannesburg.
---
[2] W. H. A. Boshoff, Interview held at the artist's studio, Kensington, Johannesburg, July 2010.