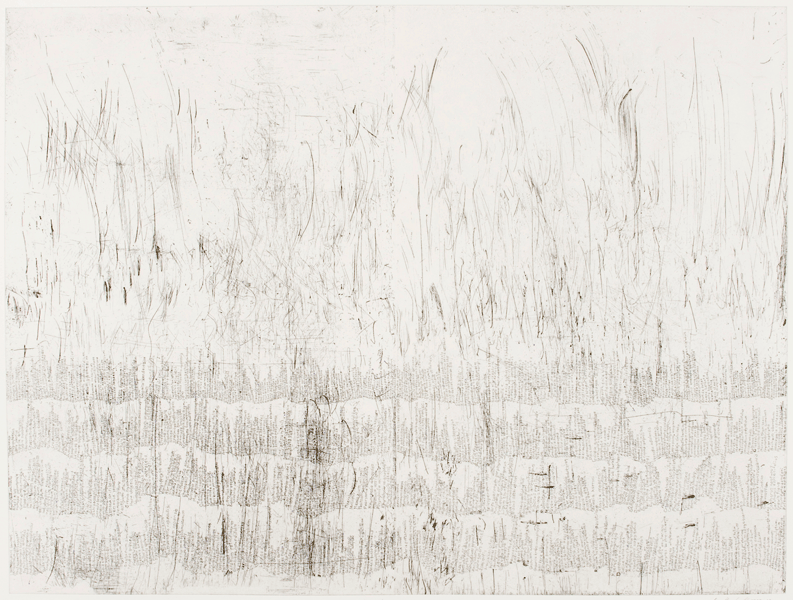 Artist Willem Boshoff began working on his Highveld etchings in 2008, and finally published in 2010 for his show Big Druid in His Cubicle at Arts on Main in Johannesburg.
Boshoff explains that a druid is a healer, diviner and teacher as well as a man of the trees and plants. The name itself relates to trees; in Greek drus is 'tree' or 'oak tree'. As the Big Druid, it is his duty to know and recognise all trees and plants. Over a period of seventeen years of Druid Walks, Boshoff studied and identified tens of thousands of plant species. In his etching  Highveld, Boshoff  lists every known tree and plant found on the Highveld. Although Johannesburg is known for its abundance of trees, the Highveld on which the city was built is a grassland area with no naturally occurring trees.
When talking about his reasons for focusing so much on the flora of this particular region, Boshoff states, "This is where I was born and I like it more than any place on earth." Although he exhibits extensively abroad, Boshoff continues to work from his studio at his home in Johannesburg.
Artist:
---
Title:
Highveld
---
More about:
---
Year:
---
Artwork Category::
---
Media & Techniques:
---
Printer:
---
Edition Size:
25
---
Sheet Height:
91.5 cm
---
Sheet Width:
120.5 cm
---
Availability:
Available
---
Framing:
Unframed
---