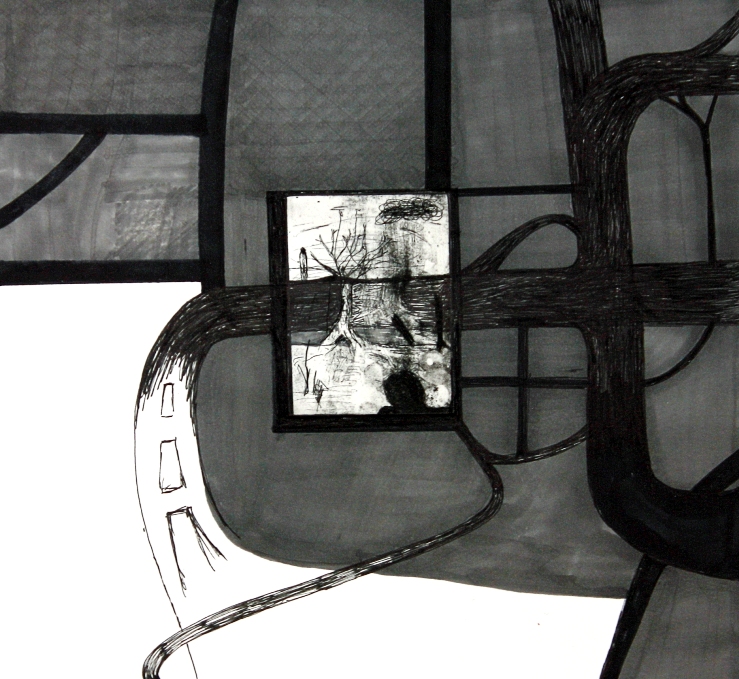 Collaboration History
Alexandra Makhlouf started at David Krut Workshop (DKW) as the artist-in-residence in June 2010, creating small-scale experimental drawings in the front of the workshop.
Makhlouf was of one of the artists in the DKW Monotype Project exhibition in October 2010.
Makhlouf also took part in the group exhibitions Inch x Inch in 2016 and A Piece of Work in 2017-18, both at David Krut Projects.
Biography
Alexandra Makhlouf was born in 1987 completed her BA Fine Art at Wits University in 2009.
She says that she needs to listen to something while she works as it informs the subject matter of her artwork. She doesn't listen to her favourite tracks or even emotive background music to set the mood, as one might expect. Her choice of audio material consists of media tribunals and audio books such as the dystopian Fahrenheit 451 by Ray Brandbury. Her works are also very personal, drawing on her own emotions and experiences.
Another major influence for Alexandra is Surrealism, especially during the time that she was working on her dry point and spit bite prints. "It's a juxtaposition of random things" she says. In the same way, her work became a layering and juxtaposing of various stories and information. She tried to capture the importance of the stories she was reading at the time and to give them a place in the images that she was creating.
Interview with David Krut and Alexandra Makhlouf at the David Krut Workshop in 2010