MONOTYPE PROJECT (2010)
Monotype Project was established at David Krut Print Workshop (DKW) as a means of exposing artists and to give them an opportunity to collaborate with a professional printmaker, in a dynamic and vibrant environment. The project workshops were launched on the 16th July 2010.
DKW is an experimental intaglio printmaking workshop with project spaces in Johannesburg, Cape Town and New York. The workshop was established in Parkwood, Johannesburg in 2002, and the project space opened in March 2007 to exhibit work from DKW and to provide a venue for collaboration between artists and both local and international printmakers. A second workshop was opened at Arts on Main in the east of the city in January 2010.
Artists:
Printers:
Niall Bingham
Mlungisi Kongisa
Khehla Chepape Makgato
Jillian Ross
­­What is a Monotype?
Monotypes are one-of-a-kind prints. They have been known to be called the "painterly print" as well as the "printer's painting". Monotype brings together elements of painting, drawing and printmaking. The words monotype and monoprint are often used interchangeably; however, there is a difference. A monoprint may use some form of repeatable layer or element in the production of the image, whereas a monotype is a completely unique image that is not repeated.
Working on an unarticulated surface or plate, the artist applies a layer of ink, which is then wiped off in sections, in order to create an image in a reductive fashion. The ink can also be applied directly to the surface in an additive fashion, much like a painting or drawing. The image is put through the press and transferred from the plate onto a piece of paper. There is then the added option of drawing into the print once it has dried, or to add further physical layers, such as chine collé (a collage element, usually thin paper).
The Artists
Frederick Clarke is a young artist living and working in Johannesburg. After schooling in Pretoria he completed a BA Fine Arts degree, with a major in English Literature at the University of Witwatersrand, in 2007. During university he exhibited in several student group shows, as well as a solo at the WITS Substation space. The exhibition entitled Terrestria was his first public solo exhibition, in March 2010.
Clarke draws his images directly onto the Perspex in bold, simplified lines, inspired by Japanese ink drawings. Using a combination of the additive and reductive methods, he adds layers of colour and texture around the images on separate plates. His images are often humorous. Clarke spoke about how he has been matching up "animal anthropomorphic types" to create death-match scenes between animals, with humans as the spectators. He went on to describe how animals can be used to represent so much: a pig, for example, can represent laziness, gluttony and greed, while a swan represents beauty and grace. "There is a freedom in using animals instead of people, they signify more."
When talking about his time spent at DKW working on his monotypes he says, "Every work environment contains an inevitable stimulus of its own, especially when it comes to creating art. In the case of David Krut Projects, both workshops created an atmosphere that allowed the creative process to flow. These studios are professional environments of sharing, learning and growing. Dialogue I feel is an important part of this printing process, even in a limited capacity. Being around people while making the prints was important, because it kept me focused throughout, whereas a solitary venture, which is also important, can often end in a whirlpool of stagnant thought. I like to remain as flexible and open-minded as possible."
Books are also important to Clarke. He says, "Both workshops, Jan Smuts and Arts on Main, are in close proximity to their respective bookshops, which I found somehow added another element of collaboration." He commented on how being aware of the volume of artists and the different perspectives on the medium of printmaking added value to the experience of the project.
Alexandra Makhlouf started at DKW as the artist in residence in June 2010, creating small-scale experimental drawings in the front of the workshop. Naturally, she became more involved in the printing process of the workshop and began making multiples of miniature etchings which she then drew on and transformed into individual artworks. These later progressed into larger monotypes. She says "I started off with three base images of which multiples were made. Each of the drawings looks almost completely different from the other and in a strange sense I became an author imagining her characters in different situations, manipulating, moving, erasing and adding until they inhabited an entropic mélange of fragmented narratives."
The workshop also began to inform her subject matter on a daily basis. She says "You become aware of the way images entrench themselves in your consciousness. Their silence is really powerful. The way they etch themselves into your thoughts is so surreptitious and so silent that you don't even know that it's happening. My experience of this was in a monotype created in reaction to the proposed Media Appeals Tribunal and Protection of Information Bill where, without my knowing, one of William Kentridge's horses made its way into the image. This was after I had seen his recent Nose: Thirty Etchings exhibition in the gallery space a few weeks before." The irony was not lost on an artist whose work deals a lot with the freedom of thought, particularly in literature.
For Makhlouf, the constant interaction and conversation she had within the bookstore and workshop was valuable. She says, "There are endless things to learn about art, printing and books everyday. Working at David Krut Print Workshop is a public platform not only for interesting art but for the constant visitors streaming in and out all day. These vary from curious book browsers to artists and art buyers, to pilots. They become the blood rushing through the veins of this place, making it live with their active looking and debating."
Maja Maljević was born in Belgrade, Serbia. In 1992 she graduated from the School of Design in the department of Graphic Design and, in 1997, she completed her Master of Art in the field of painting from the Faculty of Fine Art at the University of Arts, in Belgrade. Due to political unrest Maljević, like many Yugoslavians at the time, left the country to come to South Africa. In 2000 she joined her brother and cousin in Johannesburg.
Maljević first participated in a workshop at DKW in 2007 and since then has created several bodies of work with the DKW printers. In 2009 she had a solo exhibition at David Krut Projects in Johannesburg, called Into the Spine and she has worked at the Arts on Main workshop since the Monotype Project began. Maljević uses spit bite etching to tone down the 'whiteness' of the paper and then builds up layers of colour and marks through monotype and etching. She says, "In other prints, the idea of layering was explored by printing onto both sides of a translucent sheet of paper. This allowed for a composite image to develop where one is able to read the 'reverse' print through the print on the front side of the paper. As a matter of course, I tried to incorporate any mishaps, mistakes and leftovers into my working process."
Maljević makes use of bright colours, big strokes and thick layers of paint in her work. She cites Michelangelo as an important inspiration, though her jagged style has much more in common with the New York painter Jean-Michel Basquiat. However, it is rock music that truly inspires her. As a child of the nineties she was influenced by grunge, whose followers searched for despair in an era that pretended to shine with optimism. Her bright colours mix and resonate like distorted chords; and the melancholia is reflected in her characters. As a painter she says, "While some artists might question the value of monotypes and would prefer to produce works directly through drawing or painting, I have enjoyed the experience and tried to concentrate on the process of building and layering imagery"
Although this is not the first time she has worked at DKW, Maljević says, "I normally work alone and so I was excited to work with Jillian Ross again. I enjoy the collaborative aspect of printing and have often nagged Jill to introduce me to new techniques that I can play with. Basically, I always suspect that she has something up her sleeve – something new for me to work with or build my images around." She describes the workshop as a fantastic, vibey place with energy that you can feed off.
Vulindlela Nyoni was born in Chilimanzi, Zimbabwe in 1976 and attained a Bachelor of Arts in the Fine Arts from the then University of Natal in 1998 and a Masters in Fine Arts from the now University of KwaZulu-Natal in 2006. His Masters thesis was entitled "Representations of 'other' in selected South African artworks: Re-membering the black male body". He is currently working on a PhD in Visual Art and investigating themes around collaborative printmaking. Apart from being a practicing artist, Nyoni also lectures in Printmaking, Drawing, Digital imaging and Photography at the Centre for Visual Art, University of KwaZulu-Natal (Pietermaritzburg). His main interests lie in the politics of representation and self-representation as exploration of personal narrative through print media.
DKW printer Niall Bingham is his former student, which makes for an interesting dynamic in the collaborative process. Nyoni is interested in the dialogue that happens with the printer and the process and how they help him realise his work. Looking at the first stages of two monotypes that he had hung up on the wall during the workshop, he said, "These ones started with the idea of seeing and the idea of play." Even about the most basic interaction of the work being in the same space, with him looking at it and visa versa, is significant to his process. He talks about the relationships people have; relationships with one another, not just in relationships but in groups as well, and how to deal with the perceptions of others. The way people read and are read informs much of his work.
The composition of the print is made up of the relationship of one shape or form to another and another, and so on. He deals with the work in terms of the layers and the compositions. As a printer, Nyoni has a very real understanding of the surface and the process. He says "In terms of printmaking, you start with a concept, you take it somewhere, you hand it over to the technique and the technique takes it to the point of completion… The mistakes have to be negotiated and that's the interesting part."
A lot of Nyoni's work is composed of symbolic imagery of things in relation to one another on a flat surface. He says, "I see image-making as a language. I see images as words, paragraphs and stories." To him the experience of reading a story is quite different from one person to another. It's how you see it and that's how he feels about his own work when it is viewed by an audience. The viewer makes the sense of his visual narrative.
Daniel "Stompie" Selibe is a visual artist and musician who works extensively with outreach programmes in South Africa. Hence, his work draws from the notions of using the arts as a form of therapy. He trained at The Art Therapy Centre of Johannesburg in 2001 and this training has given him the tools to work with different people who have experienced many things ranging from abuse, rape and living with HIV. He also uses his skills to work with teenagers sharing his passion and talents for the arts.
When asked about the effect that his work has had on the groups he has worked with Selibe said, "You don't want to change people, you facilitate and understand where they are, and you meet them [there]. It's important not to give advice, not interrupt or to try and fix. You must allow someone to express themselves."
Selibe worked with DKW printer Niall Bingham on his monotypes, composing layers and textures through chine collé which is burnt and transformed, as well as embossing string onto the surface for added texture and feeling. He says "My own engagement with DKW has broadened my experimental processes and has contributed to changing my way of working. It has helped me to think differently, going beyond traditional printmaking principles. The collaboration I had with the printers has inspired me to not work isolated and inside a box."
Working with Niall Bingham was a good example of this. Selibe explains how the collaboration offered a unique way of seeing and making art, especially from the way that he is used to working in his own studio as a printmaker. The influences of Jazz music in his art became apparent in the way that he improvised and experimented with the ink and layering. He says, "The challenges of using new media helped me not only become familiar with a new medium but also introduced me to a structure of creating a new kind of print, such as the experimental monotypes. For me, it was a total pleasure to work within the David Krut Print Workshops."
Jessica Webster grew up near the mines of Durban Deep in Roodepoort, before relocating to Benoni. Webster obtained her BA Fine Arts degree from the Michaelis School of Art at the University of Cape Town. She completed her Masters in Fine Arts at the University of the Witwatersrand in 2009 with distinction. Webster's exhibition I Knew You In This Dark took place at David Krut Projects, Johannesburg in August 2009.
Webster works primarily with oil paint and wax. Her work is based on a material and theoretical investigation and understanding of the concept of trauma. She tries to negotiate the spaces where it is experienced physically and psychologically. Webster speaks of trauma as something that transcends our fabricated ideas of reality. The focus on mark-making is important to her. Technique is not as much of a priority as autographic mark making. Trauma is tangible, physical and real; it makes impressions and leaves marks.
Monotypes can be as varied in approach as the artist working on the print. Webster started by painting directly onto the plate, drawing from photographic stills of a nude model underwater, from a project she was using in her fourth year at university. She moved on to using her physical body to displace ink and create impressions on the surface of much bigger prints. She says, "Working in the David Krut studio has been a fascinating and fruitful experience. The possibilities for asserting surface in printmaking seem endless."
The experience of working in this environment seems to have affected her art in the way that she describes as "an area of interface for free flowing ideas and spontaneous gestures which has positively influenced my approach to art making in general." About working in collaboration with a printmaker, she says, "For me, this experience was largely due to the steady encouragement from Niall Bingham to let chance and even accident infuse the process. Niall's own open-minded approach, as well as his individual talent and skill, have played a critical role in the production of the work." It was a collaboration that she described as challenging yet rewarding.
The Printers
Niall Bingham grew up in KwaZulu-Natal, where he completed his BA Visual Arts, majoring in printmaking, in 2005 at the University of KwaZulu-Natal. During his time at the university, he was able to attend Kansai Gadai University in Japan, on an exchange programme. Bingham began his apprenticeship at DKW in 2006 where his main responsibility is intaglio and relief prints as well as monotypes. He has also begun teaching printmaking at WITS University a few days a week in 2010. Bingham has worked with Stompie Selibe, Jessica Webster, Vulindlela Nyoni and Alexandra Makhlouf on the Monotype Project.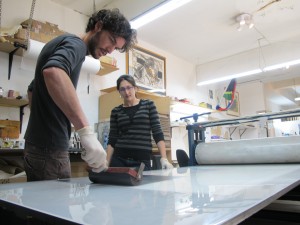 Niall Bingham and Alexandra Makhlouf
Mlungisi Kongisa was born and grew up in the Eastern Cape. In 1996, he relocated to Johanneburg to complete his schooling. He began working at DKW in 2004. He started working at the print workshop with the intention of broadening his skills in a number of areas. He soon began managing the hanging of the shows in the gallery and had started his apprenticeship as a printer in the workshop. Kongisa is now a printmaker on a number of projects and has begun to specialise in Letterpress printing, working on a machine donated to DKW in 2007 by Rhona Gorvy. Kongisa has worked with Fred Clarke and Maja Maljević on Monotype Project.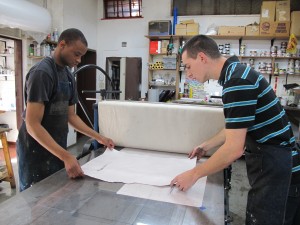 Mlungisi Kongisa working with Fred Clarke
Khehla Chepape Makgato assisted Nial Bingham on Vulindlela Nyoni's monotypes. Makgato started his internship at DKW, in February 2010, where his responsibilities included setting up and hanging of exhibitions. He is currently in his second year at the Artist Proof Studio in Newtown, Johannesburg. In addition to printmaking, Makgato is currently compiling an anthology of his own poems called Busy Jozi and he has collaborated with actress Grethe Fox on an artwork for charity in 2010.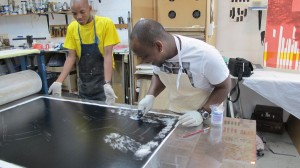 Chepape Makgato and Vulindlela Nyoni
Jillian Ross is the manager of DKW with the assistance of printers Mlungisi Kongisa and Niall Bingham. Ross grew up in Canada and, in 2002, graduated from the University of Saskatchewan with a BAFA. She began her apprenticeship at DKW in 2003, and was made Workshop Manager in 2005. In a few short years Ross has established herself as one of the foremost printmakers in South Africa, specialising in intaglio techniques and monotypes, while experimenting with pronto plates, carborundum, linocut and woodblock techniques. Ross worked with Maja Maljević on the Monotype Project.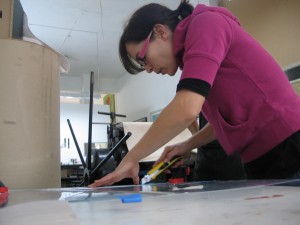 Ross, Kongisa and Bingham have worked with a number of different artists including William Kentridge, Diane Victor, David Koloane, Deborah Bell, Willem Boshoff, Colbert Mashile, Wilma Cruise, Ryan Arenson, Trasi Henen and others, creating bodies of work that are recognised for their technical excellence and originality. The workshop seeks to promote a dynamic and collaborative environment.