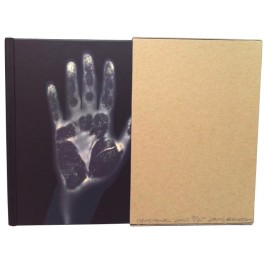 HandBook
20 x 25 cm
120 pgs
56 Images
Limited-Edition Artist Book and Print by Gary Schneider
HandBook is a print-on-demand artist book. It is the culmination of seventeen years of Schneider's commitment to making portraits of hands without the use of a camera. In this form, HandBook traces a unique thread that connects the literal hand of the subject and that of the artist to a book object produced via the apex of contemporary digital printing technologies. For Schneider— who in a former incarnation was known as a master of chemical darkroom printing—this adaptation of digital printing technologies earmarks a profound and telling shift in the contemporary arts and publishing arenas. This special limited-edition artist book is the culmination of one of the first collaborations between Aperture, a photographer (Schneider), and a print-on-demand press (Blurb).
HandBook is limited to twenty-five signed and numbered copies, accompanied by a signed and numbered print, presented in a slipcase.
Gary Schneider was born in 1954 in East London, South Africa. His work was the subject of a major exhibition that opened at Harvard University's Fogg Museum in February 2004, and incorporates his previously acclaimed solo exhibition, Genetic Self-Portrait, an artistic response to the Human Genome Project. He has shown extensively worldwide, including Museé d'Elysee, Lausanne, Switzerland; Museum of Fine Art, Houston, Texas; Whitney Museum of American Art, New York; and Museum of Contemporary Photography, Chicago, Illinois. He is represented by Stephen Daiter, Chicago; and Howard Yezerski Gallery, Boston. HandBook received a Photo Book Award Kassel 2009/2010.
http://www.aperture.org/handbook.html