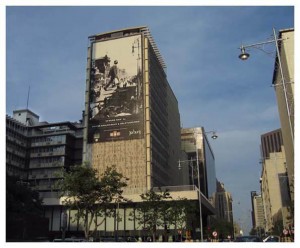 The creation of Jo'burg Man is the result of collaboration between photographer Dale Yudelman and artist Arlene Amaler-Raviv. It formed part of the exhibition 'One' which was shown at the Association for Visual Arts in Cape Town in 2000. The general theme of the show spoke about the power of the individual.
Jo'burg Man was selected as one of twenty artworks featured in the Johannesburg Art City Project and was reproduced to billboard size for display on the side of a building in downtown Johannesburg (Main Street / cnr Simmonds). The work also forms part of many private and corporate art collections in South Africa, Europe and the United States.
In the context of South Africa's recent history – Jo'burg Man celebrates the victory over injustices of the countries past.
"He strides with pride across the cityscape of Johannesburg at the turn of the twentieth century. He has toiled the soil, built our city and owns his own identity – An icon of contemporary man in a free South Africa." – Dale Yudelman –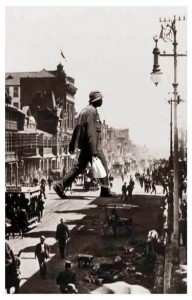 Jo'burg Man is available at David Krut Projects. For more information, please email [email protected]