Mary Wafer has recently returned from a trip to New York where, amongst many other things, she spent some time at RBPW with master printer Phil Sanders.  Since Sanders' first visit to DKW Johannesburg in 2008, he has worked collaboratively with various DKW artists, including Deborah Bell, Colbert Mashile and Maja Maljević.
In April this year, Wafer spent a couple of days in the New York workshop producing a series of twenty watercolour monotypes, entitled 'Black Ops'. She briefly explained that the title has to do with the security forces that perform special operations for the US army. During the time that she was in New York, it was reported that Osama Bin Laden had been shot and killed.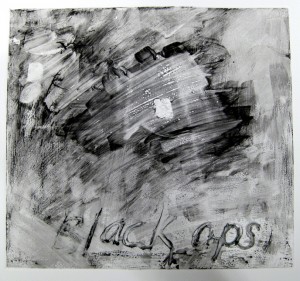 Wafer's time at RBPW was short but productive and the energy of New York City certainly provided he with enough raw material for a really interesting new body of work.  The prints will be exhibited in New York for the summer show this year.