Memory is Starlight | My Intimate Skies | Red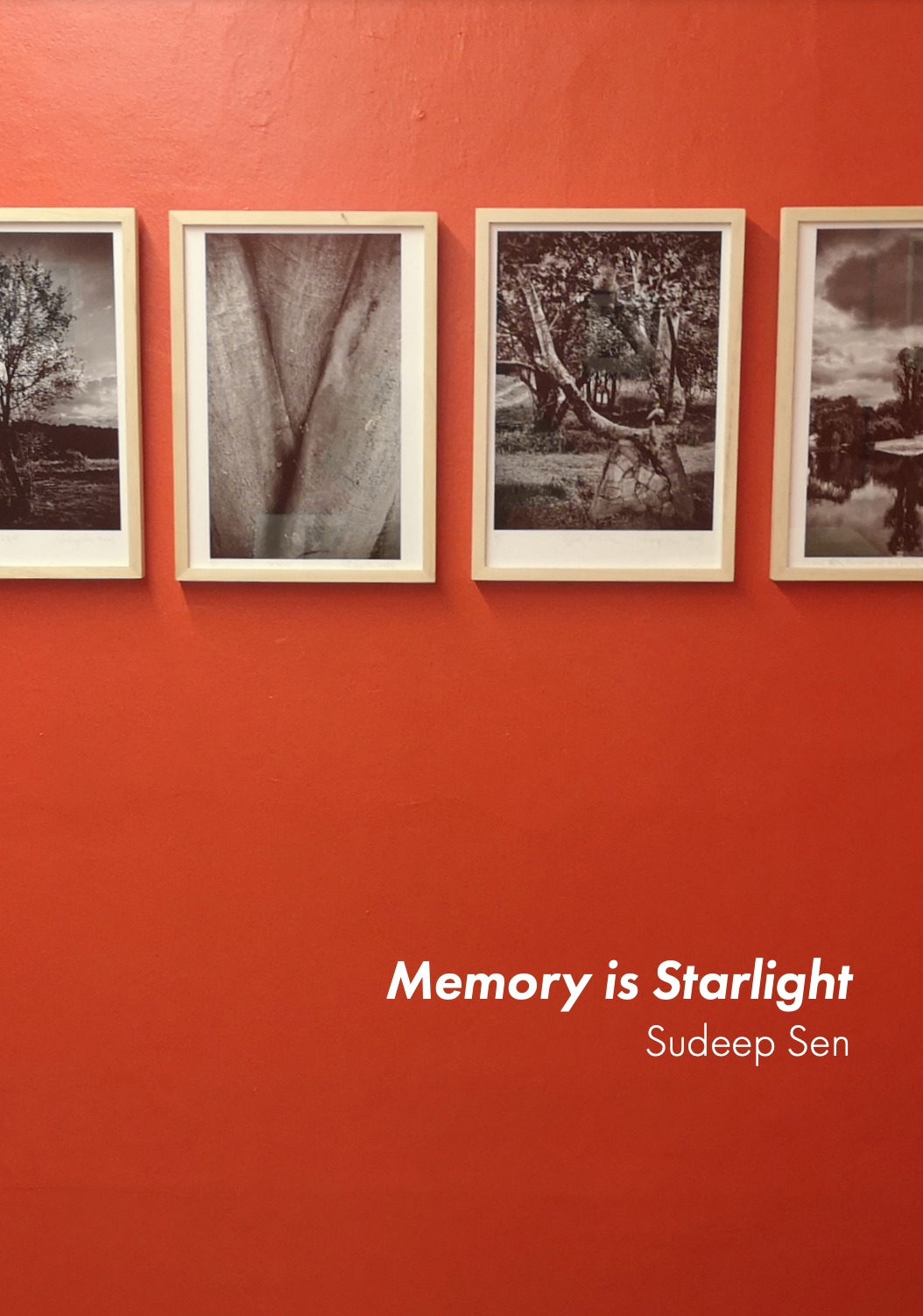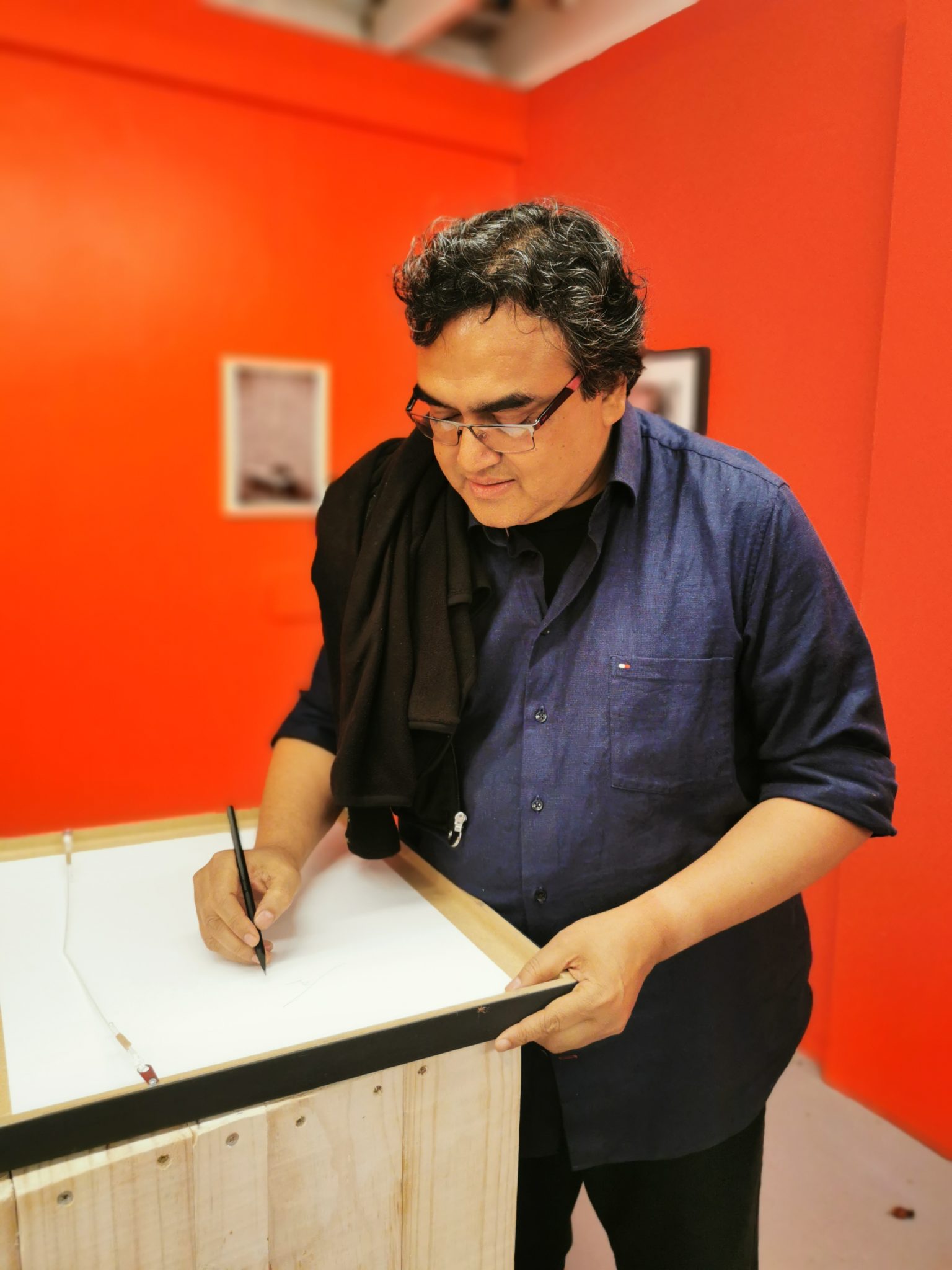 Pin-hole sharp rays, exact as chiselled diamond tips,
    glow in infinite lumens. In this sprawling crisp-dry 
Savannah highveld — these luminous eyes, light up
    my vast intimate skies, writing out terrestrial 
histories on an ever-shifting skyscape. Within  
   its private metaphors, this fossil-cradled terrain-dna 
refracts. The cosmic clockwork measures exactly, 
   each light-ray's frequency, wave-length and laser-
strength. It is astronomy's language, a slow charting 
   of celestial memory on granite-black backdrop — 
a plotted canvas, a maritime mapping of ocean's 
   unpredictable trade lanes. Memory is starlight.

— Sudeep Sen, 'My Intimate Skies' (from Red)
Memory is Starlight, an exhibition of art photography and lithographs, that opened at the 2023 Nirox WORDS Festival, marked the conclusion of Sudeep Sen's highly productive three-month fellowship as a writer/artist-in-residence at the NIROX Foundation. Having arrived on the 1st of March from New Delhi, Sen has spent his days engulfed in the rich historical landscape resulting in a body of work that extends itself across word, image and sound. The title of the exhibition is a line from his poem. 'My Intimate Skies' (see above) from his newly published book entitled Red. 
This exhibition is a curated selection of photography, lithographs (created in collaboration with Sbongiseni Khulu and David Krut Projects) and a soundscape from a CD, My Intimate Skies (a collaboration with the South African musician, Tubatsi Mpho Moloi). The presentation celebrates the inspiration given by the landscape, furthering the urgent debate on climate change, and the power of organic collaboration. 
Earlier at the Nirox Music Festival in April, Moloi and Senna-Marie did two short music-poetry collaborations too, 'Silence' and 'Shiuli' respectively. At an allied show at the WORDS Festival, 'Hoop / Hope' by Johan Thom takes its inspiration from Sudeep Sen's poem, ''Obituary'; and the following line acts as a leitmotif: "They were simply not names on a list / They were us". Johan and Sen earlier collaborated and presented a successful mixed-media show, 'Unhoused Memories' at the Javett Arts Centre at the University of Pretoria. 
Apart from his own individual work — collaboration has been a key feature of Sen's residency in South Africa. In May, Jill Richards, a Steinway Pianist, and Sen had presented an extraordinary one-hour performance duet, 'Aria Explodes, Word-Stained, Red-Etched' at her Johannesburg's Melville Studio. Jill responded to Sudeep's work with original creative compositions and studied improvisations along with the music of Kurtag Gyorgy. They are now working towards making a poetry-piano CD based on this performance. This invitation-only concert was attended by the city's who's who — the likes of Willem Boshoff (artist), Ivan Vladislavić (writer), Michael Titlestad (academic/critic) and many others of the literary and artistic world. It is here that David Krut first heard Sen's poetry live (and soon after witness to his outstanding photography) — which led him to invite him to his workshop to create lithographs from his powerful and evocative images.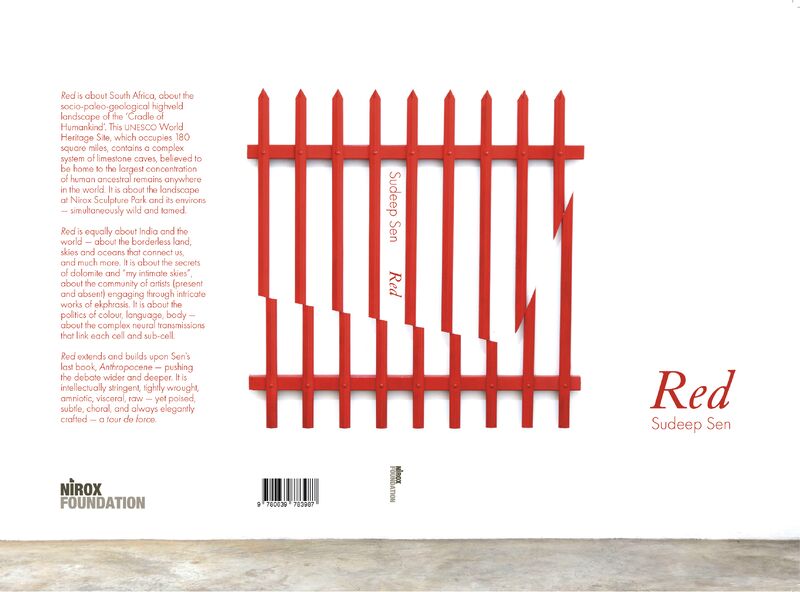 In his new book Red (which acts as a sequel to his prize-winning last book, Anthropocene), explores Sen's continued interest in the socio-paleo-geological context of the landscape. The work has largely been directed by the eco-topography of the 'Cradle of Humankind'; its inhabitants and its history. In his consideration of how this land is seen to be the nexus for us all, Sen equally considers how the natural and the cosmic connect us beyond borders.
Sen's inaugural source of inspiration, or in his words his 'welcoming gift', was his meeting with an installation created by artists, Mathias Weinfurther and Anna Boldt — a bright red fence, disjointed at its one end that stands stoically in the middle of the grass. The profound redundancy of this fence seems to epitomise Sen's interest in how the elements (human and not) should move freely within their environments, with the strong red hue only encouraging the ferocity of freedom. This meeting can be seen as the first instance of creative collaboration (despite not actually having met the artists in person) — after this, in Sen's mind, everything was red and everything was a connection. 
The book, Red, includes a collection of written pieces as well as a series of high contrast photographs of his surroundings at Nirox and beyond. Each of which relates back to his intense resonance with the colour red — the warm, rusty tones which are so familiar to the highveld. The images created by Sen, both textual and visual, experimental and abstract, are a creative and artistic documentation of his response. Sen is also Nirox's first artist to be part of the international Moleskine Foundation Collection.
During his three-months, Sudeep Sen ekphrastic work woven subtly with the ecological concerns of our times (pushing further the debate he urgently raised in his last book, Anthropocene). From this lens, he also responds to the works — of artists (such as Richard Long, William Kentridge, Richard Forbes, Driaan Claasen, Bruce Arnott, Sean Blem, Yoko Ono, Amine El Gotaibi, Hannalie Coetzee), geo-scientists (like Vincent Carruthers, author of Cradle of Life) and others — that span across the art-science creative disciplines. Another collaborative work featuring Sudeep Sen is a two-part film, 'Anthropocene to Red', made by Dilip Menon, Professor at University of Witwatersrand and Director for the Centre of Indian Studies in Africa.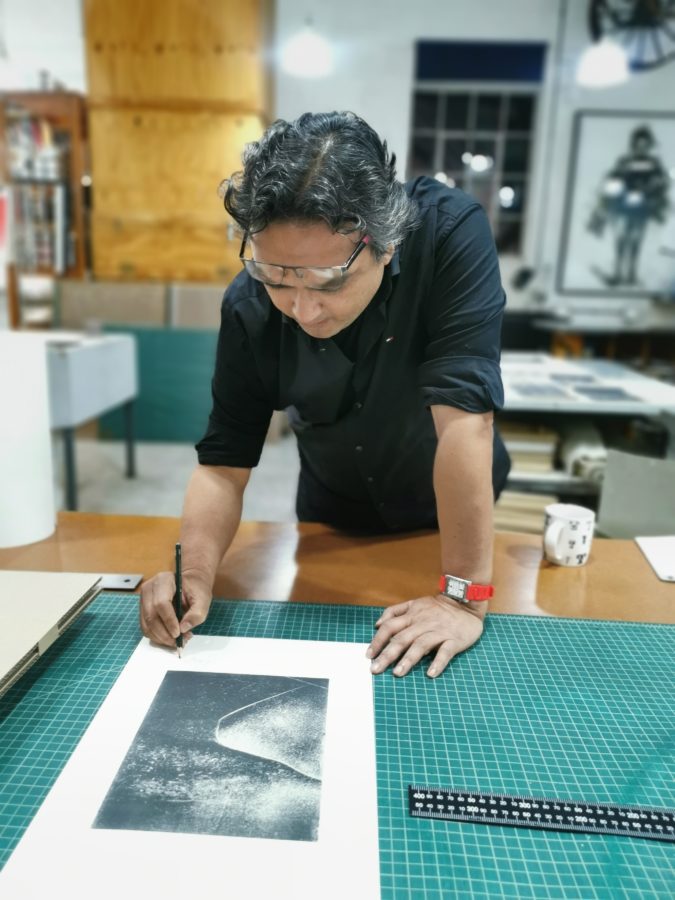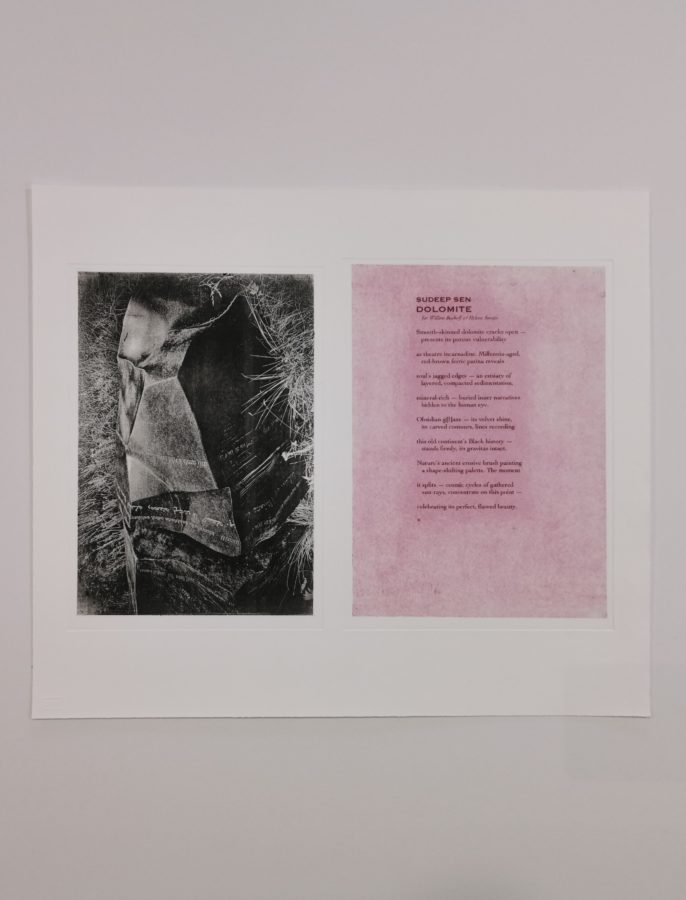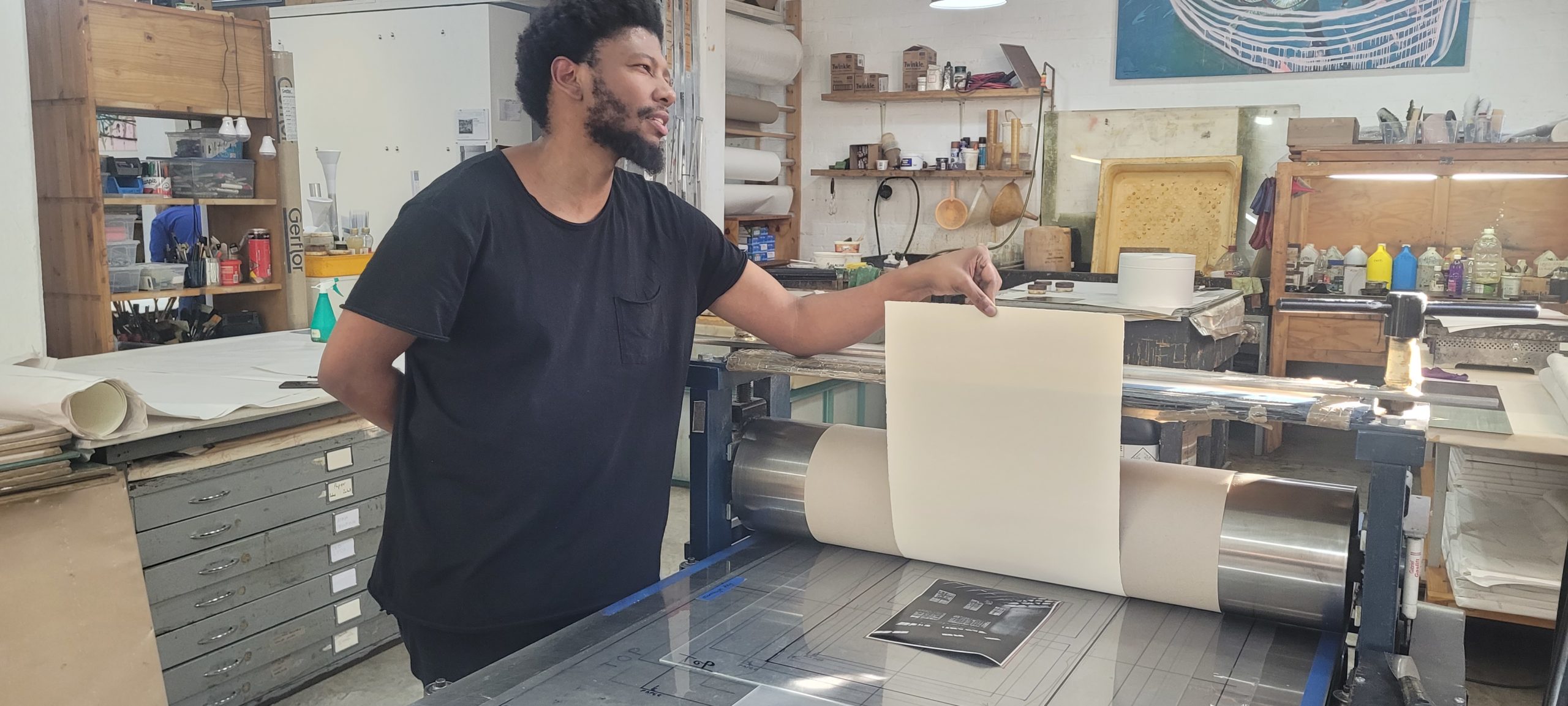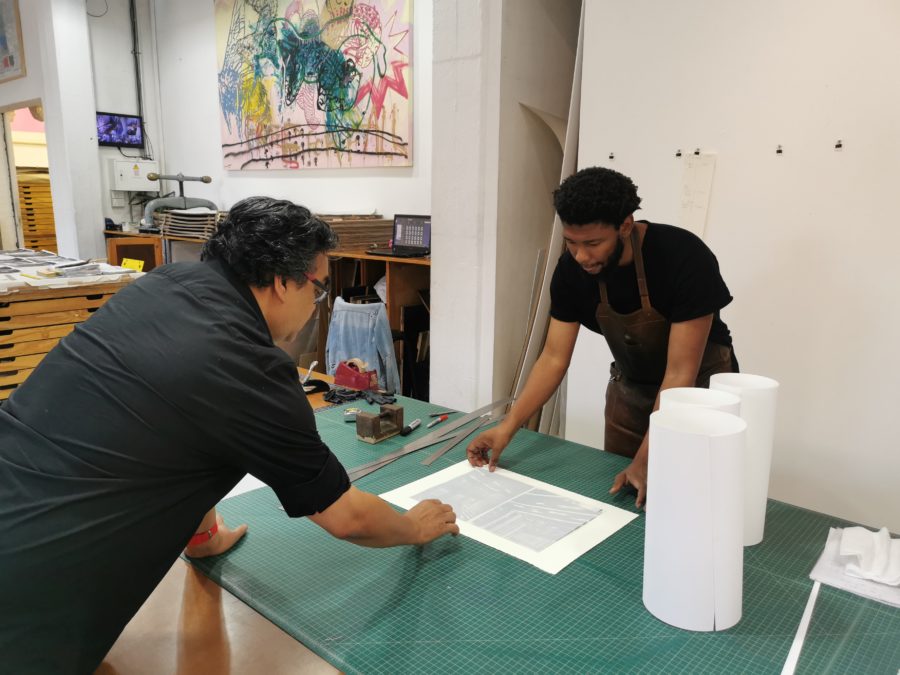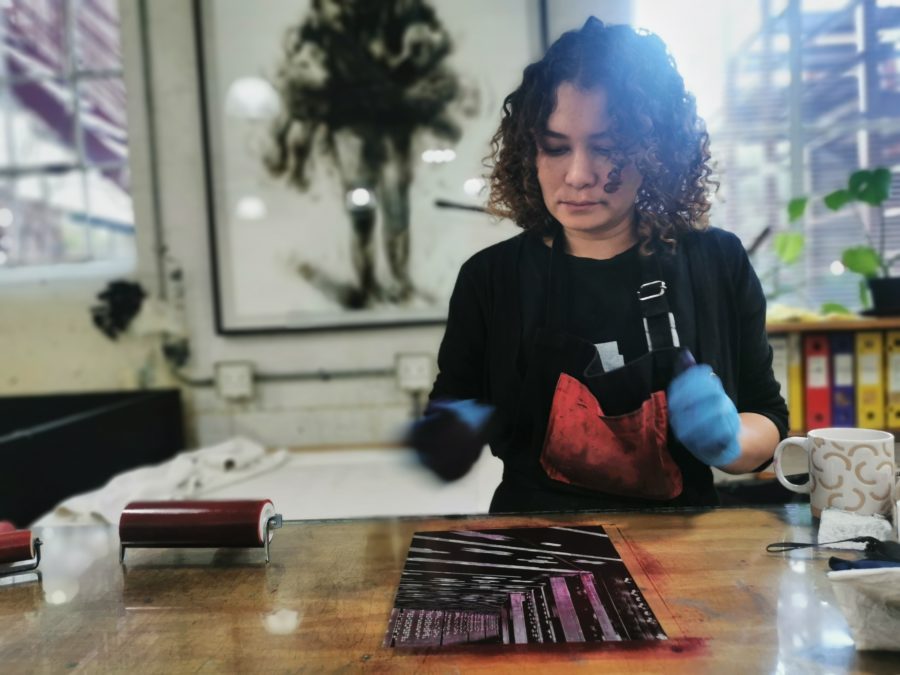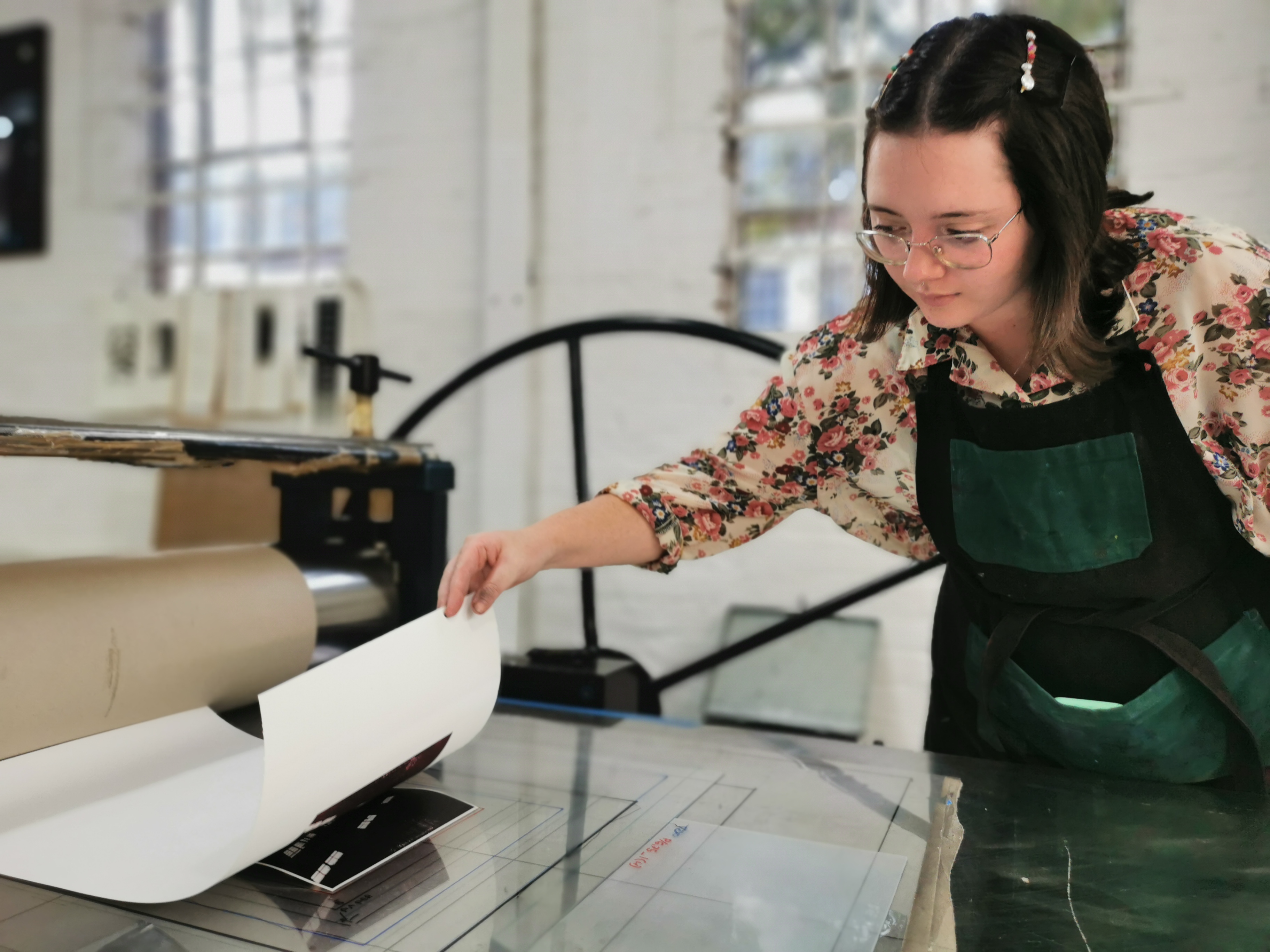 Metaphors of connection are further extended in practice within the series of lithographs that depict image and poetry alongside each other. Sen collaborated with printmaker Sbongiseni Khulu at the David Krut Workshop in transferring his photography and writing into an experimental space through the medium of printmaking. This new way of making transforms the quality of Sen's imagery into forms that are slightly less descriptive while allowing the viewer insight through the accompanying imagery of written excerpts from Red; namely the poems: 'My Intimate Skies' and 'Dolomite' (dedicated to Willem Boshoff), as well as the handwritten presentation of 'Two Birds'. Another notable transformation is the use of a moody magenta as opposed to red.
Smooth-skinned granite cracks open —
   presents its porous vulnerability 
as theatre incarnadine. Millennia-aged,
   red-brown ferric reveals
soul's jagged edges — an estuary of
   layered, compacted sedimentation, 
mineral-rich — buried inner narratives
   hidden to the human eye. 
Obsidian g[l]aze — its velvet shine, 
   its carved contours, lines recording
this old continent's Black history —
   stands firmly, its gravitas intact.
Nature's ancient erosive brush painting 
   a shape-shifting palette. The moment
it splits — cosmic cycles of gathered 
   sun-rays, concentrate on this point —
celebrating its perfect, flawed beauty.

— Sudeep Sen, 'Dolomite' (from Red)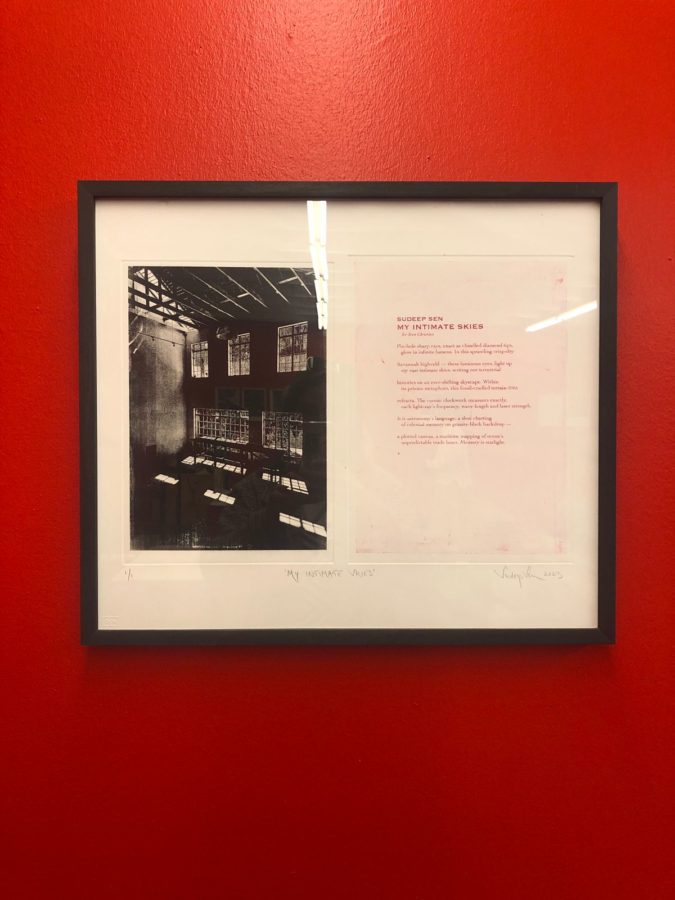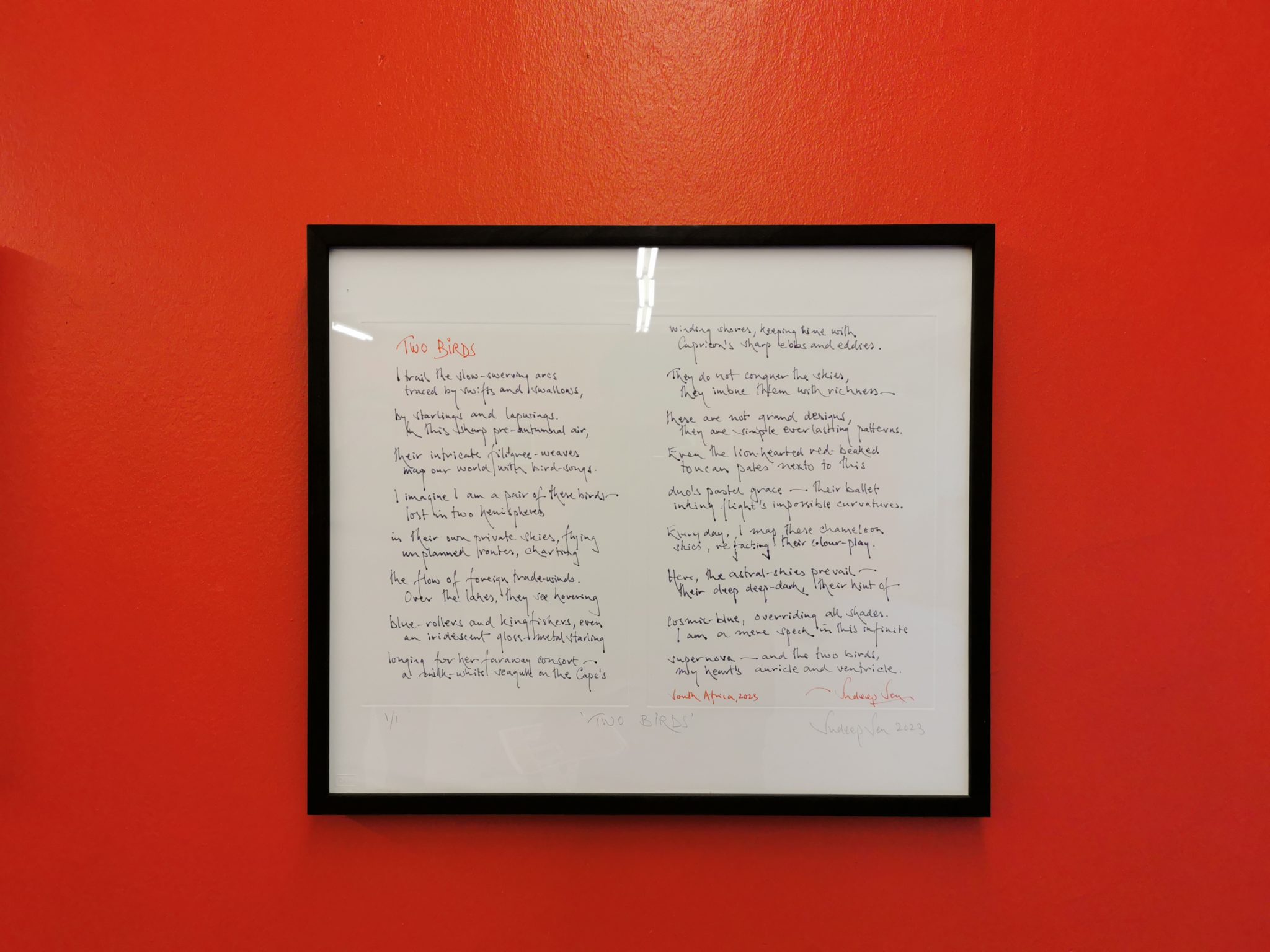 In a matter of less than a week, Sen and the David Krut Workshop team collaborated on a series of dozen unique artworks. The collaboration began as all collaborations usually do, a conversation. In that conversation Khulu and Sen explored the endless possibilities and limitations of printmaking. Given the time constraints of Sen's NIROX residency coming to an end, it became clear that pronto/paper lithography would be best suited in translating Sen's writings and photographs. This meant selecting images that not only resonated with his artistic practice but also lent themselves to the medium.
Khulu introduced Sen to the process of pronto-plate lithography. As a method, pronto plate lithography is accessible and ideal for direct photographic transfers. Pronto plates can be digitally prepared using a standard laser printer, or by working directly onto the plates using grease-based materials such as ballpoint pen, crayons and markers. Once satisfied with the marks, the plate is heat set by means of a hotplate, heat gun or oven to bind the marks/image onto the plate, for prolonged printing.
In this instance Sen wanted the lasting impression of the work to be that of an etching/intaglio print. Since lithography is a planographic process utilizing a flat surface without carved or etched marks, Sen suggested including a copper plate embossing on all of the images. This final touch would then give the works the alluring duality of both etching and lithography, whilst also staying true to the visual framework Sen's writings often find themselves confined under. Thus, creating a unique iteration of a photograph or printed text that has visual qualities specific to the process of printmaking.
The exhibition, 'Memory is Starlight', was held at this year's instalment of WORDS Festival, hosted at the NIROX Sculpture Park on May 28th. The works were exhibited in the open gallery which had been specially painted bright red for the presentation. In another display of Sen's dedication to honouring organic collaboration he performed a series of his poetry with the musical accompaniment of Tubatsi Moloi. This performance stems from the sixteen-track album ("My Intimate Skies") the pair had spontaneously found themselves recording. This performance wrapped up a wonderful afternoon spent celebrating words, sounds, nature, imagery and of course, the power of sharing with each other. 

"My trip to South Africa, especially to Nirox and the Cradle of Humankind, has shifted something in my inner core. My relationship with nature, its elements and forces — rocks, soil, sky, water, animals, birds — have become even more intimate, intense and visceral," says Sudeep Sen. "I'm not sure whether I'll be able to integrate back into city-living after this. At the moment, the words and wisdom of the Botswana san mystic healer, Tsitano Maburunyara, seem most appropriate for me — "In a trance I can change myself into a star and visit my friends in the sky …. And when I return, I drop to the ground and become a person again."