Written by Elda Bredenkamp
Pictures by Kristen McClarty
Kristen McClarty is a self-taught artist and printmaker, and member of the all-female printing collective The Printing Girls. The artist has three prints on show in our collaborative exhibition Things that live and move: Abstracted Distractions, Holding my breath and I can breathe under water. We explore the meaning behind Kristen's methods, imagery and her influences that provide inspiration and motivation to creatively express herself.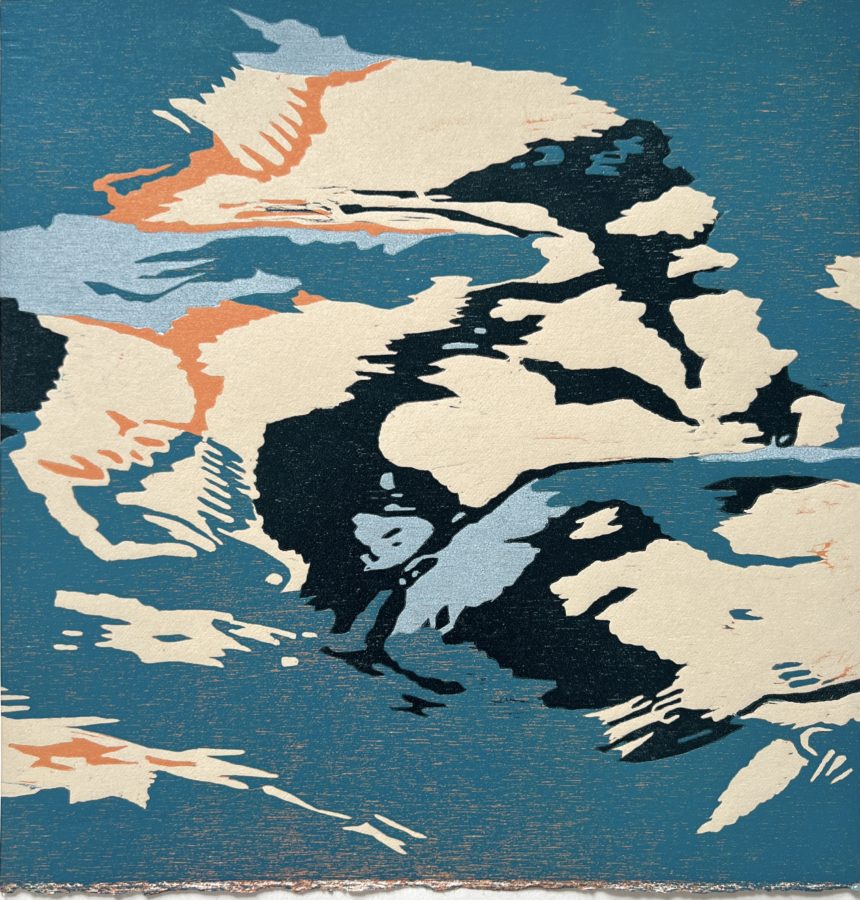 Abstracted Distractions is a 6 layer reduction woodblock print, and Holding my breath and I can breathe under water are both 12-layer reduction woodblock prints. Woodcut is one of the oldest methods of printmaking and is a relief process in which the design is cut into a wooden block's surface with hand carving tools.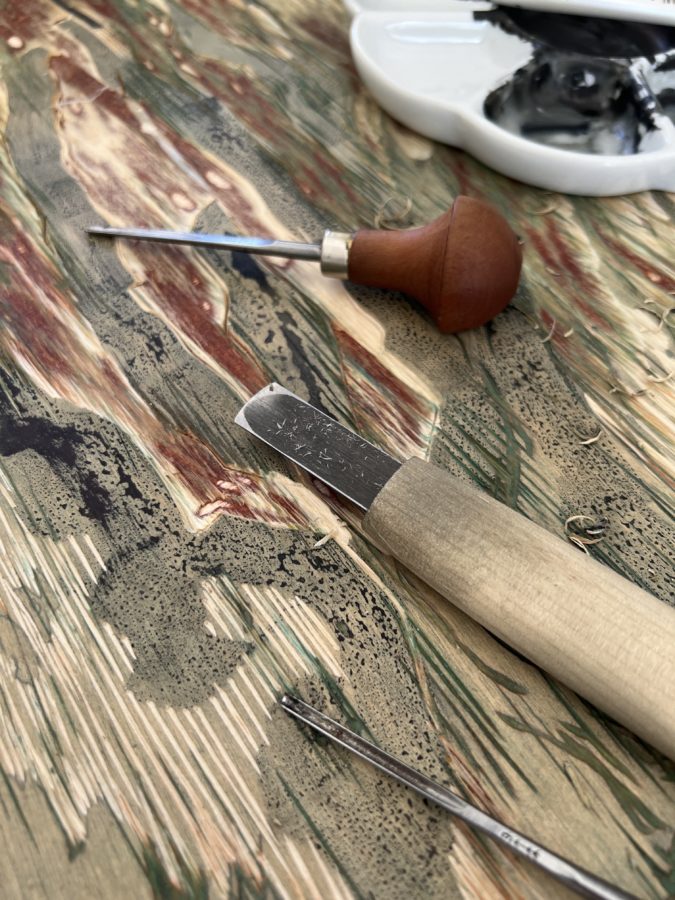 The raised areas that remain after the block has been cut are inked and printed, while the recessed areas that are cut away do not retain ink and will remain blank during the printing process. The reduction woodcut process uses one wooden block for all the colours by layering the inks from light to dark, one colour at a time. Between each colour, the printing surface on the wooden block is cut, reducing the surface. This will allow for the preservation of the previous colours, and creating a new colour layer.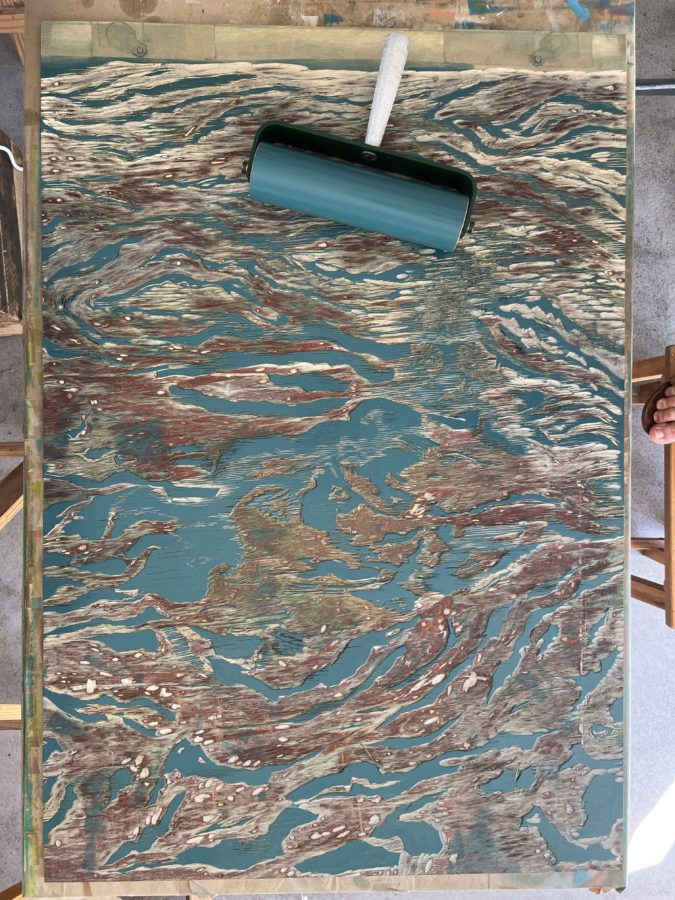 Kristen found herself drawn to water throughout her entire life, partly because she grew up in coastal regions and reveled in being in the seas and rivers of South Africa. "The water feels like home", Kristen says, it is where she feels most comfortable and authentic- enveloped by nature's second biggest element.
Kristen relayed the story of her knee surgery a few years back that left her immobile and in severe pain. Being in the water during this time provided Kristen with relief and a sense of empowerment, a place where she could be free of pain and move her body in ways she wouldn't have been able to on land.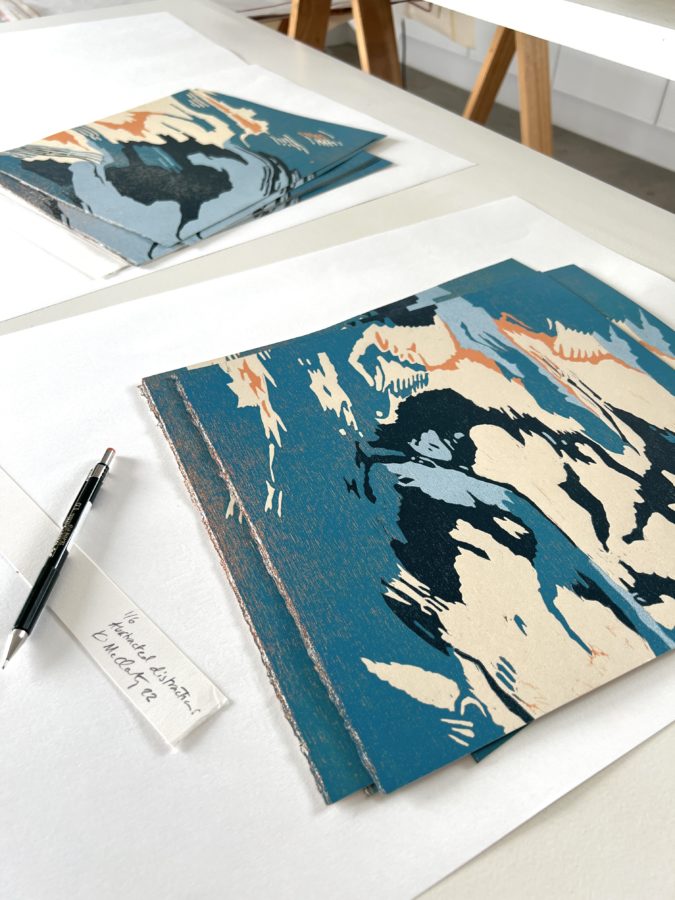 Abstracted Distractions is the first work you see on the wall when you enter our gallery space and thoughtfully curated to present the viewer with a sort of entrée before the main course and dessert. Ironically, this work was created after the other two bigger works and represent all the key elements that Kristen favoured in the previous two works.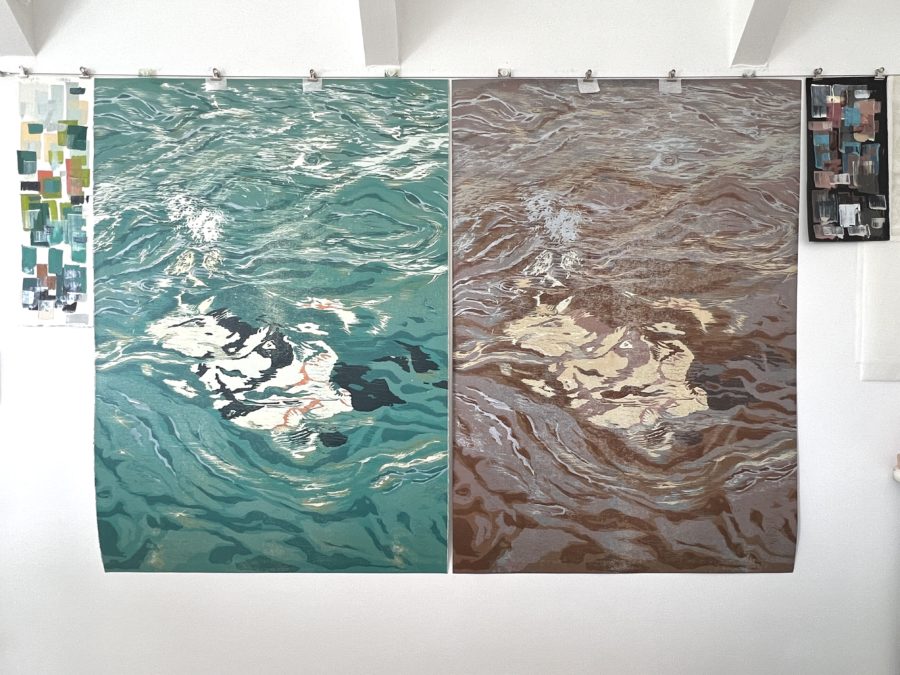 Holding my breath and I can breathe under water present an abstracted self portrait of Kristen immersed in the coastal waters.
To view Kristen's work: Abstracted Distractions, Holding my breath, I can breathe under water .
Learn more about Kristen McClarty by visiting her website or by following her on Instagram.