Jesse Shepstone recently completed a 2 month internship at the David Krut Workshop. Find out all about his experience below!
The weather on my first day at the David Krut Workshop was cold and gloomy but this was offset by the warmth of the people in the space. I was greeted with smiles and a sizable, square piece of copper that needed to be polished. Kim-Lee and Sarah showed me how they degrease plates while Sbongiseni continued editioning prints for Chad Cordeiro. I planned to badger them with questions but they had explained everything so well that I only needed to ask a few. This continued throughout the day: while Sarah prepared some Chine Colle tests, Sbongiseni inked up the plate two more times and Sarah pulled a monotype test print that used water-soluble pastel and gum arabic. Each question was met with a patient answer and extra information where it was available.
Jesse polishing copper plates being recycled to be used for a new project
My second day at the workshop began with an appreciation for the organisational systems that are in place everywhere around the studio. I started looking around the studio, while trying to soften some tarlatan, and was surprised at each place I laid eyes on. The various chemicals and solvents with their assorted coloured labels, the monotypes that had taken place since my last visit, the wide array of ink options on display on a shelf at least as tall as I am. In each corner there is a sign of life, creativity and a dedication that I admire. Kim- Lee gave me a task which I got extremely nervous about and spent most of the morning removing staple belts from drying boards and had some fun brushing off the leftover fibers.
Nina, a previous intern and now Print Assistant, began the process of steel facing one of Sarah's plates. This requires preparation, speed and something which I have not done in a while, Mathematics. The almost alchemical process requires pristine conditions which the printer needs to follow and implement with confidence which Nina executed with a bit suave. I sit here trying to recount each step and substep that Sarah divulged but fear the secrets of steel facing might only be made known to me when I attempt it, hopefully with minimal damage. I hope that this will be the case for the rest of my time at David Krut Workshop: that I learn and discover knowledge from these capable and skilled people.
Nina and I teamed up for the rest of the afternoon to help Sbongiseni with the layout of two prints from the Triumphs and Laments series by William Kentridge. This included 4 pieces of acetate, 4 pieces of newsprint, two book weights, two makeshift book weights, 25 pinholes on the one and 27 pinholes on the other, many pieces of tape and just as many laughs. Sbongiseni's tales and experiences about the series were nostalgic and intriguing and it was a privilege to listen and learn from him.
The next few days I had spent in the workshop was filled with many small tasks: softening tarlatan, removing staples from belts and stapling some fresh prints to dry flat. I continued tabbing a few of Triumphs and Laments prints under Sbongiseni's guidance and was also then able to help him do the first layer of Maja Maljevic's Linocut prints. The first time trying to mix colours with such finesse was a struggle but eventually I was able to produce a colour that matched the original. "About 80%, not an A+ but still good" said Sbongiseni before he started inking up. Being an extra pair of hands and watching him go through the process was a treat and I really enjoyed picking up some on the things that come naturally to him, obviously through the years of discipline and expertise.
I was able to spend some time with Kim-Lee, Sarah and artist, Maaike Bakker, on Saturday. A lovely, productive session that saw two plates come to life, learning a bunch of tips and tricks while wiping and seeing the endless possibilities that came with Chine Collé, multiple plates and different types of paper. It was a privilege to step into the space where the printers and artists start to do what they seem to be made to do. Everything came naturally with a flow and ease, ideas being passed around and the little surprises that came with each print was especially rewarding to see and even though I felt under the weather, the energy from the day was revitalising and exciting. The session ended with cupcakes, hot-cross buns and a common conclusion, that there are an endless amount of opportunities and possibilities when it comes to printmaking and I am so looking forward to, as Maaike said, learn new things and find new tricks every time I walk into the studio.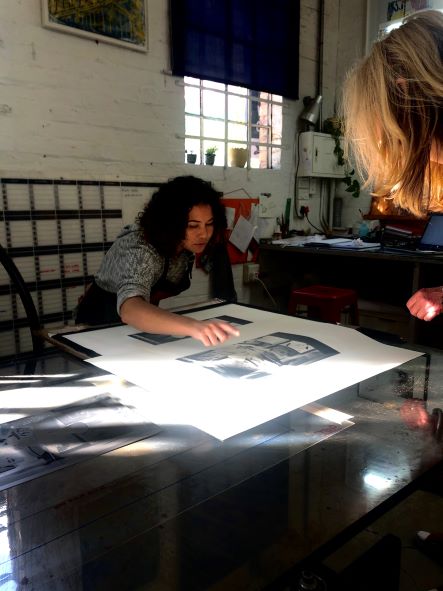 Sbongiseni asks if I am busy with anything while laying out packets of ink, brayers and pieces of Lino. There are 9 colours organised neatly on his glass station with a palette knife and roller accompanying it. Maja's large print consists of 12 shaped lino's printed over a monotype layer. Despite our best efforts of carving away excess, we have to clean the remaining areas that still hold ink in awkward places. This requires one to look at the plate for ages, alcohol and earbuds.
My last two weeks in the workshop allow me to spend some time working on my own etching. Stepping into a professional space that is curated for every part of the process has been a delight and the help from the team, practically and conceptually, has developed my thinking and skills that much more. For every idea I had, someone on the team had a suggestion that could take my image a bit further. Although nerve-wracking, etching and printing my proofs has been so rewarding and I am excited to finalise my image, although it makes me a bit deflated that my time in the studio will be coming to an end. Sarah took me through the aquatint process on Thursday, setting me up to continue working my plate for its second phase. Before I etched my aquatint I helped glue some more very delicate and unruly Chine pieces with Sarah for another of Maja's work.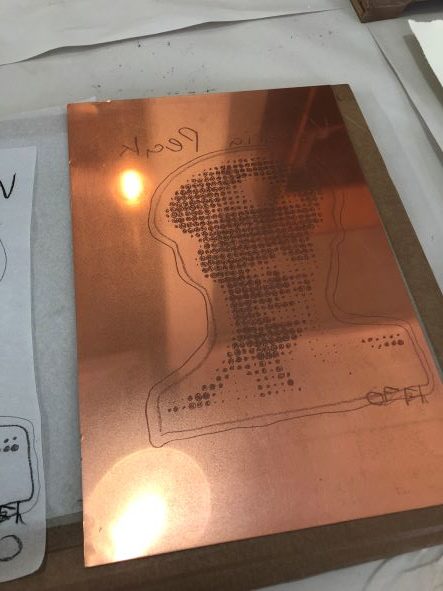 I can only thank the whole team for being welcoming, patient, engaging and overall just lovely to be around and to get to know. This has been an invaluable experience and one that I will remember for years to come and will look back on fondly. Looking back, my time at David Krut feels like it has flown by but while writing about the many tasks and activities I had the privilege of undertaking, I realise just how much I was able to learn and do with the team. I leave the internship hoping that I was able to help each person on the team in some way and grateful to them for teaching, explaining and informing me of so many different aspects of printmaking.