Matty Monethi uses painting, printmaking and text to explore the personal dimensions of migration and memory. With a keen sense of her own place in broader historical contexts in Africa, she scrutinises her connections with her adopted countries, cultures and close relationships. Monethi draws on memories of her own experiences, as well as family photographs from her childhood, to create emblematic pictorial scenes punctuated by empty space and text. Her evocative representational works address evolving selfhood, the depiction of the past, and the relationship between personal archives and nostalgia.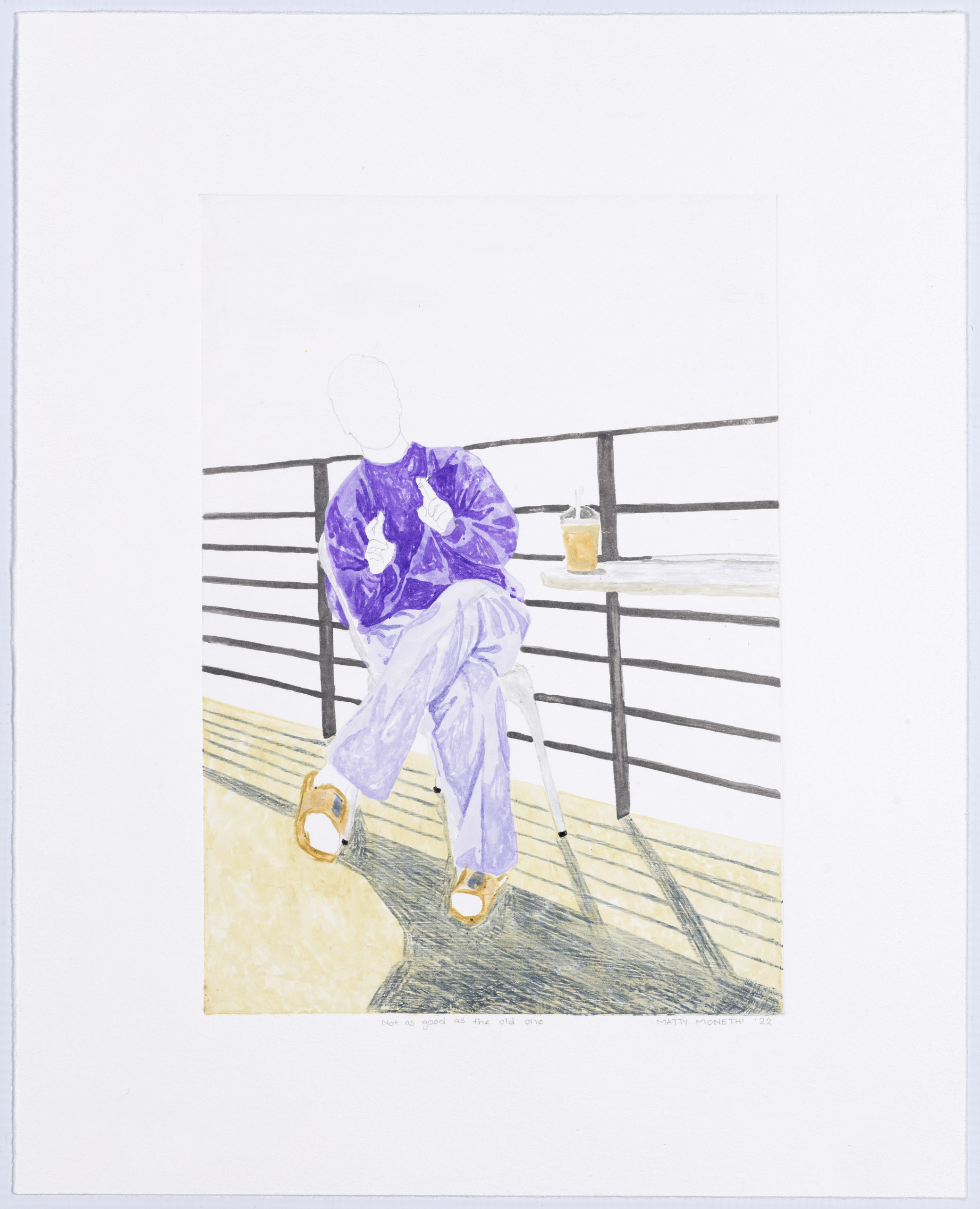 Matty Monethi's work captures moments – some recent, some from a time Monethi was not even present for, or was too young to remember. There is a sense of anonymity in these depicted moments, with clean areas of the canvas framing only gestures and suggested interactions; faces seldom appear as more than a flat shape. These immortalised fragments of memory reveal their own symbols to piece together.
Her art draws instinctively from her experiences living in different countries and places. Born in Maseru, Lesotho, the artist grew up in Addis Ababa, Ethiopia. Her tertiary education began in Cape Town, at the Ruth Prowse School of Art, where she got the opportunity to spend a semester abroad in the United Kingdom. She then completed a BFA at WITS in Johannesburg. Monethi now resides back in Lesotho, but travels between there and Johannesburg and other parts of the country for her work.
Matty Monethi was introduced to the David Krut team through a collaborative project with FORMS Gallery. Anthea Buys and David Krut Gallery Director Ame Bell initiated the collaboration with three artists represented by FORMS, taking the form of short residencies in our workshop creating unique works on paper, and culminating in an exhibition at the David Krut Gallery, on show from 19 May – 25 June 2022.
Matty was the first of the three artists to spend time at the David Krut Workshop (DKW), and chose to work at a fairly small scale in predominantly watercolour – a medium she loves but does not work in very often anymore, her usual being oil paint.
Collaborating with printer Sbongiseni Khulu, Matty began each work with a photograph. Khulu noticed how the original composition of the photographs meant a great deal to Matty, as if sacred, and prints that didn't adhere to that faced slight rejection from her and were sometimes replaced with new prints. In terms of paper choice in these works, 'white' was dominant over cream and soft white, thought to enhance contrast and readability of the delicate imagery. Matty introduced multiple layers and elements of collage and chine colle into her works. The additional paper elements were hand-cut and coloured using crayon to fit the shapes of her subjects. Forgoing depictions of faces in her paintings, Matty tends to lay focus on an individual's clothing or other patterned markers in the scene, such as an umbrella. This focus results in extremely detailed drapery, and in the case of these monoprints, the shirts of the subjects are heavily detailed and precisely cut – becoming adhered to the print through chine colle or collage.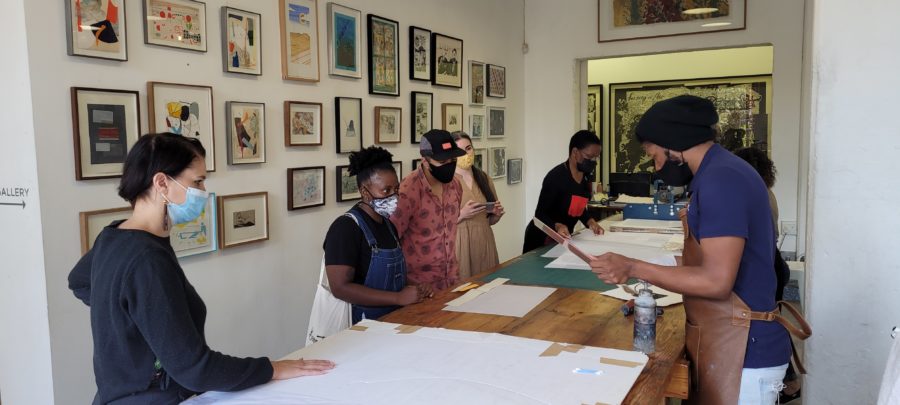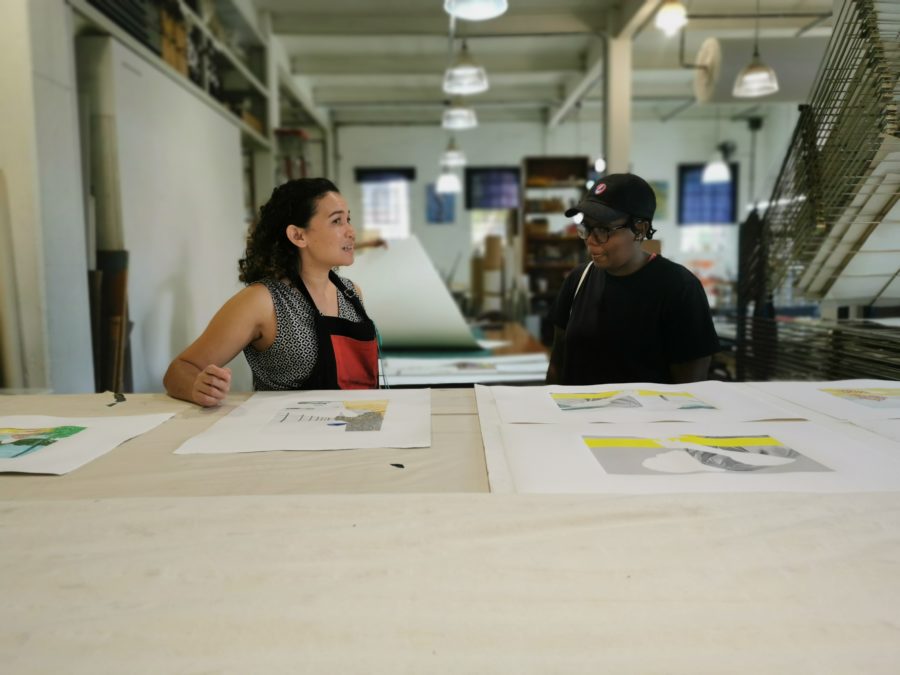 Matty's work holds some very pertinent themes, which resonate deeply in our current world. Concepts such as memory and 'place' are effortlessly evident in her imagery. In the study of memory, it is said that if past events could not be remembered, it would be impossible for language, relationships or personal identity to develop. The concept of 'place,' in the geographical sense, denotes a location or space with meaning. 'Places' have pasts, memories, and meanings for people. Matty's work deals with the fragmenting as well as the holding on to of these concepts.
To learn more about Matty Monethi, her work and her process listen to this David Krut Podcast from March 2022.