Text by Christa Swanepoel | Technical advice and quotes by Roxy Kaczmarek
---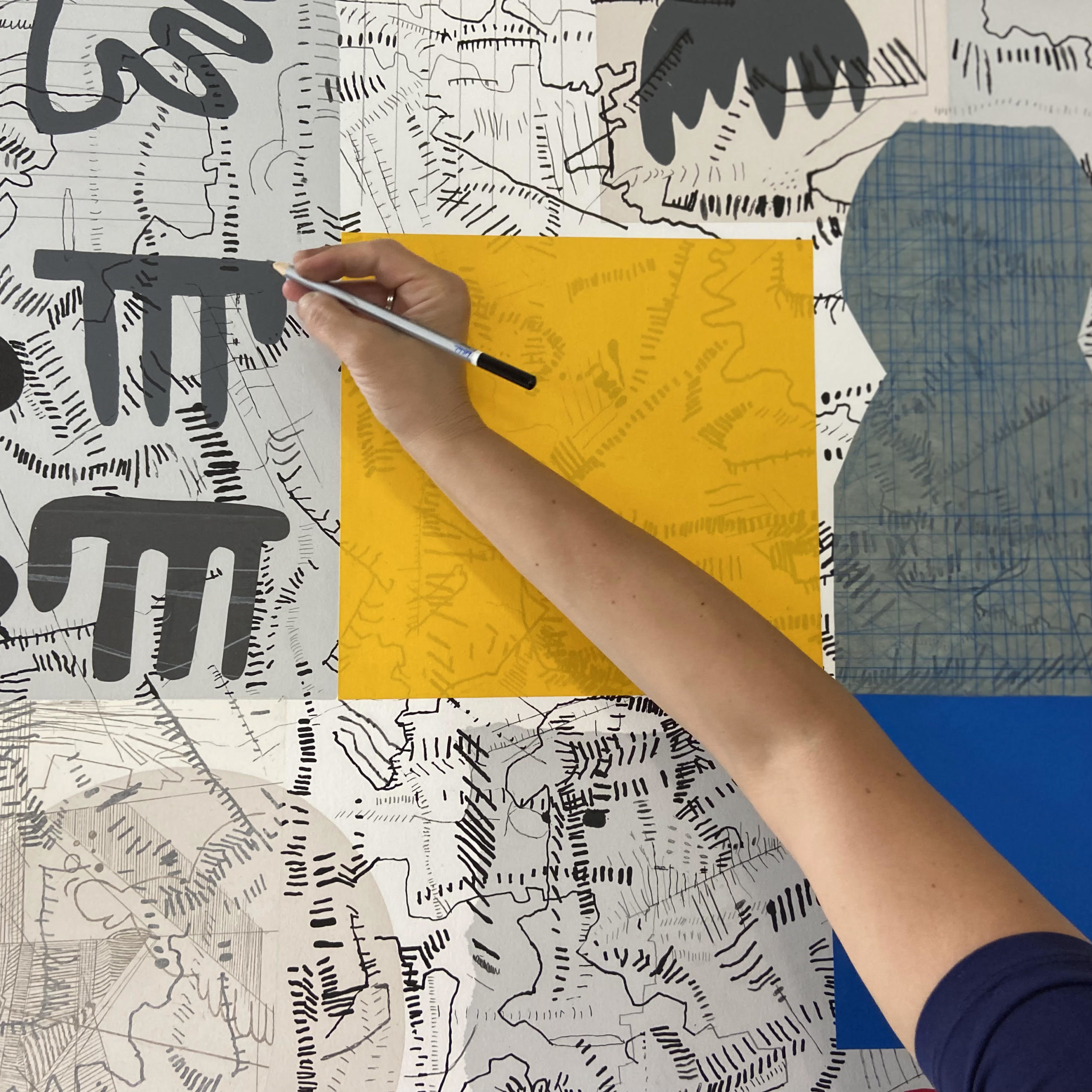 I recently had the privilege of visiting and speaking to artist Maja Maljević at Arts on Main where she was hard at work on her new series of monotypes. Maja is once again collaborating with the David Krut Workshop (DKW) team to create a new series of monoprints, and this time they are larger than ever before.
"Fresh!" Maja remarks excitedly as I ask about the new array of colours, remarkably less saturated than usual, in one of her newest prints. "It is going to be so fresh, something like I have never done before."
The atmosphere at Arts on Main on the day of my first visit as a brand-new member of the David Krut Projects team, was abuzz with bodies moving to and fro, busied in the process of production.
Maja describes quite enjoying the visual depth produced by layering different printmaking techniques as well as combining it with handwork. She describes it as similar, and yet vastly different, to the effect one gets when layering in painting, because of the refreshing variation achieved when successfully integrating different techniques in a harmonious way. Of course, when layering so many printmaking techniques as well as introducing handwork, the final work that is produced will be entirely unique.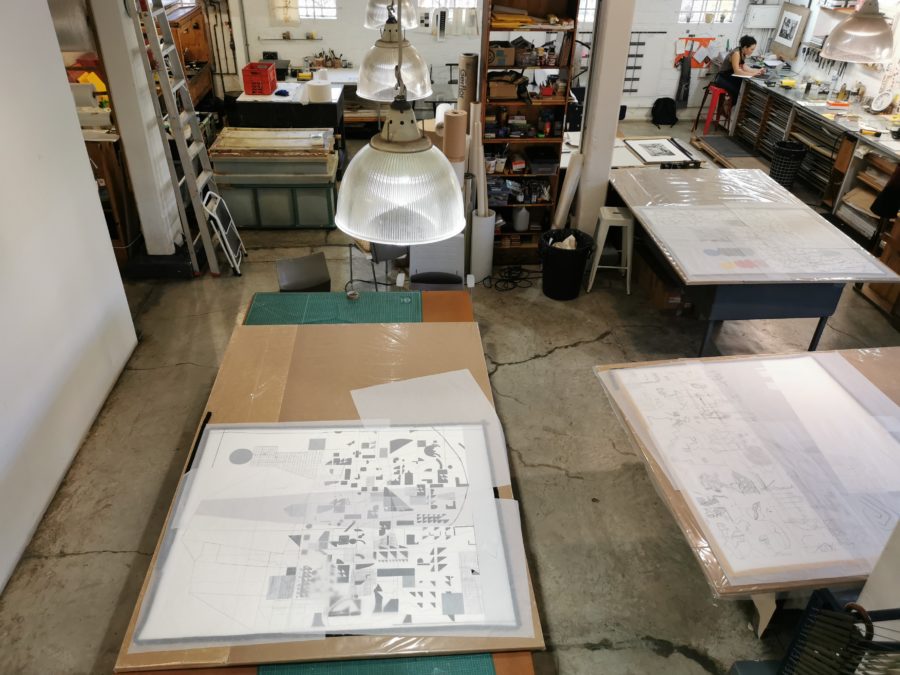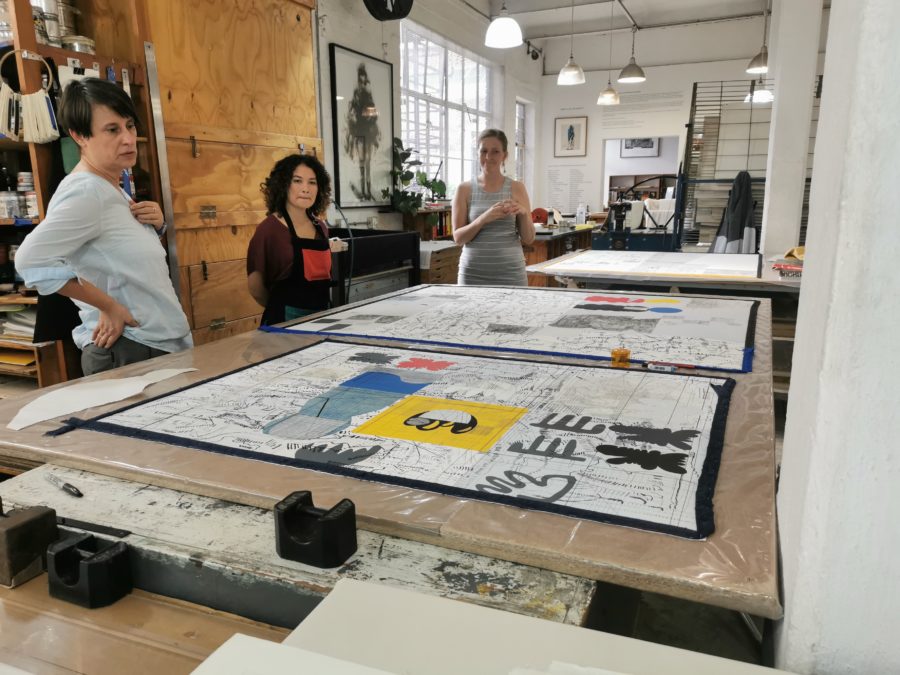 Massive new prints demand lots of surface space and careful consideration by Maja and the printing team at DKW. On the right Maja is standing with printers Kim-Lee Loggenberg and Sarah Judge. The prints are stapled onto boards while damp and as they dry, they stretch tight. This then allows Maja to work with collage elements onto the prints without warping occurring.
Although Maja is known by many for her paintings, she favours print for this series because it enabled her to be able to repeat certain marks exactly. Not only can she repeat a shape or mark, but she can also create an exact repetition of a specific shape in various colours and mediums, and across various different works. She then introduces handwork in order to subtly weave all of the collage elements together. Her delicate and precise hand drawing pulls all of the shapes and colours together into a harmonious network. "It's like magic! She adds one or two marks and suddenly the work is balanced. She is a puzzle and problem solver!" writes DKW Printer Roxy Kaczmarek about working with Maja.
The very first layers of these prints are quite unique in that they were printed on a huge silkscreen press by Roxy Kaczmarek assisted by Sarah Judge and Nina Jacobson. DKW does not own a press this large and so had to outsource the assistance of printmaker Cloudia Rivett-Carnac from Chocolate Ink Studios to use her giant silkscreen press. These simple different shades of grey flat colours were made in a monotype manner of masking areas of the giant screen with newsprint and printing the positive areas. The edges purposefully cut clean and other times torn. Maja made sketches for the printers to use as reference when making the flats. – Roxy Kaczmarek
Maja often expresses her dislike of stagnating once she has achieved mastery in a process that was once new to her. She enjoys a challenge, or "building puzzles" as she puts it, in her own works. This new series is indeed a challenge, as their massive size could easily become overwhelming.
These extra-large prints cannot go through our press – they are too big, so in order to be able to use the intaglio techniques – which require a press – the process of collage is used. Maja's intaglio images are printed onto delicate Japanese papers which are then adhered onto the base print. – Roxy Kaczmarek
The techniques that follow are silkscreen exposed drawings printed by Roxy Kaczmarek, Sbongiseni Khulu and the rest of the team. As the prints are so large the team used a freestyle technique of printing the screens as directed by Maja, this allows for greater freedom of placement instead of being limited by a press.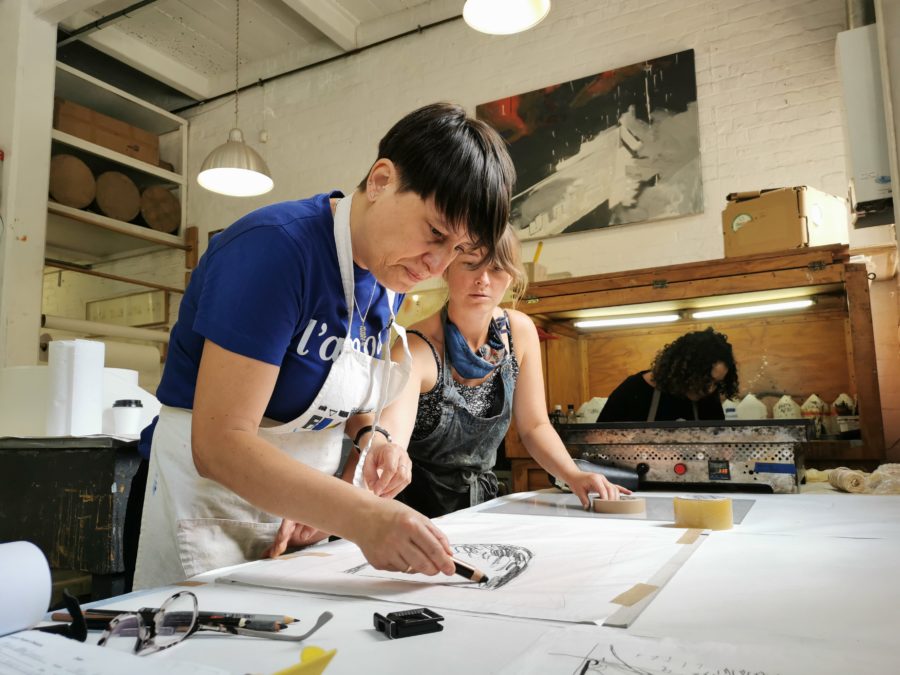 ---
Maja Maljević has a very unique and distinguishable style of mark making that her fans adore. Here she is pictured transferring marks onto a copper plate prepared with softground before it will be etched.
---
Maja is required to put a lot of careful consideration into her planning, placement and eventual execution in order to give the image room to breathe and, of course, be fresh. This is why she greatly appreciates and enjoys working in a collaborative effort with the David Krut Workshop team, because of their incredibly enthusiastic spirit, expert technical and artistic input, and skilful contributions.
This is followed by the relief technique of linocut printed by Sbongiseni, Plates from previous collaborations make a second appearance and a new one made with Roxy and printed by Sarah Judge and Kim-Lee Loggenberg. Pictured below, the plate is covered in a soft waxy ground and a sheet of tissue paper by the Printer and is then given to Maja to draw onto. Wherever the tool that Maja uses makes contact with the ground it sticks to the tissue paper and will remove it, exposing the plate, which can then be etched by the printer in Ferric Chloride. This produces a direct drawing mark in accordance to the exact tool that Maja uses, reflecting the pressure and weight of her hand beautifully. For example, a crayon mark. The other intaglio techniques she uses are drypoint to create obsessively worked, scratchy marks varying in weight, rough, scratchy, and hardground, clean, swift, ruled lines, hard edged.nto the base print. – Roxy Kaczmarek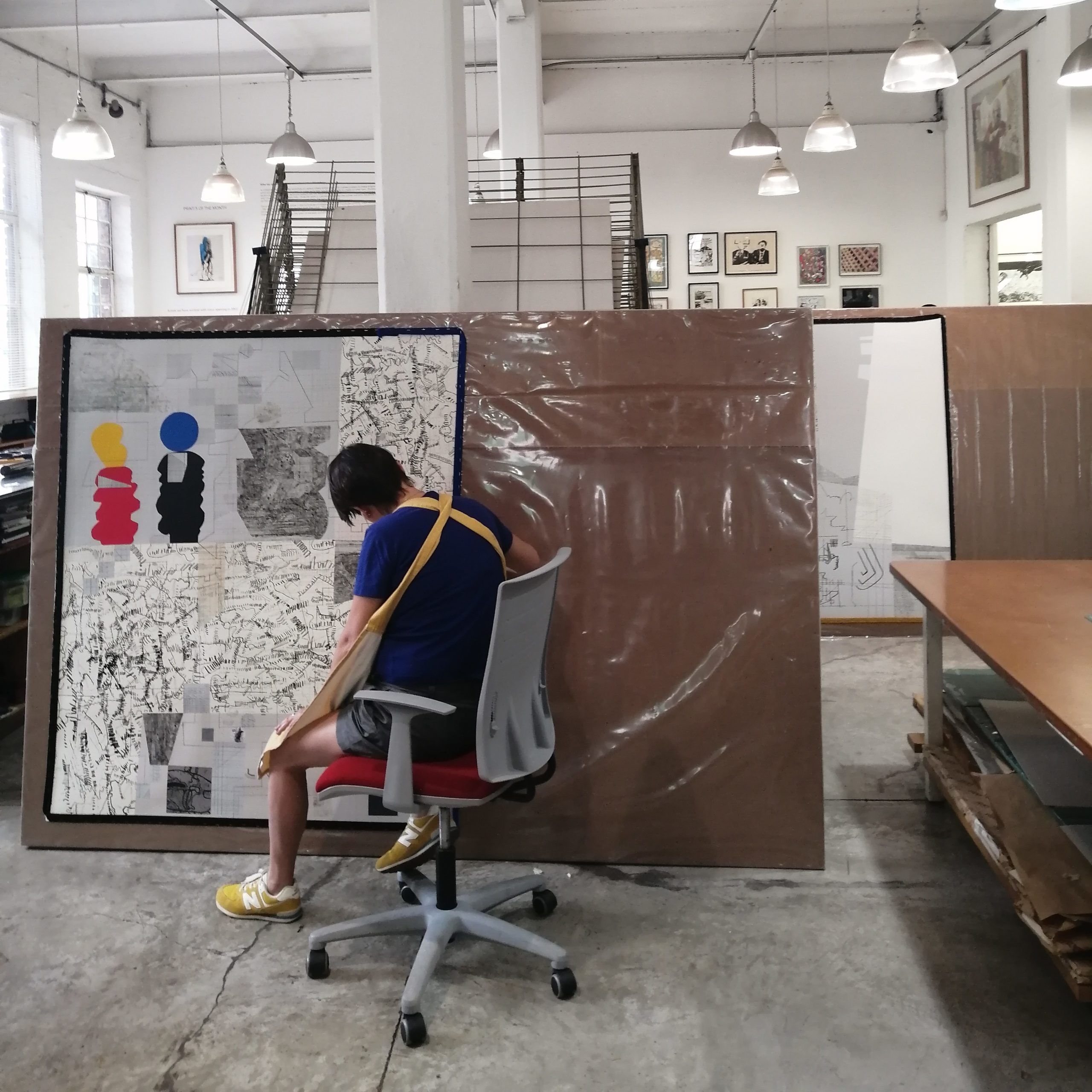 Maja is dwarfed by the scale of her new prints. They are set up in the Arts on Main workshop space so that she can work on many of them at once to ensure consistency, but also to compare them and see how they converse with one another.
I watch as Maja sits with intense focus, carefully drawing her handwork into the half-finished print. She is dwarfed by her artwork, as this series of prints will be some of her biggest works yet. The marks she creates echo her recognizably characteristic and beloved style, however upon taking a step back, the artwork as a whole is quite different from her works in the past: it is almost entirely monochromatic, except for some splashes of red, blue and yellow. Maja has been in collaboration with the David Krut Workshop since 2007 and thus anyone familiar with her work will immediately describe her signature style as incredibly vibrant and colourful. However, do not be disappointed, because these new monochromatic works definitely do not lack any of the energy that their ancestors have. The movement and playfulness of Maja's characteristic amorphic shape creations and sparks of line work captures the attention, whilst the scale, large enough to be an actual double-doored entry way, teasingly invites the viewer to step inside the monochromatic world.
Monochromatic in this instance does not mean two-dimensional and bland, far from it in fact, for incredible variation is present in the works. Off-whites, warm greys, cool blacks and more: all showcasing the richness of tones and temperatures achievable using a monochromatic palette. Ironically, the shades that showcases the least amount of versatility in their tonal value is the trio of primary colours: red, blue and yellow. This, states Maja, was done intentionally, as these are the colours we are left with when breaking down all others. They are the root colours so to speak, the originals, and the first three we learn of in our very first lesson on colour theory; in a sense the most authentic members of the colour spectrum. In this series of works Maja still pays homage to colour as it is an integral part of her style by now, but she lets Colour give way to its counterparts Tone and Shade, to showcase the richness and variety available on the infinitely vast spectrum that lays between blackest black and whitest white. Fresh Indeed!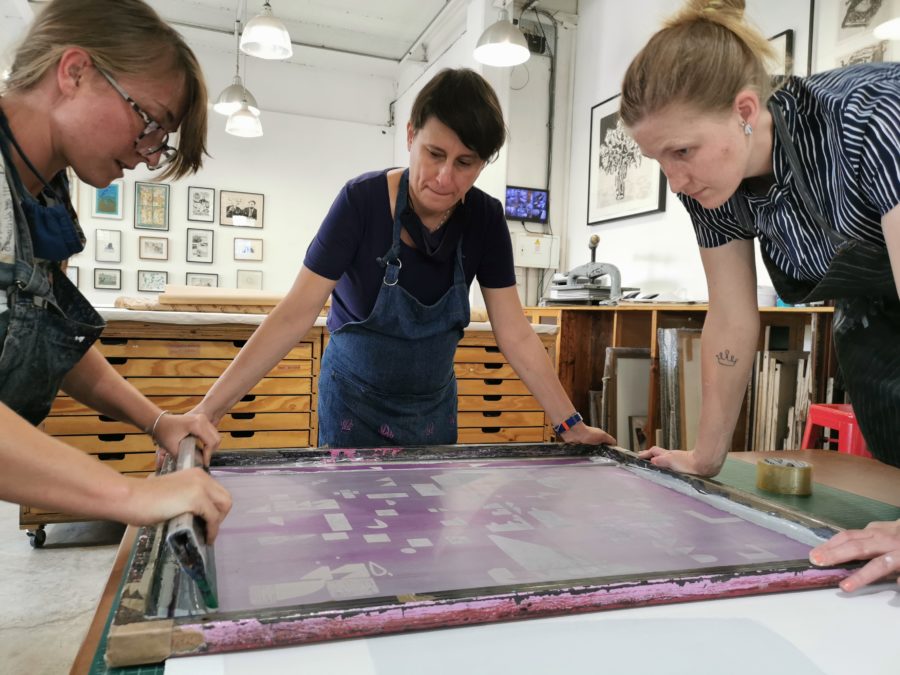 Maja layers various printmaking techniques in this new series. Collaborating with the David Krut Workshop team allows her to do so uninhibitedly, as well as receive valuable artistic input from the talented printers.
These massive monotype prints, along with a series of oil paintings and other prints done in collaboration with DKW, feature in Maja's exhibition named Based on a True Story which is hanging in the David Krut Gallery at 142 Jan Smuts Avenue from 7 April until 14 May 2022.