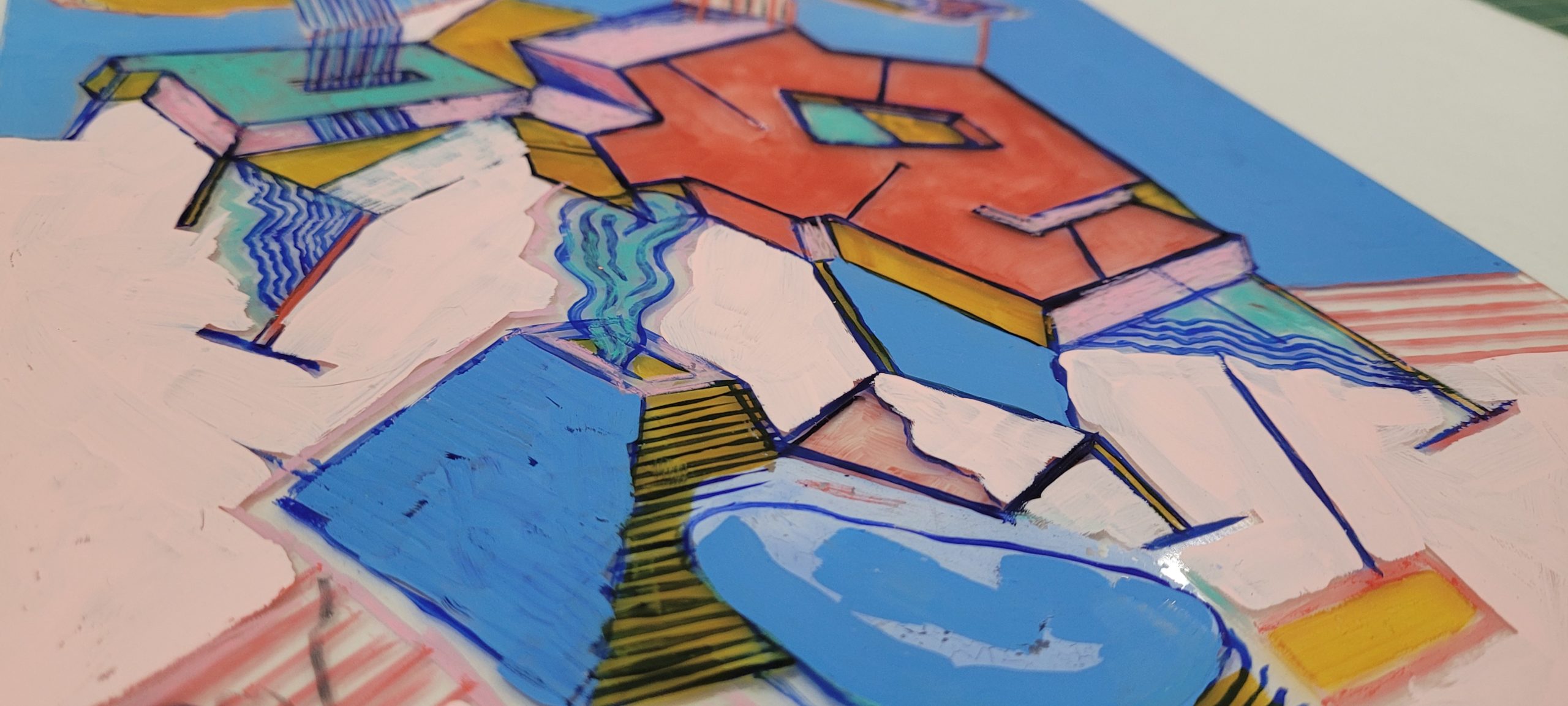 In July 2021, visual artist and illustrator Maaike Bakker was invited into the David Krut Workshop to collaborate on a series of colourful, unique prints in preparation for an upcoming group exhibition that will open in early 2022. Maaike works in various drawing, sculpture, installation and digital mediums. Her application of collage in her two-dimensional and paper-based works is what sparked the collaboration.
Maaike plays with abstraction in her work, seeking to depict scenes from alternate realities. Artist Arshile Gorky provided a noteworthy opinion on abstraction, stating that "the tradition of abstraction allows one to see with their mind what they cannot see physically with their eyes. Abstract art enables the artist to perceive beyond the tangible, to extract the infinite out of the finite. It is the emancipation of the mind. It is an exploration into unknown areas." There is a compelling connection between the exploration of unknown areas of the visual through abstraction and printmaking. In printmaking, artists are often working with images constructed on a clear matrix, where the marks made do not appear exactly as they would once printed.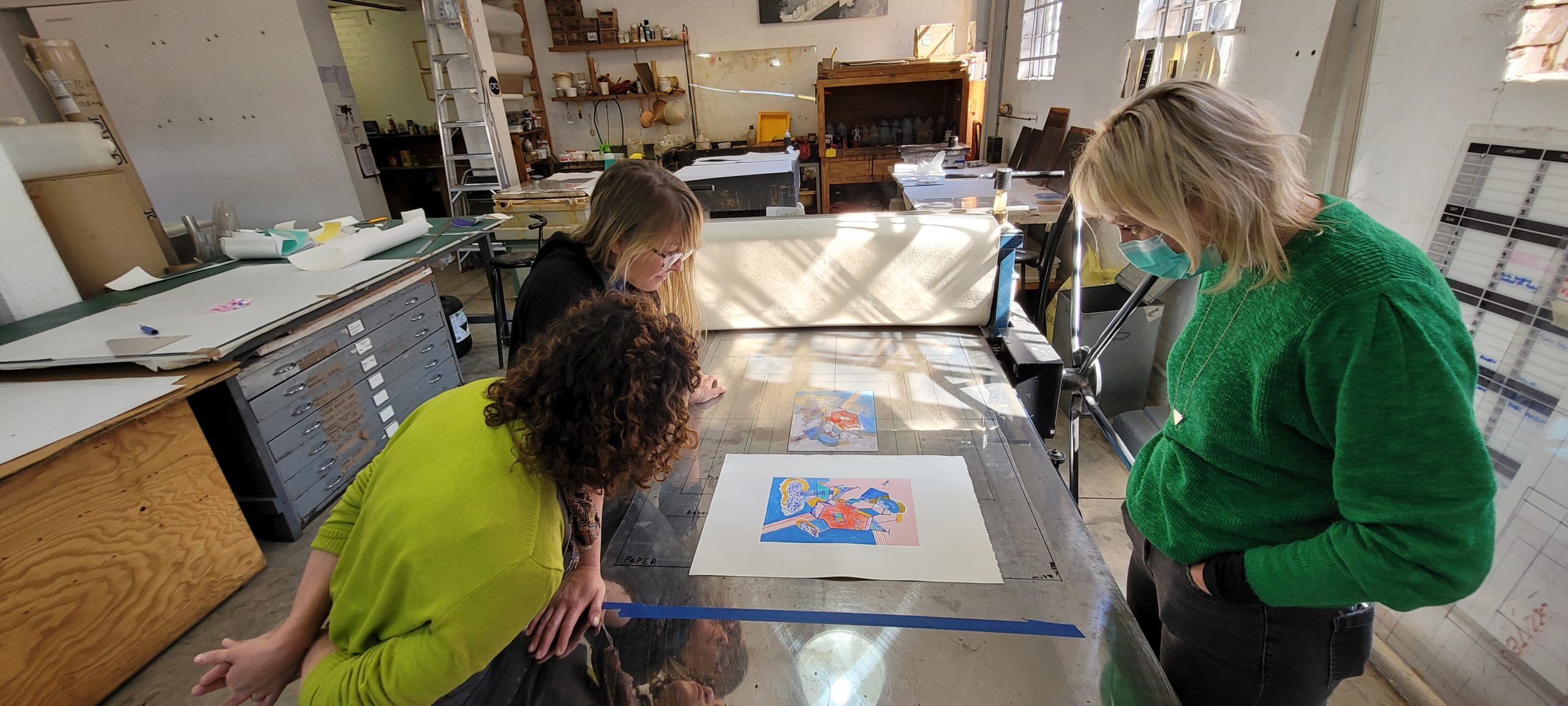 Maaike's works are typically precise – straight edges are common in her use of shapes, as are flat areas of colour or those which are uniformly gradated. The visual languages she employs in her art-making create compositions that have energy and a sense of movement. There is a feeling of spatiality in many of her drawings, a kind of impossible architecture of lines, shapes and textures.
Because of the preciseness of Maaike's work, the idea of working with watercolour monotypes was an intriguing challenge. The use of watercolour produces a painterly mark; essentially watery and often with a tonal finish. Printers Roxy Kaczmarek and Kim-Lee Loggenberg suggested drawn marks and collage alongside monotype to maintain her precise visual language. Maaike countered the painterly quality of the watercolour mark in some cases by masking out shapes with tape to create crisp edges.
On her arrival at the workshop, Maaike unpacked plates that the workshop team had delivered a few weeks in advance, which had been transformed into colourful worlds of abstraction. Maaike had experimented a great deal with her smaller plates – incorporating many colours into uninhibited compositions. She described these works as undergoing a sort of 'identity crisis' or being 'quite off-brand,' because they looked so different than her usual work. With the paper prepped and the printing press set, Maaike turned the wheel to print the first of her monotypes. She was pleased with the vibrancy of colour and pleasantly surprised with how her marks translated.
After printing her first print, Maaike started experimenting with coloured chine collé additions in different areas, adding cut-out pieces and planning their arrangement underneath the plates. The thin Japanese papers used for chine collé were hand-coloured by the printers using either watercolour or solid silkscreen colours. Maaike used a combination of these papers, some with additional drawn marks, and solid black and dark blue papers to incorporate flat colour and sharp-edged shapes. From this first visit, a range of images were produced. Her first, small ones, quite a wild display of colour; her later, larger ones more in line with her usual, clean and crisp work. She experimented with filling the whole surface with paint or being more restrained and controlled, leaving a blank base for colourful structures and minimal line work to populate. You can see a clear progression from the start of the plate-making process to the end, and the works continue to evolve. It's exciting to see the development of Maaike's monotypes as the collaboration continues.
Listen to the David Krut Podcast below to find out more about Maaike's experience in the workshop:
—————————————————————
Maaike has a degree in Visual Arts (2009) and an MA in Fine Art (2013) from the University of Johannesburg. She teaches and coordinates the Visual Communication Honours programme at Open Window Institute in Pretoria. She is also a practicing curator and the co-founder of a local gallery called No End Gallery, set to reopen its doors later this year.