The origination of the plate for Casspirs Full of Love, one of Kentridge's most iconic etchings, dates back to 1989, and represents Kentridge's first foray into making large prints.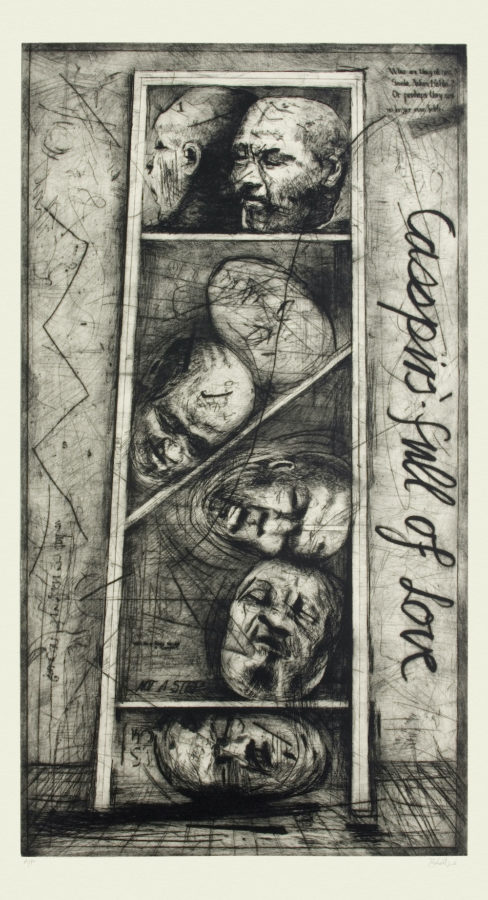 The following text is extracted from a lecture given by Kentridge to the Associates of The Department of Prints and Illustrated Books at the Museum of Modern Art in New York in 2009, and delves into the origins of the image, as well as Kentridge's experience of printing the plate.
"The large print Casspirs Full of Love was the first etching I made on a large scale. I was foolish enough to try and print myself, and it was a real learning curve as a printmaker because it took half a day, at least, to ink up each plate and try to print it. Between each print, I knew I was going to be spending three hours just to get the ink into and off the plate; before it was printed I would give myself half an hour to rework the plate so that, although it's an edition, every print has slight variations.
The title and the images came through two journeys. I was in Italy, spending some time in Florence, and I was looking at some of the Giotto paintings in Santa Maria Novella, I think. I'd been doing drawings of these Giotto groups of figures and sort of though – "How do I stop them from just being copies of the Giotto Paintings?" – and then decided I would give the figures new bodies. So I cut all the heads off, and had those lying around. At the same time there was an exhibition in Florence of sculpture, which included Tony Cragg's piece called Beet Heads – heads made out of big sugar beets, which were cast. A pile of heads. So I thought, "I've got a pile of heads lying around on my studio floor," these drawings based on Giotto. So that became the pile of heads in the print.
I'd had the title Casspirs Full of Love in the back of my head for a year, trying to work on what the image would be to go with it. A Casspir is a South African military vehicle that was used to control riots in the townships at the time of the big insurrections in the mid-1980s. The name is simply an anagram of two abbreviations: SAP, for South African Police, and CSIR, for the Council for Scientific and Industrial Research, the government institution that designed the vehicles. The full phrase of the title had come from a radio program I heard when South African troops were fighting on the borders and in the townships. There was a "forces" favorite," in which mothers and fathers would send messages to their sons in the army. One of the messages came from a mother who said, "We hope you got the food parcel. Looking forward to having you home for Christmas. This message comes from your mother with Casspirs full of love." So this work had started off with drawings after Giotto, and then became its own piece."
From "William Kentridge Talks", page 65, in William Kentridge Trace: Prints from the Museum of Modern Art by Judith B. Hecker, produced by the Department of Publications, The Museum of Modern Art, New York in 2010