Blog Post: Play With Colours, September 30, 2019
Image courtesy of Creative Skills factory

Image courtesy of Creative Skills factory
It was all about color this week. The children worked on big sheets of paper, with food and watercolor as well as oil pastels. New nuances where mixed right onto the paper and the colors came to live. The process was exciting and aimed at giving space for freedom of expression. The children gained knowledge about the base colors and how to mix a variety of shades by combining those with each other. There was much joy and lots of paint all over paper, tables and all of us.
Art Facilitation of Entries for The Western Cape Department of Education's "Children's Art Celebration Competition" At Die Bron Primary School in Stanford –September 16, 2019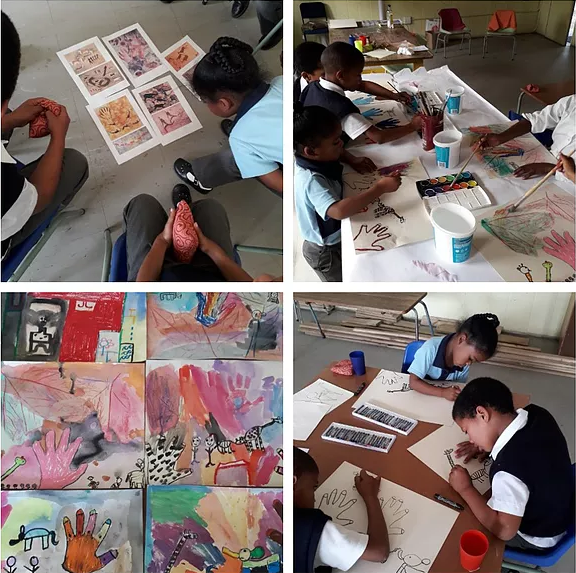 Every picture is a once in a life time creation. It carries the unique finger print of each child and is an expression and individual emotion relevant in the bigger picture for all of us working with children.
We thank the children that participated in this with us and Die Bron Primary School for the collaboration.entries for the competition.We facilitated 62 children during the period April to the end of July 2019 and we submitted 26 entries for the Competition.
Stories were told to the children without showing any pictures to allow them to create art from their own imagination.Some children told their favorite stories and created a painting from them, and others,painted their own lives as their stories.
Oil pastels and paints were used and in some of the later facilitation, collage art works were done. Full post here.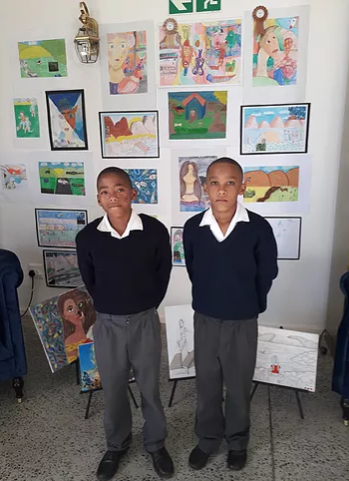 Creative Works facilitated art at Die Bron Primary School in Stanford from the 15 th April to the31 st  July this year, working towards entries for the Western Cape Department of Education's annual "Children's Art Celebration" competition.
This annual art celebration is all about acknowledging and celebrating children and their unique self-expression, creating a platform for children to tell their stories, ask questions and develop their voices towards participating in the adventure that is life.
Art and Craft in the open workshops,September 1, 2019
Over the past term the children have done some wonderful art and craft in the open workshops. We are using lots of recyclable material to stimulate the creativity of the kids who are attending the creative workshops. Art and craft activities have many benefits on a physical, intellectual and social/emotional level. Painting, cutting, pasting, drawing, beading are all activities that enhance fine motor skills, dexterity and strength in the hands. Children can be creative and play with their imagination in the process of making and doing things with their hands.