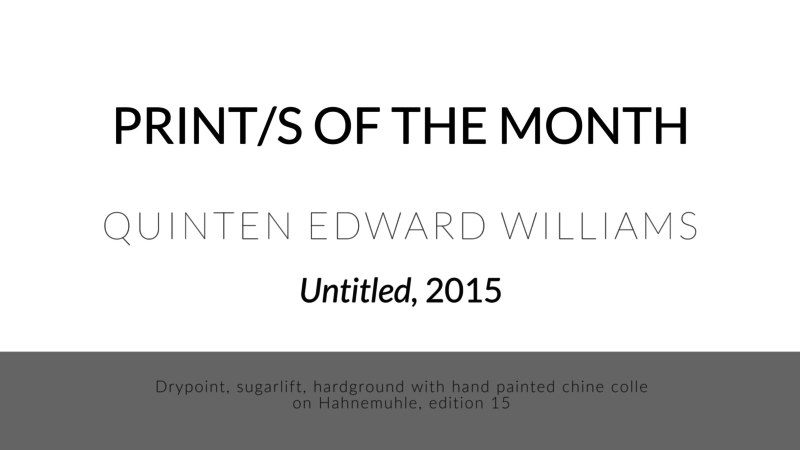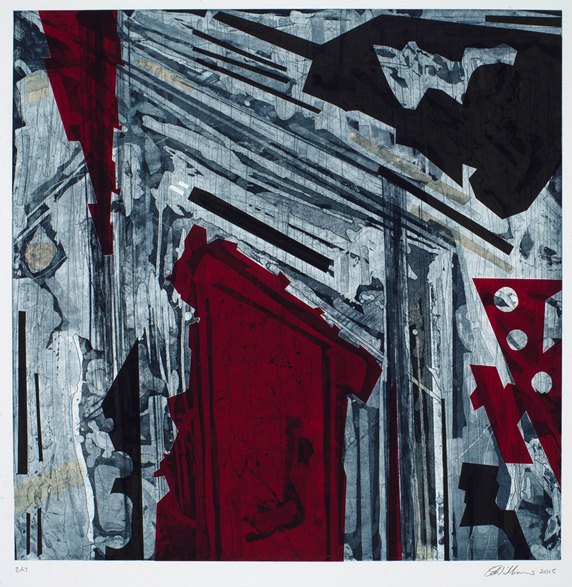 "My work is about teasing out, probing and proposing intersectional relationships" – Williams
The first of our new feature Print/s of the Month chosen by Archivist Noma Ngwenya for the month of August is Quinten E William's Untitled (Black and Grey). 
The work is up at the David Krut Workshop at Arts on Main, Maboneng, Johannesburg.
The print is an etching with chine colle.  The marks made use a variety of techniques: sugarlift, open bite, hardgound and drypoint. The plate was initially dunked into the ferric chloride acid to etch some of the impurities already on the plate. The pieces of chine were handpainted to achieve specific colours and cut into shapes. The blue black ink printed over the bright hand painted red of the chine adds a velvety richness to the colour.
"Making work goes hand in hand with exploring techniques. You are busy testing your material, nudging and pushing it in various directions, stretching it out, and clumping it up. Printmaking in itself, however, is a highly technical activity. You need to follow certain basic procedures in the making of a plate, you rely on tacid knowledge which only comes with time. It is a heuristic activity. The making process itself is a thinking process. The work of art emerges through this thinking process." – Quinten E Williams
Read Jessie Cohen's interview with Williams about this print below: