BLOGGER: RACHEL VAN BLYDENSTEIN
23.01.2017
With two weeks into the year, it's full steam ahead in the workshop and the printmakers have launched into a range of projects:- inking up, carving, printing and building up a creative brainstorm on what the year ahead will hold.
Our collaboration with William Kentridge on the woodblock series began in early 2016 with the creation of the two square meter woodcut Mantegna, followed by The Flood, both forming part of a series of works based on Kentridge's Triumphs and Laments frieze on the Tiber River in Rome. The third work of this series, Lampedusa, depicts the image of a widow, derived from the tragic incident where more than 300 migrants from North Africa drowned off the coast of Lampedusa in 2013.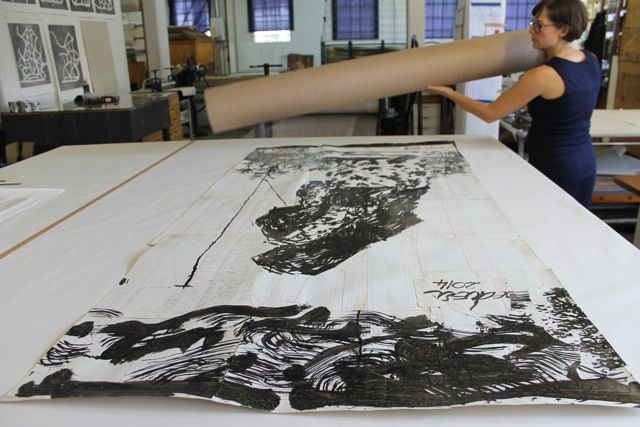 Printers Jillian Ross and Chad Cordeiro take us through the process of creating and recreating the Lampedusa where cutting, sanding and building the woodblock to create an image, is a process that has been creatively considered. Large woodblocks are used to print the image – each one made up of several smaller blocks comprising of different woods. These woods offer another dimension to the printed image, as the detail of the grain and the direction in which it moves, creates a textural effect. Other details such as the density of the ink, how the wood has been angled specifically within the large woodblocks, and how the carving is brought to life by solid or gestural movements all form part of the intricate process in order to achieve the effects of a drawing as a print.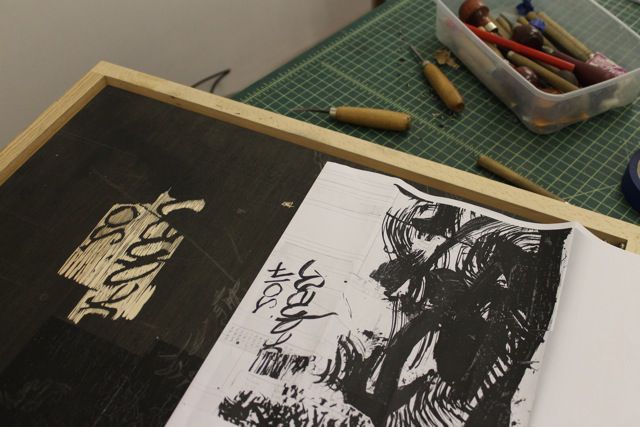 The Flood will be shown at this year's 1:54 Art Fair in New York, with more works of the series to be created in collaboration with DKW and Kentridge.
MORE ABOUT THE SERIES:
http://davidkrutprojects.com/40397/the-making-of-mantegna-dkw-collaboration-with-william-kentridge-to-create-a-giant-woodcut