23.08.16
The Market Theatre and the Windybrow Theatre in association with  Handspring Puppet Company present
 UBU and the Truth Commission   /    25 August – 11 September 2016
Author Jane Taylor / Directed by William Kentridge and associate Janni Younge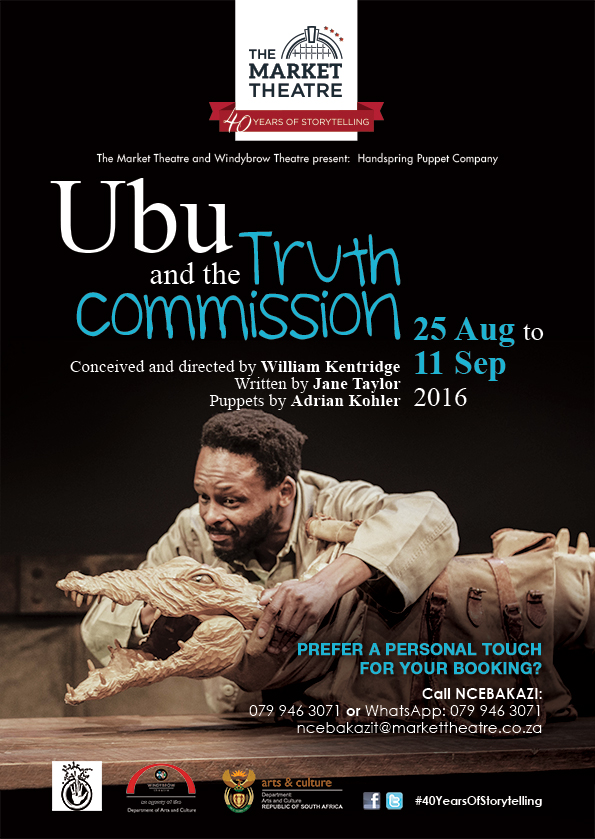 Ubu and the Truth Commission is a striking collaboration between William Kentridge and the Handspring Puppet Company. After extensive international touring this landmark piece of South African Theatre is returning to the Market Theatre to entertain and challenge audiences. The production is laced with dark sardonic wit, spectacular and disturbing animation and poignant, finely detailed puppetry.
The performance combines puppetry, live actors, music, animation and documentary footage drawn from the historical archive of South Africa's Truth and Reconciliation Commission. The character of Pa Ubu (Dawid Minaar) represents the various instruments of Apartheid violence, like the police, assassins, spies and politicians. For Pa Ubu, torture, sex and food are all elements of a single gross appetite.
The drama revolves around a metaphorical tale of marital betrayal. Ma Ubu (Busi Zokufa) misinterprets Pa's nocturnal absences in this tragic comedy that gives us glimpses into the devastating complexities of Apartheid. Handspring's ingenious puppets provide the poignant testimonies that formed part of the Truth & Reconciliation Commission hearings. Direction and animation are by William Kentridge.
The Market Theatre's Artistic Director James Ngcobo is bringing back Ubu and the Truth Commission to help the theatre celebrate its 40th anniversary by staging an exciting line-up of diverse and exhilarating productions. The play had its premier at the Market Theatre 20 years ago, and members of the original cast, Busi Zokufa and Dawid Minaar, are back on stage in the roles they brought to life so vividly.
Revived in celebration of 20 years of democracy in South Africa, the production has been touring internationally for the past 3 years. It is now returning to South Africa for a limited season from 25 August – 11 September, with the Market Theatre bringing it back home.
TICKETS AVAILABLE FROM
Computicket or the Market Theatre Box Office (011)832-1641 / 076 882 2733