04/07/16
For the second time since winter 2015, David Krut Workshop (DKW) welcome two interns from Rhode Island School of Design (RISD) to our dynamic collaborative printing space in Arts on Main.
Joanna Cortez and Ryn Caddick are about to go into their final year of undergraduate study at RISD, majoring in Printmaking.
After immersing themselves in the workshop, we asked them about their experiences so far…
What you hope to get out of your experience with DKW? 
Joanna: As a student of Printmaking, I've been taught to operate as a self-contained unit: I draw and design my own art and then transfer and edition my own work by myself. Being at DKW allows me to watch the collaboration of artist and printer and begin to understand how to be a printmaker within a space where I'm handling the works of other artists. It's a totally new experience and one I'm learning I really enjoy.
Ryn: What I most look forward to experiencing hands-on is the intersection of the physical act of printing combined with printmaking as a business. I'm thrilled to be working in such a professional and cohesive environment alongside so many talented and welcoming printers and staff.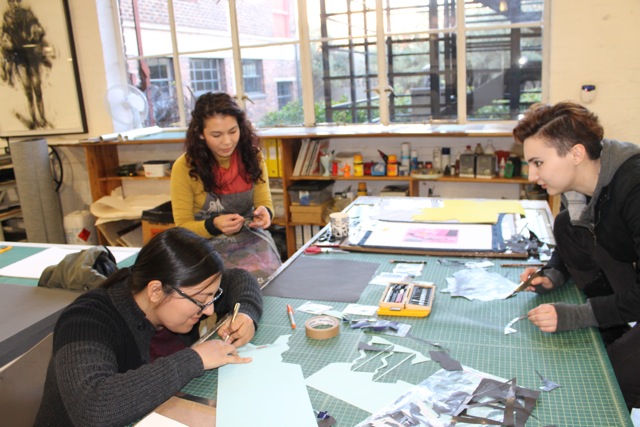 What attracts you to printmaking?
Joanna: To me, printmaking makes the process of creating work not only more satisfying but also suits the way I think about work. In my work, a single image tends to constantly evolve. When working in relief for instance, I carve whatever wood I can find, I proof it, maybe edition it, and then continue to carve the same image and maybe make a few new blocks for it. Printmaking, relief in particular, is about the ability to not be too precious about your work because, hey, you have an edition of the stage you liked already, so why be precious about the block itself?
Ryn: Printmaking is an appealing process in that, even if I have used a particular process before, the ability to make new discoveries with each new application often arises. Simple techniques have endless possibilities if you push them. Sometimes the greatest discoveries can come from imperfections.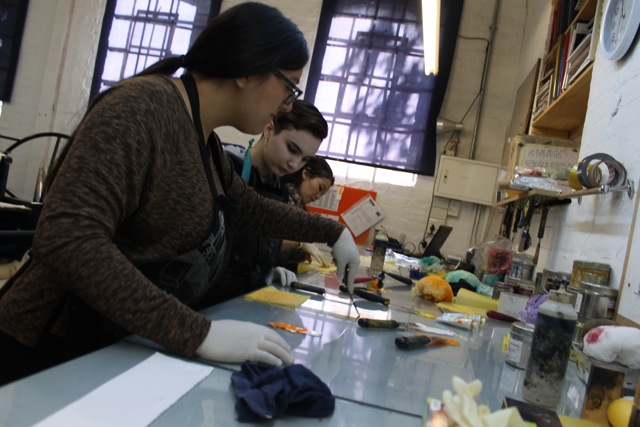 Tell us about yourselves as up-and-coming artists…
Joanna: At the moment, I'm looking forward to my last year at RISD and where I'll be after graduation. There are a ton of projects that I'm planning for my final year that I'm really keen to get started on and utilize the skills I'm gaining while interning with DKW. After graduation, I hope to continue working in a print workshop while also continuing my own projects.
Ryn: After my internship with DKW, I will return for my final year at the Rhode Island School of Design. In the coming months I'm planning to initiate multiple collaborations and with other artists, where I will continue use printmaking as a means of making.
To read about the thoughts and experiences of last year's interns, take a look at last year's interview, which can be found in the following post.