12.11.2015
Aida Muluneh has been invited to participate in Lumières d'Afrique, a group exhibition where 54 world-renowned artists, one for each country on the great African continent, will present a work inspired by a single theme: "The Illuminated Africa."
The exhibition runs from the 4th to 24th of November 2015 at Théâtre National de Chaillot in Paris.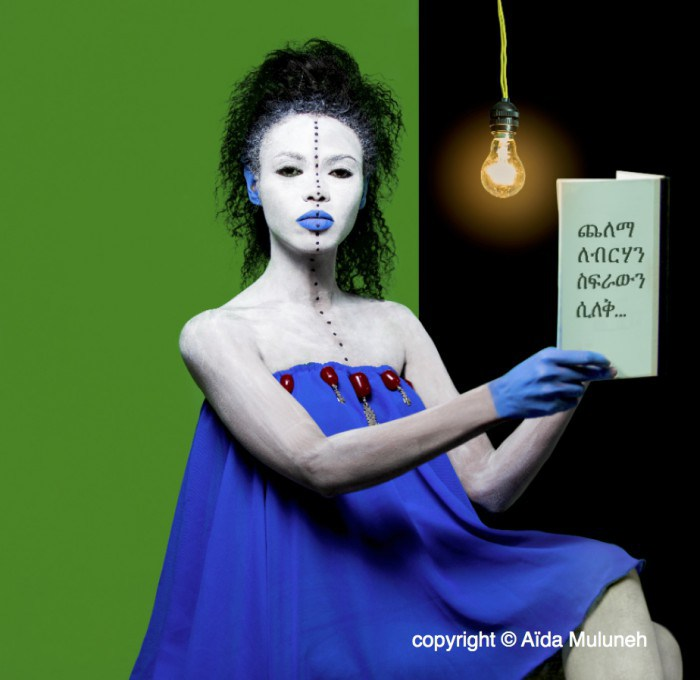 About the artist
Aïda Muluneh is an artist and cultural entrepreneur based in Addis Ababa. She left Ethiopia when she was 5 and lived in Europe, Yemen and Canada. She discovered photography in high school, in Calgary, and became aware of the power of image and how people could associate an image to a country. After she saw many photos about famine and suffering in Ethiopia she decided to document on her country so that to have people seen it from another angle. She published « Past forward » in 2009, a collection of images in which she set out her personal vision on Ethiopian life and culture. She has received an award from the International Photography Awards. Today most of her works emphasize African women included those of the diaspora and are subject to international showcasings in the United States, Cuba, Germany, Mali…Recently selected for Lumières d'Afrique exhibition that is currently taking place in Paris from 4th November to 26th November, Aïda Muluneh represents Ethiopia. She has kindly accepted to answer our questions.
How do you prepare your shootings ?
The studio work has been an interesting process for me in the past few years. I often start with a sketch and start building the scene that I would like to create, the rest is building the team around the image that I want to bring to realization. Sometimes for a shoot it reminds me of a film production with many components going into it to make the vision come alive. But the main preparation for me is the inspiration to create the one piece, while in my photojournalism work, the inspiration is the streets that I walk on as opposed to something confined in a space.
As a photographer, what is essential to convey through your works ?
It depends on the type of photography that I am doing, if its is photojournalism my main focus is to present my community and also those that I am documenting with dignity and through a balanced perspective. While my studio work is focused on expressing on what is within me through the images that I construct.
Can you give us some examples of  African photographers that you admire or take inspiration from ?
There are many photographers that I admire that are from our continent and also beyond our boarders but for here Shimelis Desta (Ethiopia) and Malick Sidibé (Mali) are my hero's.
Among your work, which one is your favourite ?  Why ?
Its hard to say which is my favorite work, its like asking a mother which one of her children are her favorite.
Are you currently working on a particular project ?
Artistically I am working on a large body of work for various exhibitions next year, while through my company Desta For Africa PLC we are preparing for the fourth edition of the Addis Foto Fest (a photography biannual taking place in Addis Ababa).
Your above picture is our crush. Can you highlight us about it ?
Title: « Darkness give way to light » (Chelema le berhane botawen seelek)
Medium: Photography and body painting
Concept note:
My family comes from the rural regions of Welo, a place that has no roads but a long walk through the mountains of the highlands. The birth place of my grandmother is in the middle of a valley and through my first visit it is one of those places that unless a road is built the chances of electricity reaching would take time. A few years ago, my step grandfather passed away at the age of 105 and my cousins asked to borrow a small solar light that was designed by the artists Olafur Eliasson. In our tradition when someone dies the funeral is often a 40 day event which brings in family from across the various regions to celebrate the life of the person who has passed. When my cousin returned, he said that the family of over 100 people were huddled under a tent and the women were able to cook through the night just from the small light source that came from the « little sun » gadget. The need for electricity in all regions not only has an impact for our daily life but in order for us to move forward its an integral component that is needed. With this said, the Amharic text that you see on the book that the woman is holding is an inspiration drawn from a long poem that is used to be used for 3rd grade Amharic curriculum in which it talks about education is the tool that brings us out of darkness. The title of the poem is « Ye brehan fiker » (loosely translates the love for light or enlightenment) by Debebe Seifu. With this in mind, I believe that its not only mental enlightenment but the need for light to also move our future generation towards a  brighter future. On last note, I had a friend from India who once told me the story of his father who came from a rural region similar to my families in which their was only one light pole in the town and his father would sit under the light studying since their was no electricity in his home. His fathers self determination regardless of the challenges that he faced showed his passion to change his path through education. Hence, with Ethiopia being predominantly an agrarian society which means that the need for electricity is closely tied to our growth and development.
Source – Arique sur scene:
afriquesurscene.com/2015/11/05/lumieres-dafrique-clap-sur-lartiste-aida-muluneh