At the intimate David Krut Workshop (DKW) at 151 Jan Smuts the pressure wheel has been turning on the regular, playing host to current artist-in-residence, Claire Zinn.
Claire is an artist living in Johannesburg, who holds an Honours degree in Fine Art from Rhodes University. She has been exploring the concept of destruction inspired by military & war themes. With her affinity for painting, the medium of monotype prints has been a natural choice.We recently had a chat with Claire to gain some insight into her current work process at DKW at 151 Jan smuts.
DKP: You are working on a new body of work at DKW. What is the work about and what narrative are you following?
CZ: I'm currently exploring a narrative of war; the affect it has on humans and their environments, the psychology involved in recruiting soldiers and the mirroring of historical wars with modern wars.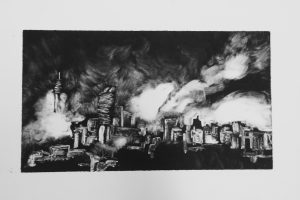 DKP: How do you intend for the work to be interpreted by your audience/viewer?
CZ: I would like an audience to consider the consequences of war, however far removed they think they are from it.
DKP: Your preferred medium is painting. What challenges have you been faced with (in your technical/creative ability) working within the medium of print, and how have you dealt with them?
CZ: I've been working on monotypes which have been called the painterly print so it hasn't been such a jump.  The big difference for me is not really being able to fix a mistake as easily as I can with oils paints. You just have to embrace the mistakes.
DKP: How would you describe the environment within DKW at 151 Jan Smuts?
CZ: I'm often in the studio with Senzo Shabangu and his knowledge of printmaking is quite vast.  He's really helped me get back into printmaking and has been very encouraging.
DKP: Is print a medium within your periphery in the long term?
CZ: Yes, I find monotypes express the chaos of war well and I am keen to explore other mediums within printmaking.
The team at David Krut Projects looks forward to Claire's body of work developing. Watch this space for further updates.
You can also follow Claire's journey on her website http://clairezinn.co.za/