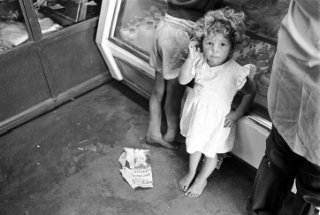 David Krut Projects, New York, will be exhibiting a selection of Cedric Nunn's work drawn primarily from an on-going project entitled Blood Relatives that Nunn started as a young photographer. Although, as the title of the project suggests, the images are of Nunn's extended family, the photographs are significant beyond family portraiture, and expose a fresh perspective on a photographer famous for images taken during the struggle period under Apartheid rule in South Africa and from the transition to democracy in the 1990s. The exhibition will open on the evening of 12 September and will run until 25 October 2012.
The Blood Relatives project began as a proposal to Afrapix (a collective founded by politically aware photographers in the 1980s in South Africa) to address a need for more personal projects and resulted in what Nunn considers 'to be the first set of successful images that [he] produced.'[1]  Nunn was not short of subject matter, being the fourth generation of a very large "mixed race" family, and the project sought to investigate aspects of identity within this "mixed race" group – a designation allocated by the Apartheid government that he therefore rejected. Nunn's response engaged the idea that the personal and political, especially as a non-white South African of mixed race heritage growing up pre-democracy, form a constant feedback loop. Very often in Nunn's family portraits, intuitive decisions around image-making double up as critical engagements. While Nunn, like most young photographers, had plans to document and pursue similar projects countrywide, a lack of resources to travel made this impossible. In this way, according to Nunn, a lack of resources transformed into a wealth of subject matter and material that he had access to as an insider. As a viewer of Nunn's images, it is this quiet knowledge and personal nuance that makes his images so intriguing beyond their political importance.
Although the people that Nunn was photographing would have lacked a formal knowledge of art history or institutional education in the arts, a pictorial sensibility is very clear from the interiors of the spaces in the photographs. Nunn admits that, while he did lack institutional knowledge, as a photographer he relied on his family's organic sense of the visual in the way others might have relied on an inherited love for music. A lack of tertiary education is something that Nunn has used to his advantage – his agency in the world in which he photographs gives him the upper hand over any expert looking in on the same situations. This advantage, and the sensitivity with which Nunn operates, is also evident in images shot outside the context. Despite being on the frontline as a documenter of political protest in South Africa, Nunn has often indicated that he 'really just wanted to tell very ordinary human stories', to be able to 'be introspective and just wander about backstreet and meet the denizens of those places.'[2] He has also referred to the images that happen alongside his more overtly political works as falling 'outside of the script,'[3] and in so doing enhancing their political potency as poignant illustrations of the issues faced by ordinary people. In this way, Nunn combines the personal and political in his work, having no need to shy away from either one, and producing as a result a form of highly personal and simultaneously accomplished social documentary photography.
---
[1] From an conversation between Nunn and Okwui Enwezor, in Cedric Nunn: Call and Response, Fourthwall Books and Hatje Cantz, 2012.