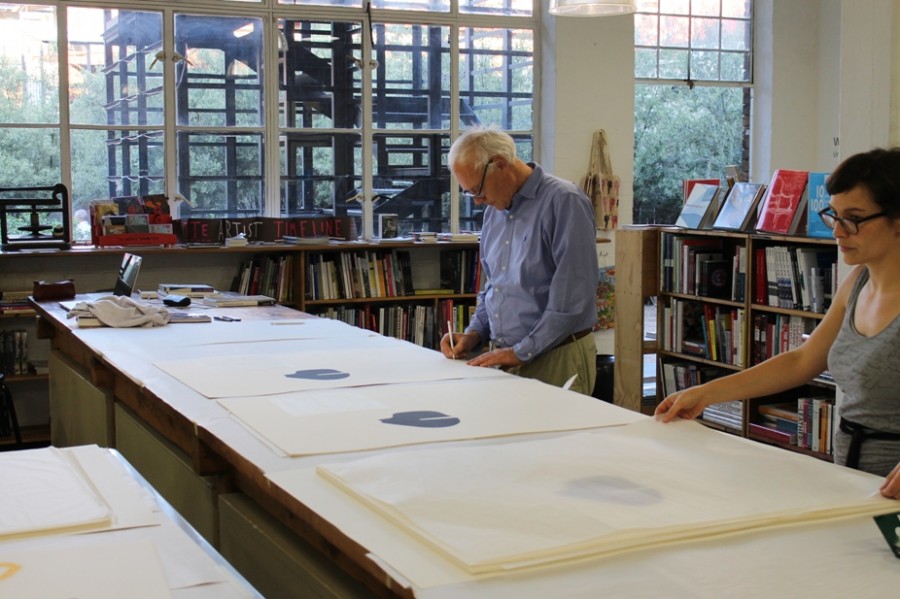 Upon arrival for his residency at the NIROX Foundation in September 2011, Jürgen Partenheimer set out with a notebook to capture his impressions of what would serve as home to him for two months. This workbook as a visual diary is the fourth of its kind; the others originated during residencies in Rome, Sao Paulo and Sils-Maria, invited by The German Academy Villa Massimo, the Museo Pinacoteca do Estado and the Nietzsche-House in Switzerland, and is Partenheimer's method of creating an archive of visual perceptions that establish an imaginary, found and gathered vocabulary for a body of work created in response to a place. Over the course of his stay, Partenheimer's extended South African Diary, exhibited at NIROX Projects at Arts on Main, Johannesburg towards the end of his stay, grew to include 32 drawings, entitled Seeds & Tracks; 14 watercolours, his South African Landscapes; 10 watercolours and drawings entitled NIROX; and 3 very large watercolours on Somerset paper offered to him by David Krut Print Workshop (DKW) master printer Jillian Ross. Two new additions to the body of work, which were begun in 2011 and finished during his visit to South Africa in May 2012, are an artist book entitled Folded Spirits containing poetry by Lebogang Mashile (produced in collaboration with Mark Atwood at The Artists' Press), and a suite of prints produced in collaboration with Jillian Ross and Mlungisi Kongisa at DKW.
Within a few days of his arrival in South Africa in 2011, Jürgen Partenheimer visited David Krut and Alastair Whitton at Arts on Main and the potential for an important project was realised. Aside from time spent at the NIROX Foundation, Partenheimer was based at the David Krut Print Workshop at Arts on Main during his visits to South Africa. Important events included a conversation between Partenheimer and Bronwyn Law-Viljoen, arranged by Krut, in which he addressed his view of the art book as art object in its own right, which 'reveal[s] itself through its own imagery and encounter with text.'[1] Partenheimer's skill in communicating and motivating alternative thought processes, stylistically focussed on colour and form rather than narrative, revealed new horizons for many of the people he encountered in South Africa, including the staff of DKW.
As an essential approach, before Partenheimer visits a new country he delves into the literature, and particularly the poetry, of the nation, which he posits as an indicator of the cultural pulse of a people. The one person he was certain he wanted to meet during his time spent in South Africa in 2011, was poet Lebogang Mashile. The artist book, Folded Spirits, which contains Partenheimer's images and poems by Mashile, is described by Partenheimer as 'a condensed reflection of [his] time in South Africa…created as an interior monologue, which turned to a dialogue, which turned into a polyphonic concurrency, an artistic conversion of text and image into an impartial overall visual perception.'[2] Although hailing from different continents and working in different media, in dialogue Partenheimer and Mashile realised that their sensibilities are in fact very similar. Tilman Falk has written, in relation to Partenheimer's artist books, that 'word and image, poem and print are joined in open dialogue.'[3] In a similar vein, Hank Hine wrote of the 'longing that words and images demonstrate for one another, and the interconnectivity of word and image'[4] which is a key component of Partenheimer's handling of the relationship between his work and Mashile's in Folded Spirits. The titles of the poems have been discarded for use in the book, allowing the texts to flow freely from one to another, and to weave in between and through the images to which they relate. The successful choreography of each page allows the reader access to the imaginary dialogue between two countries and the existential, formative experiences shared between two artists.
The suite of prints created at DKW comprises three large works, two medium-sized works (intended to exist as triptych and diptych, while still maintaining their independent energy) and one small work. The vocabulary established in the South African Diary is evident also in the prints, with shapes and lines shared between projects. The prints, although minimalist in their aesthetic, have been created using a combination of techniques – etching, sugarlift and spitbite aquatint, linocut and chine collé – requiring the deployment of much technical skill and in-depth involvement from the printers for the creation of each work. Partenheimer describes the works as 'highlighting the individual nature and presence of a single image from the "archive" – the body of drawings and watercolours done at NIROX.'[5]
– Jacqueline Nurse, July 2012
---
Above and below are images of Jürgen Partenheimer signing the prints and the book with poet Lebogang Mashile. Images of the prints and spreads from the book can be seen further down this page.
For pricing and availability please contact [email protected].
For more information about Partenheimer's time in South Africa, click here.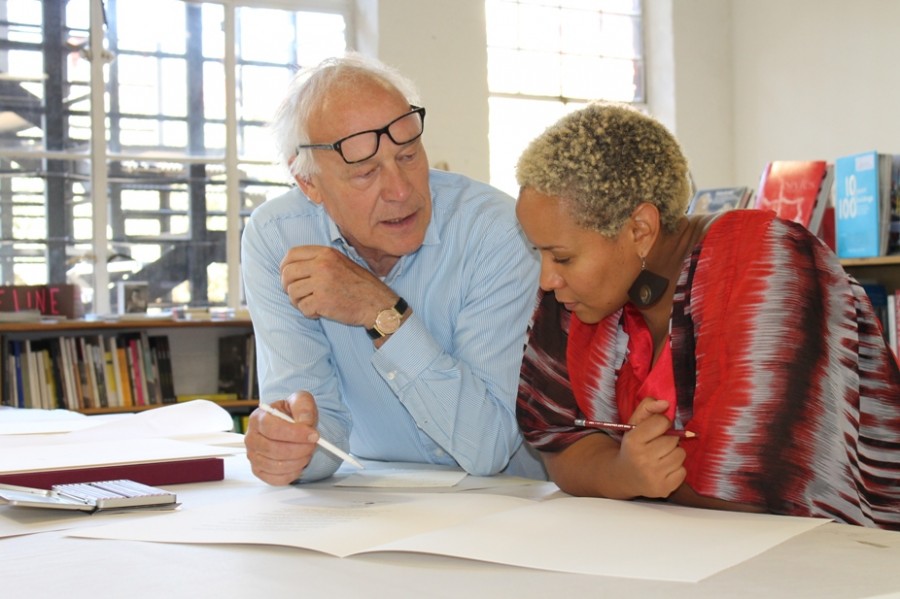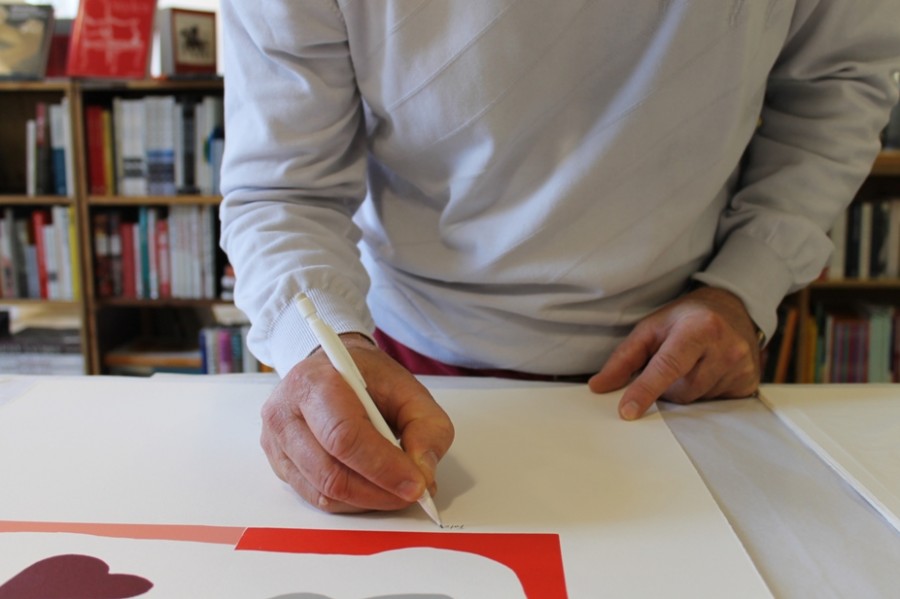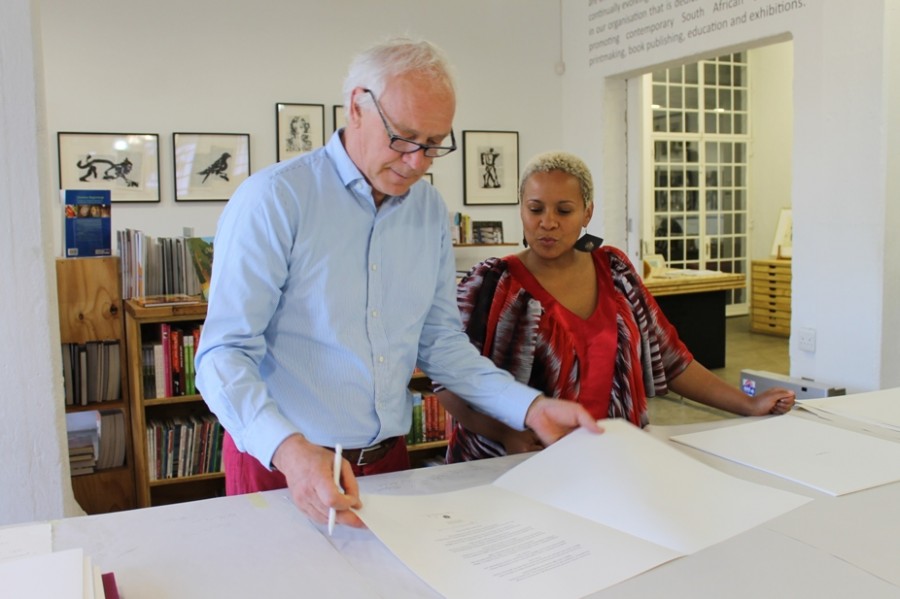 BOOK COVER AND SPREADS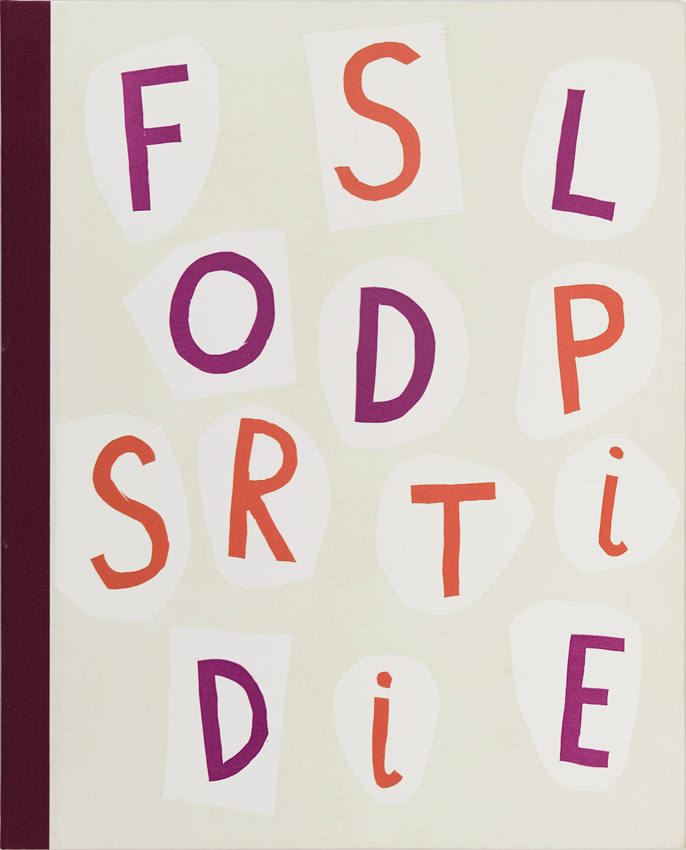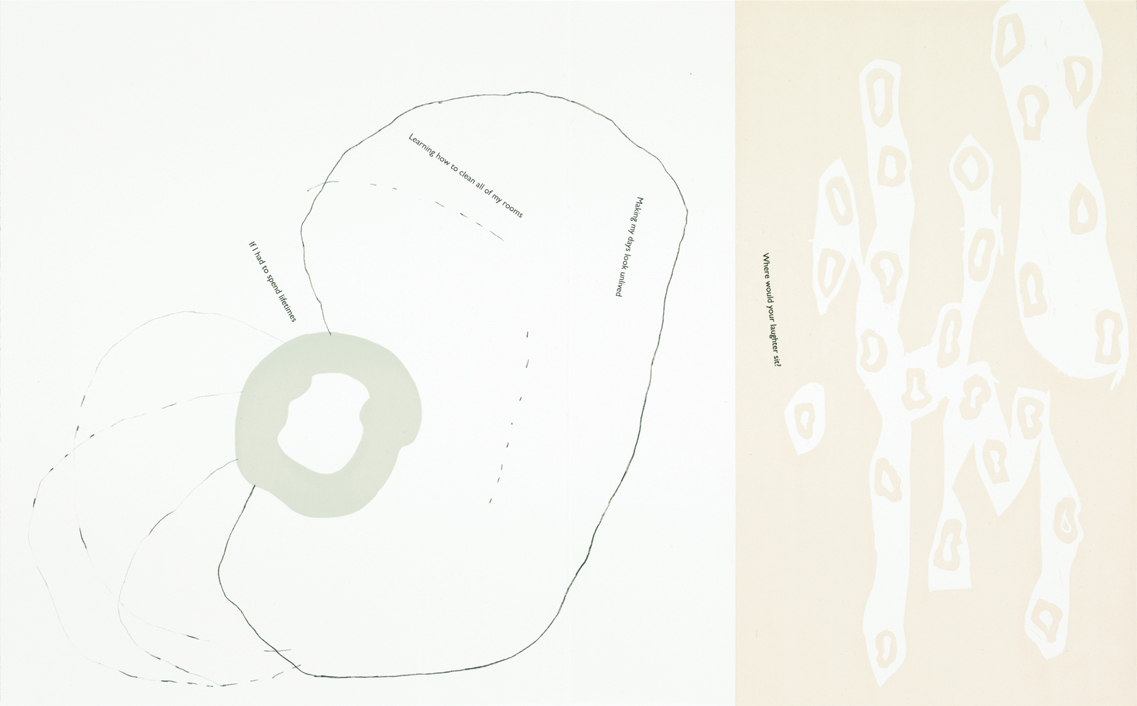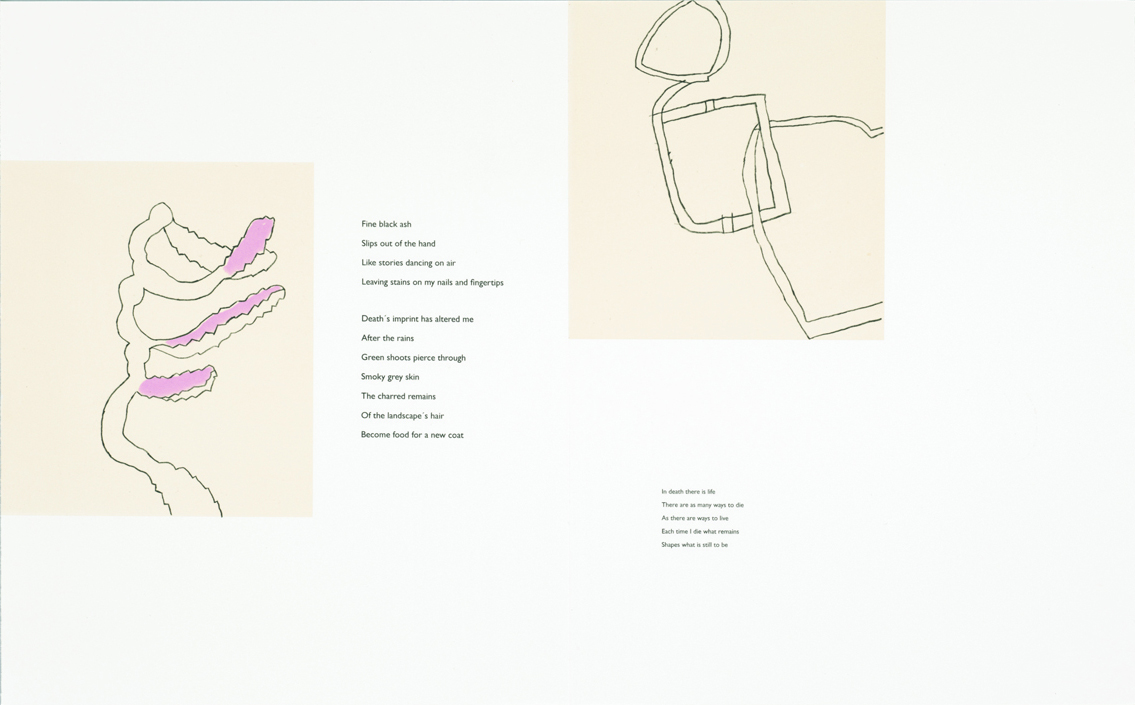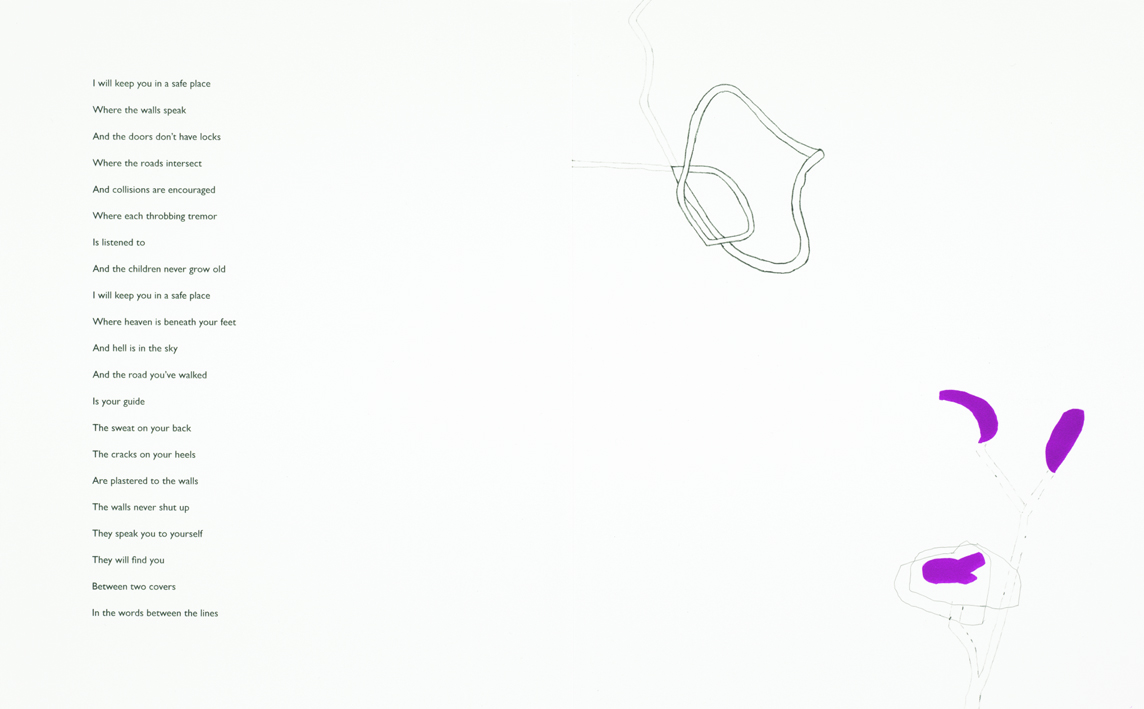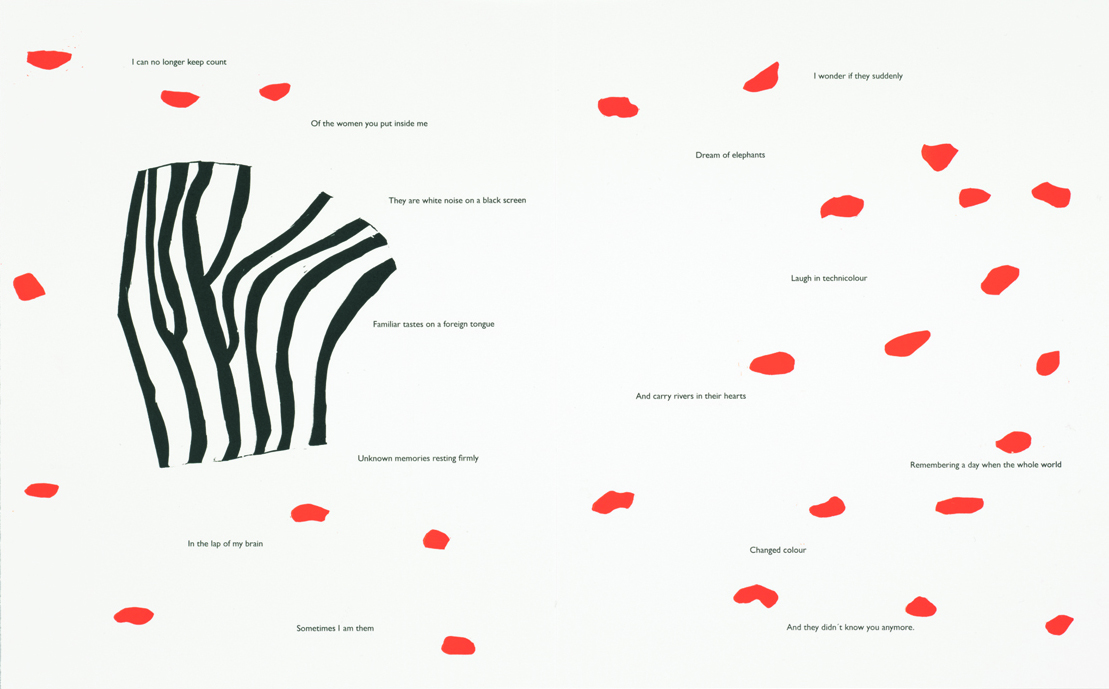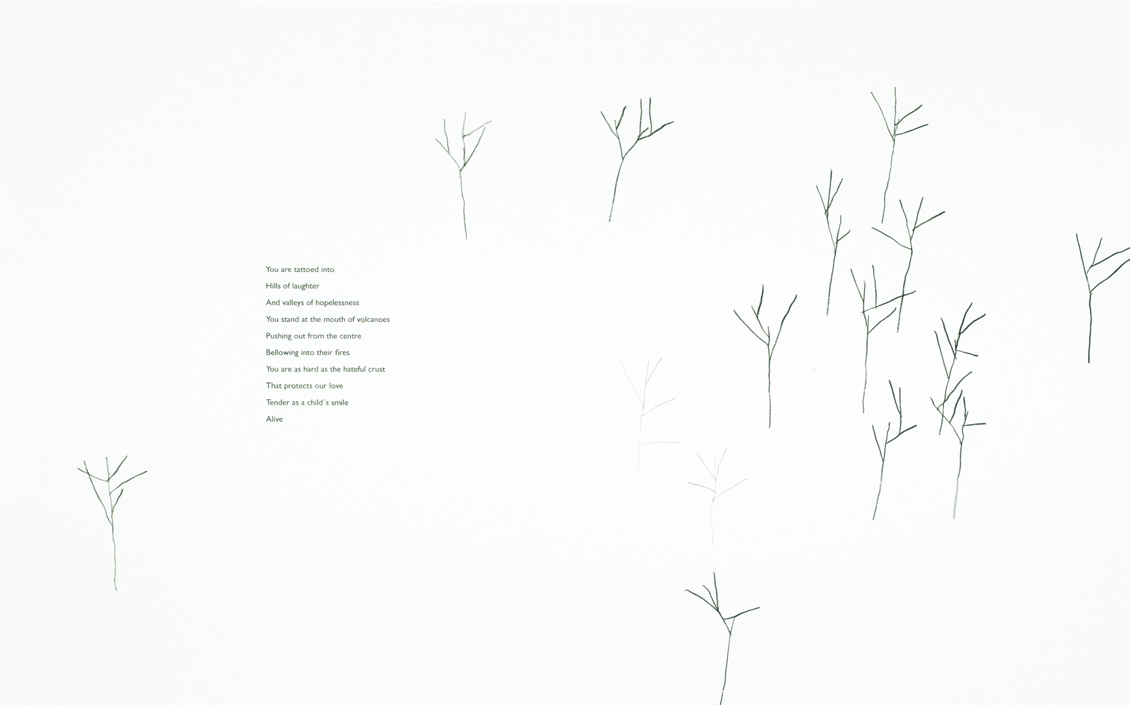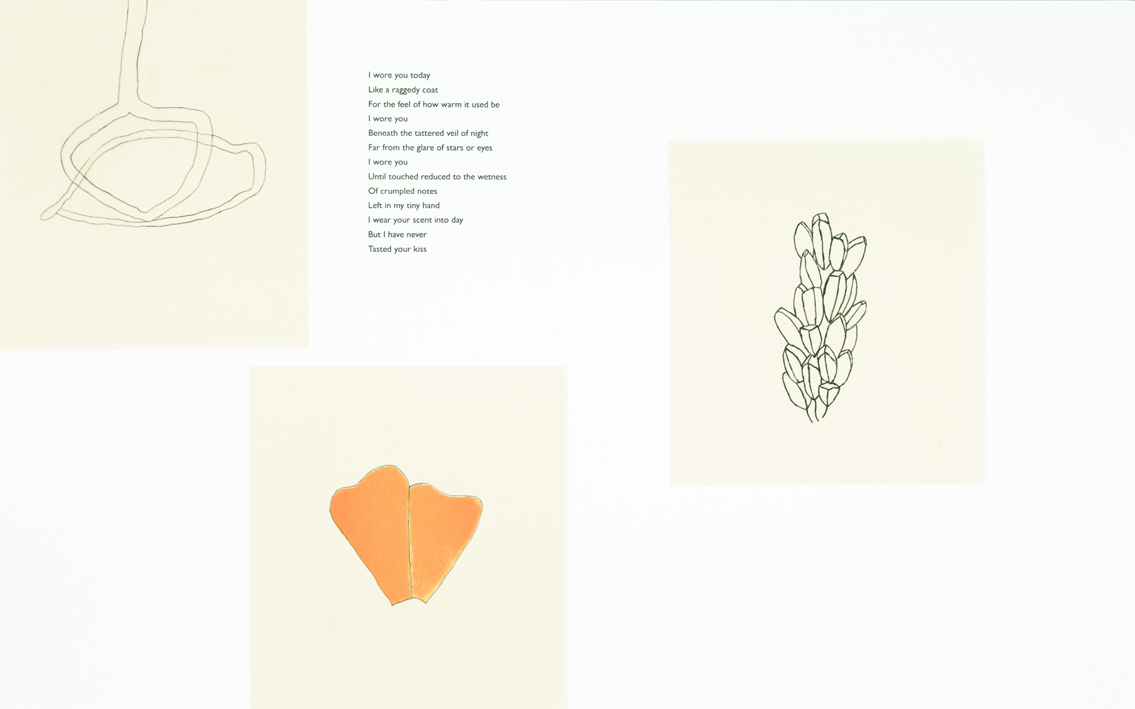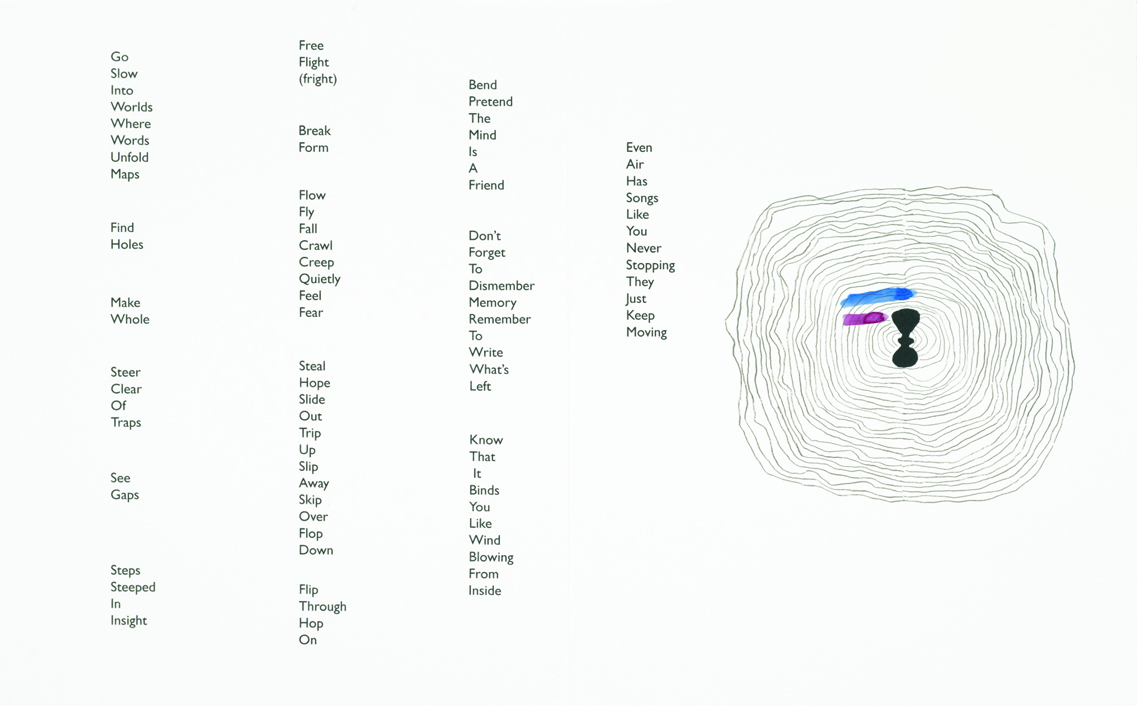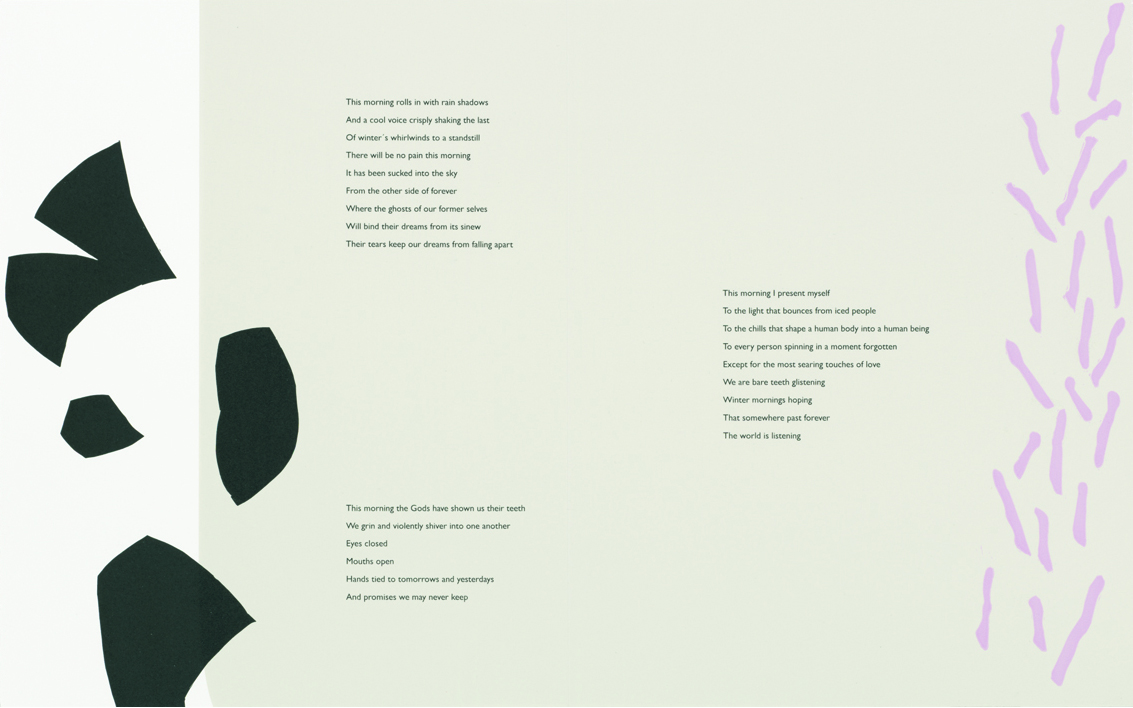 PRINTS