David Krut Print Workshop at Arts on Main has launched into 2012 full speed ahead with printing and editioning the latest series of linocuts by William Kentridge. Many of the prints will become part of an upcoming exhibition in Australia this year. With almost 60 linocut prints to create, the DKW team and Kentridge's assistants have pulled out all the stops to get this series done.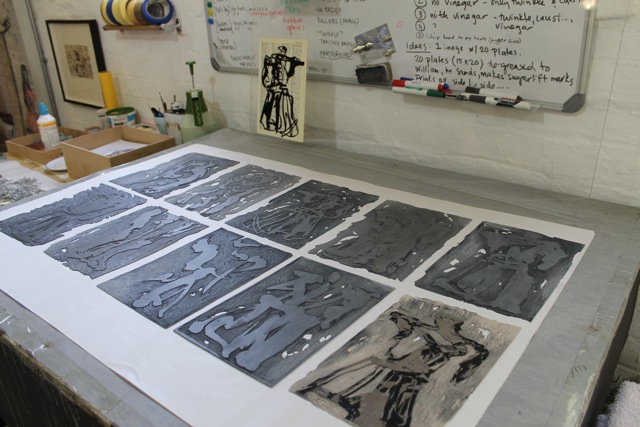 Many of the images are recurring themes in Kentridge's art and stage productions, such as the cat, trees, coffee pots and the nude. The focus on the linocuts seems to be experimentation with how little visual information one can give and the viewer, but still construct form or meaning from the marks. While some images are more obvious, others disolve into Japanbese Sumi-e brushstroke-inspired suggestions.
The linocut images originated as ink drawings on the pages of old dictionaries. The pages were photocopied and transferred onto marley tile where each and every brushstroke was carved out in the finest detail. The identical brush mark replication of the linocuts make for intriguing nuances, in contrast with the typical characteristics of the printing method.
Each image in the series is then printed onto a page of a dictionary. The guide word at the top of each column of the page, that is used to indicate the first main entry on the page and the alphabetical span of the page, becomes an interaction between the work and image. They almost serve as clues to the image in ironic and often quirky ways. The larger prints are created using as many as 15 plates that are puzzled together to form the image, in a similar fashion to Kentridge's Scribble Cat (2010).
The prints are currently being printed and editioned and are not yet available for release. Keep checking the website for more details in the next month.