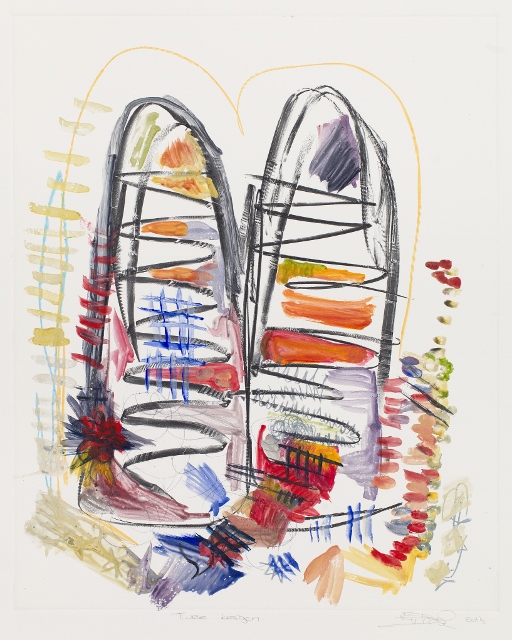 Born 1989, Bogota, Colombia. Lives and works in Amsterdam, the Netherlands.
Raquel van Haver works on burlap, often combining oil paint, charcoal, plaster, paper, human hair, coal, chalk and ash in heavily textured compositions. Her paintings, drawings and installations offer snapshots of daily life in and out a metropolitan and urban society. Giving a voice to those who do live between the boarders of society. Talking about the youth, street life, femininity, masculinity, politics, and status she interweaves these subjects together in her works. She is interested in race, identity and identification drawing from African, Western, Caribbean and Latin American cultures within her direct neighborhood. The works she produces are raw and masculine with a beautiful detailed texture, at times monumental and energetic, at others dark and ominous. Negotiations between 'self' and 'other' within migration and globalization appear as recurring themes.
The artist skillfully fuses great traditions of painting and the more contemporary practices of graffiti in her surroundings. She begins by collecting imagery, either found during her project research or residency or from her own photography collection and sketches. These are then deconstructed and fragmented through collage , printing and drawing to produce a new image. Surface and subject are finally merged into relief using thick layers of oil paint and a result of a mixing technique the artists invented. The stories she tells are recognizable to the viewer, but left open and inviting interpretation. The way she is handling the paint can be described as a mixture of 2 dimensional and 3 dimensional work. She fuses monumental group portraits on canvas with large charcoal murals and installation. By combining these different techniques and forms she creates a way of storytelling where she can lure the viewer into her vision and handwriting upon reality.
Studying her subjects by detailed ink drawings she takes over the atmosphere of cosy bars, nightlife , protest, religion and events where numerous different sub cultures come together, manifest, interact and celebrate.
Van Haver was born in 1989 in Bogota, Colombia. She lives and works in Amsterdam Zuid Oost, the Netherlands. In 2012 she graduated from the HKU, Fine Arts, Utrecht. In 2012, 2013 and 2016 she was nominated for the prestigious Dutch Royal Award for Painting and was on the long list for the prix the Rome and one of the artist at the 30under30 Forbes list 2016. 2017 was also the year she participated at the culture summit 2017 in Abu Dhabi.
She was granted by the Mondriaan funds for Jong talent ( young talented artist in 2016).
Since 2014 she is a member of the artist collective the state of L3 and draw me nearer
The State of L3 and draw me nearer are an international network of artists blending different artistic media and disciplines. Active in the visual arts as well as in documentaries and literature.
Different artists working together internationally through the following of a shared ideology and aesthetics.
In 2016 she travelled to South Africa. She was invited to make prints at the print workshop at David Krut for a long week. These works became a starting point for her new body of work: the definition of a system 2017, where she depicts topics about migration, oppression of the system, military forces, refugees and politics on a globalized level.
Next to her practice as a painter, she works on several different projects all around the world. At the moment she develops and curates an international research project, with workshops and an exhibition in Zimbabwe at the national gallery of Zimbabwe, Harare with admire Kamudzengerere, Chikonzero Chazunguza(DAI) and Raphael Chikukwa (National gallery of Zimbabwe and curator of the Zimbabwe pavilion at the Venice Biennale 2017). This project also includes an exchange program with Thami Mnyele foundation and the CBK Zuid Oost, Amsterdam. At the moment she works together and is a resident at the AAF in Lagos, Nigeria working towards a new body of we de the upcoming LagosPhoto festival .