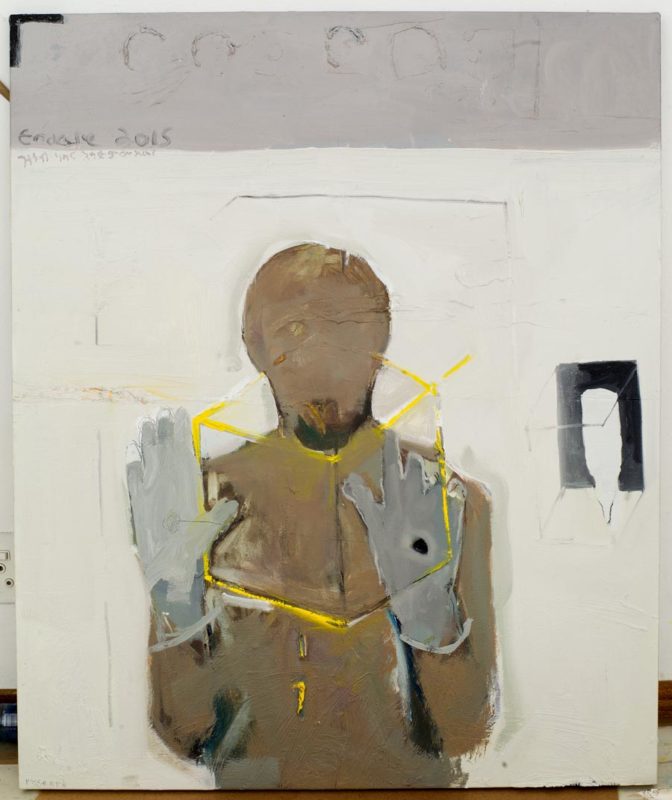 Endale Desalegn was born in Addis Ababa, Ethiopia, where he continues to live and produce richly symbolic, experimental paintings. Endale, who prefers to be referred to by his first name, has also lectured at Addis Ababa University's School of Architecture and the Teaching College in Hawassa, Ethiopia. In 2014, he had his first residency with David Krut Projects (DKP), followed by a solo exhibition, titled A Single Vibration, at the David Krut gallery at Arts on Main, Johannesburg. The exhibition featured works that the artist made in Ethiopia in addition to new paintings that he made during his residency. The show explored concepts of light and darkness both in terms of unpredictable access to electricity in his home town and relating to wider themes on what is means to be African in this modern world. Last year, he returned to DKP for a second residency, which was followed by another solo show, Two Social Pacifiers (2015), in which Endale meditates on the two economic and social systems – communism and capitalism – in relation to Ethiopia's communist history and capitalist present. Endale's work is distinguished by his strikingly expressive use of acrylic and oil paint and his characteristically monochrome palette with sparing use of colour. During his residency programmes, Endale had access to a printing press for the first time, through which he collaborated with South African and Zimbabwean artists Senzo Shabangu and Tendai Mupita and worked closely with DKW printer Kim-Lee Loggenberg to produce a series of monotypes. Endale has a Bachelor of Arts, majoring in painting, from Alle School of Fine Arts and Design in Addis Ababa (2008). He has done residencies in Lisbon, Portugal (2011, 2016) and has had solo exhibitions in Ethiopia, South Africa, Portugal and the United States in addition to various group shows.
Solo exhibitions with DKP
Endale Desalegn (DK New York Gallery, April 2016)
Two Social Pacifiers (DK Parkwood Gallery, November 2015)
A Single Vibration (DK Arts-on-Main, June 2014)
Scroll down to view works.
Related blog posts
Endale Desalegn on his unconventional approach to printmaking
Endale Desalegn in Residency at DKP Print Workshop
The storm before the calm: preparations for exhibitions by Endale Desalegn & Robyn Penn
Related articles
Art South Africa reviews Endale's most recent show, Two Social Pacifiers
On Endale's visual imagination
David Krut NYC presents Endale Desalegn
Business Day locates Two Social Pacifiers within an important current dialogue on South Africa and systems of oppression