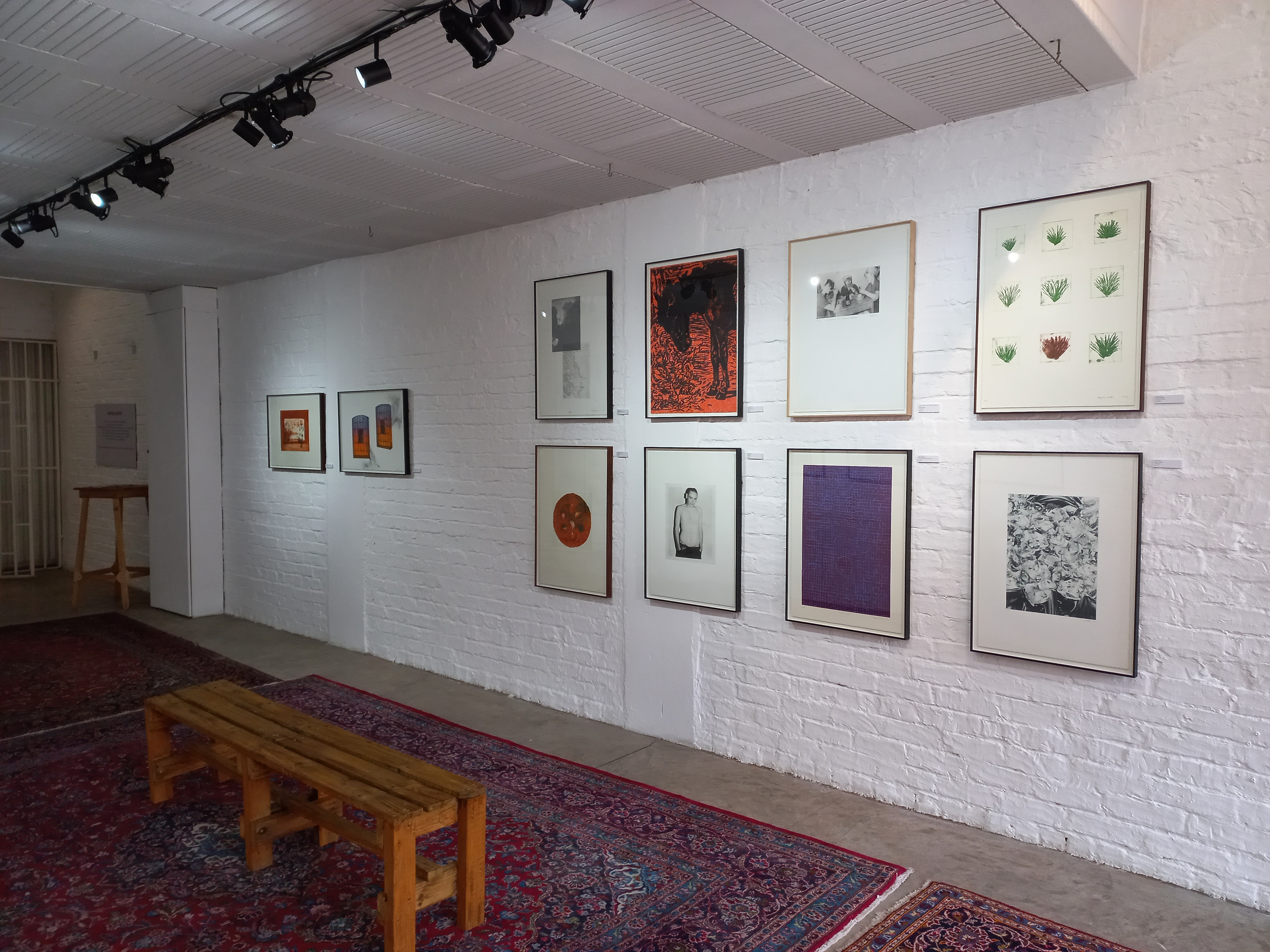 The African Leipzig group exhibition, hosted at Arts on Main in Downtown Johannesburg, features 20 etchings made by artists from Africa and Germany.
15 April – 11 May 2023 by appointment
The Less Good Lounge
The Centre for the Less Good Idea, Arts on Main
264 Fox Street, Maboneng
Participating artists are:
Katherine Bull, Freshwoyen Endrias, Roxy Kaczmarek, Hemali Khoosal,
Bongile Lecoge-Zulu, Motlhoki Nono, Natalie Paneng, Oupa Sibeko,
Tzung-Hui Lauren Lee, Xhanti Zwelendaba, Sebastian Burger,
Silke Koch, Bjørn Melhus, Maria Ondrej, Vlado Ondrej,
Ramona Schacht, Jana Schulz, Maria Schumacher, Raul Walch &
Angelika Waniek.
This project was made possible with the kind support of the German Federal Foreign Office.
Commencing in February 2022 and concluding in January 2023, African Leipzig is a project between The Centre for the Less Good Idea and David Krut Projects, both based at Arts on Main, and the LIA-Leipzig International Art Programme. Ten multidisciplinary artists – nine from South Africa and one from Ethiopia – embarked on residencies at The Spinnerei in Leipzig to enhance knowledge in digital and analogue art making processes. The residencies included a workshop with the Vlado & Maria Ondrej Studio for Contemporary Etching at The Spinnerei, providing each artist the opportunity to create a limited editioned print during their three-month residencies.
African Leipzig is primarily a residency about developing new ways of working and collaborating across continents and cultures. Artists were encouraged to bring their own disciplines and ways of working to the process, with a particular focus on ways of working within the
digital realm – video, performance, media art, and sound art. Each artist spent three months in studios within this massive, regenerated factory, which was the largest cotton spinning mill in Europe up until the end of the Cold War. It now provides studios for more than one hundred artists, as well as many commercial art galleries and more. This site developed out of and continues to be implicated in the history of colonisation and extraction in Africa by Germany. This was not an overt provocation throughout the residencies, but rather served as a possible point of entry into the myriad explorations and collaborations.
Interdisciplinary collaboration, play, and a hybrid analogue and digital approach to the etching process were some of the ways of working that emerged through the residency processes. Artists also spent time exploring and engaging with the museums and galleries in the area, immersing themselves in the daily life of Leipzig and its surroundings. One in particular, The Museum für Druckkunst Leipzig, is a unique institution which documents the earliest of printing methods for books, engraving and etching presses, and being both a museum and a printing workshop, it is particularly used by artists.
The etchings exhibited in African Leipzig bear the markings, gestures and reflections of the 20 artists who took part in the residency programme. In this way, each artwork functions as a record of engagement – a collaborative and free-spirited experimentation with the generative process of printmaking.