STIAN DEETLEFS | Fragments of our Identity
An Online exhibition on ARTSY – Click here to view available works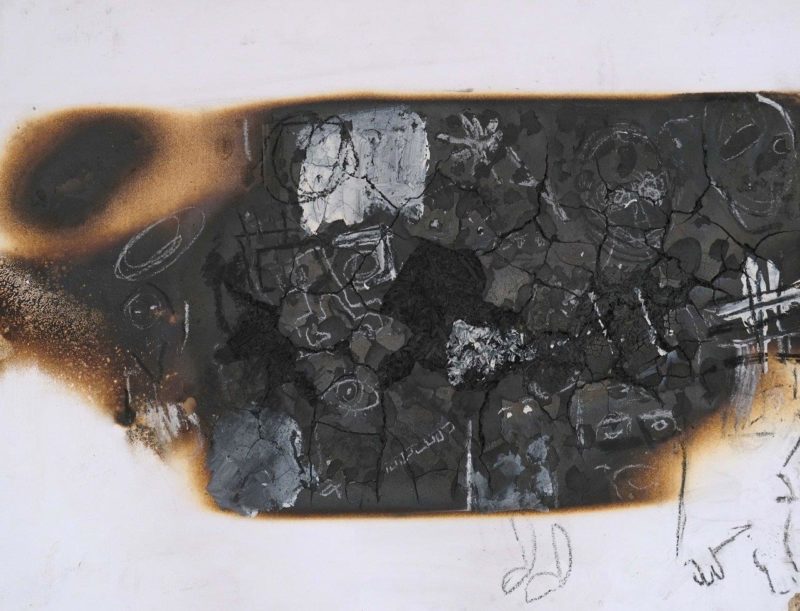 David Krut Projects is pleased to introduce Fragments of our Identity by Stian Deetlefs, an online exhibition of paintings and sculptures on show from 10 April, in partnership with ARTSY.
In late 2019, Stian Deetlefs was introduced to David Krut Projects by Armand de Montbron, who is a long-standing friend of the organisation and who discovered Deetlefs' work on the 2019 Joburg Fringe.
Following the positive attention Deetlefs' work received while hanging in the David Krut Projects space at THE BLUE HOUSE, 151 Jan Smuts Avenue, a decision was made to pursue a collaboration that included a short-term residency at THE BLUE HOUSE, during which Deetlef's produced a number of paintings and sculptures that are included in this exhibition.
Deetlefs is a contemporary South African artist who was born and raised in Richard's Bay, a major industrial port city on the North Coast of Kwa-Zulu Natal, and much of his work reflects on his experience of this heavily industrialised environment. While working as a crane operator, Deetlefs gained first-hand access to the inner workings of the port, and developed a nuanced appreciation of his co-workers. Despite being instrumental in keeping the industrial cogs turning, the stories of these working class people are not often told, or considered worth telling.
Parallel to his work in the port, Deetlefs was honing his interest in the arts. His career began making decorative objects with his father – planters and light fixtures made out of industrial material, such as concrete – to supplement his income. For Deetlefs, these objects were the result of pure play, but once his interest was sparked, his ambition and hunger for knowledge grew. While voraciously consuming as much information on the arts as he could, he came across a Jackson Pollock painting being offered for an extraordinary amount of money by an auction house. He pondered this for a moment, wondering why this particular piece had been valued so highly and granted such importance, while what he was producing with his father was not. Deetlefs continued to expand his interest in the fine art arena, becoming fascinated in particular with the work of Jackson Pollock, Willem de Kooning, Jean Dubuffet and Jean-Michel Basquiat.
These two streams of activity have converged, resulting in Deetlefs' presentation of subject matter drawn from his daily life working in factories for minimum wage through the lens of his understanding of modern art history. His use of both traditional fine art media – oil paint and pastel, for instance – as well as industrial and household material – PVA and spray paint, stainless steel and burnt wood substrate – lends an authenticity to the figures Deetlefs captures in his portraits. These are depictions of people he has encountered on the street, in the port, during his daily life engaging with the working class and informal sector, and the honour and privilege Deetlefs feels in telling these stories reveals a sense of duty in his process. Through the manipulation of concrete, the impulsive stroke of household paints and the revitalisation of found, once-forgotten objects, he utilises his industrial roots to express the human figure and condition. Both his painting and sculpture practice employ the idea of thrown-away objects as a metaphor for 'thrown-away people', aiming to provoke a sense of uncertainty through expressive gestures in which the viewer can get lost.
Take a listen to the David Krut Podcast episode with Stian Deetlefs and Britt Lawton | Listening Time 22 min