Joseph Hart: Stagecraft
November 4, 2009 – January 30, 2010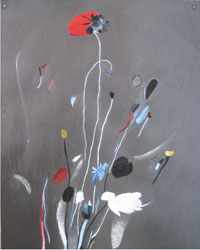 For his first solo show at David Krut Projects, Joseph Hart presents a new suite of work. Hart utilizes visits to museums and reproductions from art history books as platforms for examining the politics of presentation, and how value can be manipulated through different modes of display. Fixtures such as vitrines, pedestals, frames and plinths are reoccurring images in his work, providing formal structure while also serving as symbols of significance. Equal parts drawing, painting, construction and collage, Hart's work manages to balance the historical with the contemporary, the recognizable with the abstract, all with diverse and exciting results.
Hart treats his surface as a stage or theater set: his process of using various materials and approaches, manipulating images, applying color and marks over and over, cutting and editing and building back up, and designing awkward yet resolved compositions, all play essential roles in his carefully crafted scenes.
In Untitled (Hoard), 2009, whimsical forms move in and out of focus, while a treasure trove of recognizable objects and antiquities float on and off of display shelves. Hugger-Mugger, 2009, capitalizes on Twombly-esque mark making, featuring a fury of gestures, lines and fragments exploding across the surface. In Big Smile #3, 2009, a Flemish floral still-life oil painting that Hart discovered hanging in a lonely dark corner of the Musée du Louvre, is re-interpreted through heavy layers of graphite and bursts of sharp color, suggesting a new sense of attention, importance and vitality.
Born in New Hampshire (1976), Joseph Hart lives and works in New York City. In 1999, he received his BFA from the Rhode Island School of Design. Most recently, his work has been included in the New Talents section of Art Cologne. He has been the recipient of The Saltonstall Foundation Residency Fellowship (2005), and a juror for the Scholastic Art Awards in the division of drawing and printmaking. Hart's mixed media works on paper have been exhibited at Galerie Markus Winter in Berlin, Galerie Vidal St.-Phalle, Paris, Klaus von Nichtssagend Gallery, Brooklyn, The Bronx Museum of the Arts, CRG Gallery and Alexander & Bonin in New York, among others.
A catalogue has been published in conjunction with this exhibition, featuring an interview with Kate McCrickard and an essay by Matthew Rich. The catalogue will be available for purchase from David Krut Projects, New York.
For more information, please email [email protected]
Andokides Painter #1
2009
Collaged paper, ink, acrylic,
Colored pencil and graphite on paper
19 x 15in / 48 x 38cm
Andokides Painter #2
2009
Collaged paper, ink, acrylic,
Colored pencil and graphite on paper
19 x 15in / 48 x 38cm
Big Smile #3
2009
Collaged paper, acrylic, colored pencil
and graphite on paper
28 x 22in / 71 x 56cm
Untitled (Brutalist)
2009
Collaged paper, acrylic, colored pencil
and graphite on paper
12 x 9in / 30 x 23cm
Untitled (Copper)
2009
Colored pencil, acrylic and graphite
on paper
19 x 15in / 48 x 38cm
Dying Warrior
2009
Collaged paper, acrylic, colored pencil
and graphite on paper
24 x 18in / 61 x 46cm
Dying Warrior #2
2009
Collaged paper, acrylic, colored pencil
and graphite on paper
24 x 18in / 61 x 46cm
Untitled (Hoard)
2009
Collaged paper, ink, acrylic,
colored pencil and graphite on paper
64 x 48in / 162 x 122cm
Honolulu Starbright
2009
Collaged paper, ink, acrylic,
colored pencil and graphite on paper
40 x 30in / 107 x 76cm
Hugger-Mugger
2009
Collaged paper, ink, acrylic,
colored pencil and graphite on paper
76 x 50in / 193 x 127cm
Untitled (Krator)
2009
Collaged paper, ink, acrylic,
colored pencil and graphite on paper
35 x 28in / 89 x 74cm
Le Radeau (Backwards B)
2009
Collaged paper, acrylic, colored pencil
and graphite on paper
28 x 22in / 71 x 56cm
Untitled (OHMUMSHEBAH)
2009
Collaged paper, ink, acrylic,
colored pencil and graphite on paper
19 x 15in / 48 x 38cm
Smile Study
2009
Collaged paper, ink, acrylic,
colored pencil and graphite on paper
19 x 15in / 48 x 38cm
Stagecraft
2009
Collaged paper, ink, acrylic,
Colored pencil and graphite on paper
38 x 29in / 97 x 74cm
Untitled (Tilt)
2009
Colored pencil, acrylic
and graphite on paper
19 x 15in / 48 x 38cm
Torso & Plinth
2009
Collaged paper, acrylic,
Colored pencil and graphite on paper
28 x 22in / 71 x 56cm