Cannonball Press: Treasure of the Black & White Brigand
January 16 – February 10, 2007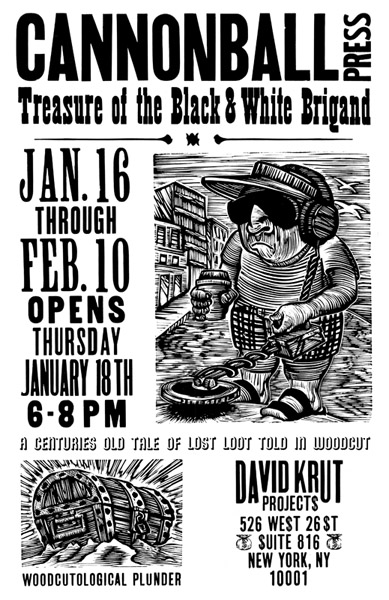 World Kings of scruffy pirate black and white hillbilly printmaking, New York's legendary Cannonball Press are pleased to present their first full-scale exhibition in Chelsea. The show will feature a huge new pile of limited-edition prints, a new supersized collaborative woodcut Franken-banner, new 3D woodcut constructions and the lost treasure of the black and white brigand, unearthed and revealed for the first time in modern day!
For seven years, Martin Mazorra and Mike Houston have been publishing high-quality limited-edition black and white relief cuts and silkscreens, and are proud to represent the following masters of grumpy, soulful, scabby, charged printmaking: Jenny Schmid (Bikini Press), David Watne (the guy who makes the car crash prints), David Rees (Get Your War On), Maya Hayuk, Nicole Schulmann (World War 3), Bill Fick (Cockeyed Press), Mike Ming, Dennis Mcnett (Howling Print), Lump Lipshitz (Lump Gallery) and many more!
For more information, please email [email protected].