Gary Schneider : Nudes
January 20 – March 4, 2006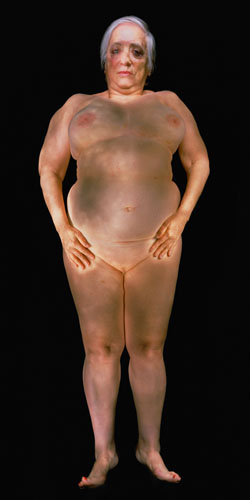 Renowned photographer Gary Schneider presents an extraordinary series of nudes.
Each figure is photographed alone, and seems to materialize and float above a receding black ground. Each portrait looks somehow prehistoric; bearing the imprint of time as a result of the prolonged exposures that the artist uses to render each portrait; sometimes as long as three hours. Schneider calls this process a "durational portrait"; the subjects are photographed in the dark; illuminated only by a flashlight that the artist uses to explore the surfaces of the skin. The inevitable movements and consequent distortions that occur in the process both reveal and obscure the intimate physical details and emotions of the individual who poses.
Schneider explains, "The central issue for me in my work is to try to locate privacy in a very intimate way with my subject, then to frame it so it can be exhibited and brought out of the studio…You should be able to come to the surface of all my work and be able to read the information and the surface, as if you were reading a map or a landscape."
Gary Schneider was born in South Africa and moved to New York where he has lived since 1977. He has a Bachelor of Fine Art from Michaelis School of Fine Art in Cape Town and a Master of Fine Art from Pratt Institute in New York. Schneider's early work in painting, performance and film remain integral to his explorations of portraiture and identity. 'Genetic Self-Portrait', 1998, has been exhibited internationally, including at Mass MoCA, Massachusetts; The International Center of Photography, New York; The Musee de L'Elysee Lausanne, Switzerland; and the National Gallery of Canada. 'Genetic Self-Portrait' received an Eisenstaedt Award from Life Magazine and Columbia School of Journalism in 2000. In 2004, 'Gary Schneider: Portraits', a survey, was mounted at the Sackler Museum, Harvard University and received a National Endowment for The Arts grant. Yale University Press and Harvard University Art Museums published the catalog. In 2005, 'Nudes' was published by Aperture Foundation, and was exhibited at the Aperture gallery, and later traveled to The Reykjavik Art Museum, Iceland. In 2006, Schneider received the Lou Stoumen Award from MoPA, San Diego and in 2008 the museum mounted a survey 'Flesh'. Schneider's most recent book, 'HandBook,' was published in 2010 by Aperture Foundation, and a new book featuring HandPrints from South Africa is forthcoming. Schneider's work is represented in numerous public collections including: The Metropolitan Museum of Art, The National Gallery of Canada, The Art Institute of Chicago, The Whitney Museum, Yale University Art Museum, The Guggenheim Museum, and The Boston Museum of Fine Art.