TALL, SLIM AND ERECT: Portraits of the Presidents
Photographs by Alex Forman
October 2004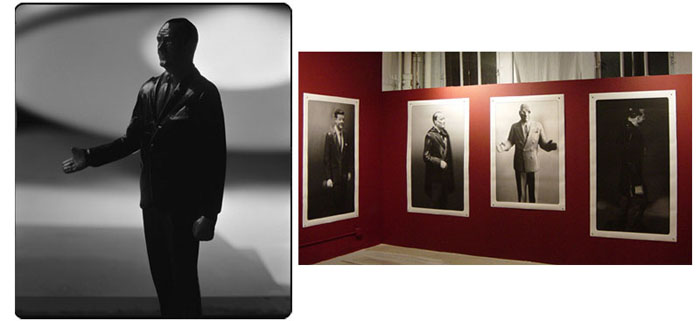 David Krut Projects is proud to present the New York solo exhibition of Alex Forman's striking photography project TALL, SLIM AND ERECT, a series of U.S presidential portraits made from two-inch miniature figurines blown up as large as life size. Seen through Forman's lens, the iconic images of the world's most powerful leaders become alternately human, vulnerable, sometimes grotesque.
Legions of paid professionals try, and fail, to get underneath the gloss and myth of the presidents of the United States. Alex Forman has done it with a view camera and a cast of toy miniatures. The irony is that, through the very kitsch that represents our distance from these men, she opens the door into something truthful about the human beings who have been our presidents and about the country itself: humble and boasting; vivid and mysterious; plain and regal. Alex's images do not sneer, or crow, or shout. She opens her eyes and looks, and you won't be able to look away.
Joshua Wolf Shenk is author of The Melancholy of Abraham Lincoln (forthcoming from Houghton Mifflin); a former fellow at the Carter Center in Atlanta, Georgia; and member of the advisory council to the Abraham Lincoln Bicentennial Commission.
In the more than three years she worked on her project TALL, SLIM & ERECT, Alex Forman conducted extensive research on the U.S. presidents, exploring the humanity, oddity, and singular nature of this country's highest office. Culling from journals, letters, and historical record, Forman built her work from a backdrop of curious information about these men of both privilege and meager beginnings. Woodrow Wilson seems to be in a fit of giggles, perhaps laughing at the description of his handshake as "a ten-cent pickled mackerel in brown paper." Harry Truman, who believed that being president was "the most awful responsibility a man ever had," opens his arms and invites us into the White House. Two of the presidents were illiterate when they took office and were taught to read by their wives. These facts inform Alex Forman's photographs with a richness rarely found in portraits of powerful leaders, especially those of U.S. presidents so often aggrandized by historians and political consultants.
Alex Forman worked as an assistant for the celebrated photographer Bruce Davidson, was a contributing photographer at the Village Voice, and studied with Gregory Crewdson, Nan Goldin, Richard Benson, James Casebere, Laurie Simmons and John O' Reilly at Yale University School of Art. In addition, Forman worked in partnership with Czech Republic President Vaclav Havel to create the highly lauded Totalitna Zona exhibition in Prague, and has curated several other art exhibitions. Alex Forman is a Brazilian-American artist who lives in Brooklyn.