David Krut Projects is pleased to present 13, an exhibition by St.John Fuller opening on Thursday 5 November at 151 Jan Smuts Avenue from 6 – 9pm as part of the First Thursday's initiative.
13 is a photographic series about artists and their work. Using multiple images of his subjects as his source material, St.John uses a camera that he has built himself to re-shoot the subject matter. The multiple lenses of the camera channel light in such a way that the information being recorded by neighbouring optics is partially burnt over one another. This allows for blending and the merging of the received information. The resultant images are fantastical landscapes in which the artist can be seen to be merging with their work.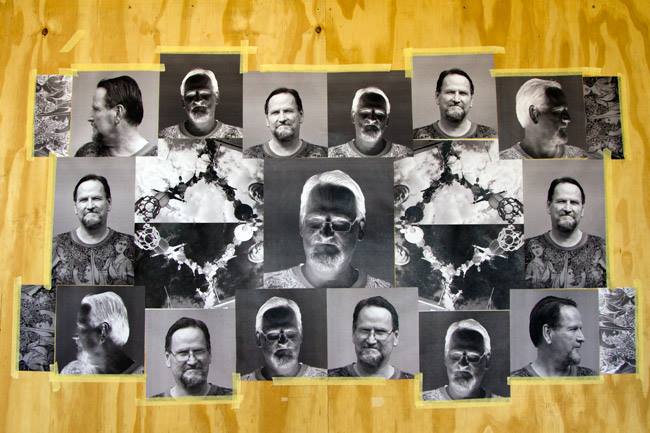 Part of the magic that is inherent in the work is that the results produced are owed as much to chance as to anything else. Whilst St.John may influence the result through the various steps of creating the image, eg setting up of source material, distance of camera from material, exposure times, ultimately he has no idea what the final result will look like. His camera has no view finder. So from the moment he sets things up and opens the shutter, to the instant that he is switches on the light after processing, he is uncertain of how the image will turn out.
Subjects include Colleen Alborough, Roger Ballen, Mxolisi Vusimizi Beauchamp, Endale Desalegn, Eric Du Plan, Gordon Froud, Rhett Martyn, Shenaz Mahomed, Neil Niewoudt, Senzo Shabangu, Mary Wafer, Quinten Edward Williams and Diane Victor.