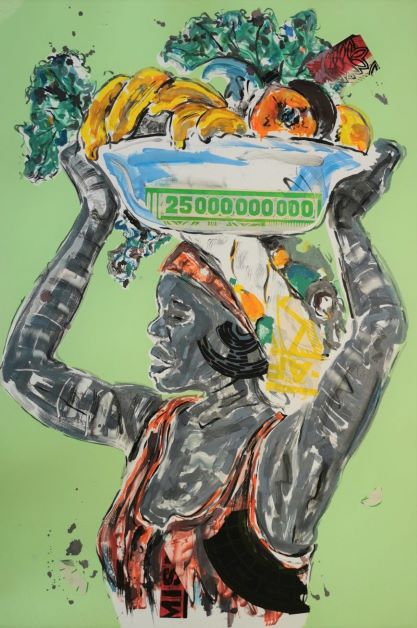 Collaboration History
In 2021 and 2022, Mandlenkosi Mavengere collaborated with David Krut Workshop (DKW) to create a series of oil-based monotypes. These works were later featured in an online solo exhibition titled Forces of Ambition and in the group exhibition Alone of its Kind (2022) at our Jan Smuts gallery.
Biography
Mandlenkosi Mavengere was born in 1992 in Zimbabwe in Bulawayo. Mavengere's works are predominantly a combination of printing and painting. He moved to South Africa after completing high school in Zimbabwe.  
His artworks bring into conversation and discussion the issues of migration and labour relations in contemporary society. Mavengere is an accomplished printmaker, as his linocut banknotes are used prominently in his artworks. The banknote artworks are a framework within which one can observe the issues of migration with relevance to socio-economic divergence of identity and convergence of another. The directional lines in the banknotes depict the scattering of people and population displacement; the repetition of patterns symbolise the circumstantial economic system embedded to the stereotyped migrants. The linocut banknotes printed onto the fabric emphasise the constructed perambulation of the population in search for income and better life. The figures and portraits are economically fabricated identities who are fitting into a new homeland of occupation versus the home of origin.