Cate McQuaid, Boston Globe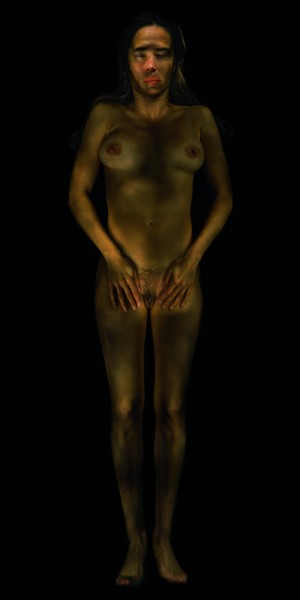 Gary Schneider's life-size photographs of nudes at Howard Yezerski Gallery are more portraits than they are nudes.  That is to say, Schneider does not focus on formal beauty, but on psychological vulnerability, and the results are exquisitely moving.  He has his subjects lie on black velvet, hands on their thighs, and takes an exposure that can last up to three hours.  During that time, he draws light over their faces and bodies with a flashlight.
They appear both bruised and luminous.  Their expressions may change over time, blurring their features.  One eye is often more focused than the other.  Flesh shifts and settles.  "Shirley depicts a large, older woman with doleful, ice-blue eyes.  Her shoulders seem to fall back unnaturally from her torso.  Light shimmers and darts over her like sunlight on water.  Her face seems both defiant and nakedly open.  These are not pretty pictures; often, they're disturbing in their vulnerability, the subjects almost like specimens – except that with his flashlight and his lens, Schneider dignifies them in their nakedness.