Anya Lureman worked as an intern at the David Krut Workshop from April to August of this year. She is a student at the University of Johannesburg where she is completing her honours in Visual Art, majoring in printmaking. Anya is a passionate printmaker and artist – read more about her experience below!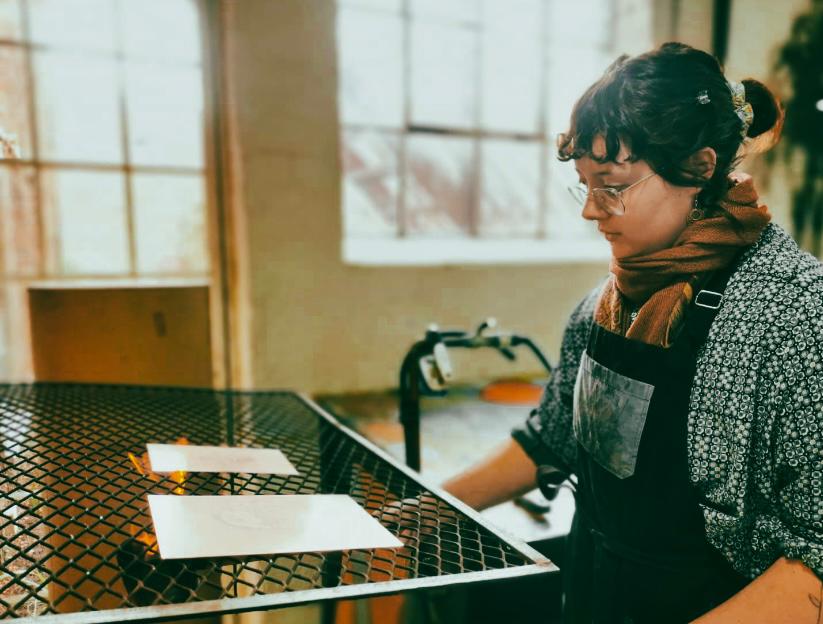 I recall arriving on my first day; looking at this big professional space and wondering how on earth I was going to be able to contribute to this already well-oiled machine. The team explained that the first day was for observation and dedicated to becoming accustomed to the space and knowing my way around. It became clear that the role of the intern was to assist the printers in whichever way, but what was most important was for me to learn.  
To say I learned an immense amount would be an understatement. I thought I knew a lot about printmaking after doing it during my studies at UJ, but of course, there is always more to learn. I knew that printmaking was an extensive process but at David Krut each step is meticulous and refined with the utmost care.  
The time spent at the studio was invaluable, I enjoyed every second. I met and spoke with artists whilst they worked, although I am very shy when it comes to making conversation, I found it easy to communicate on a topic we both were passionate about. 
 The first morning I arrived Heidi Fourie's prints consumed the studio, and I was taken away by how incredibly talented she was. To be able to witness a practicing artist's process and the collaborative nature in which they work with the printers gave me a glimpse into what I hope my future career will look like.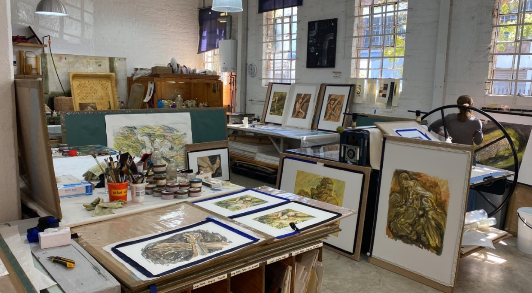 I was also able to work with Sudeep Sen and print his work for his exhibition 'Memory is Starlight' which took place at NIROX in May. I felt incredibly proud that I was able to contribute. Additionally, I printed and prepped more chine collé pieces than I'm able to count! These made part of artworks by both Phumlani Ntuli and Natalie Paneng.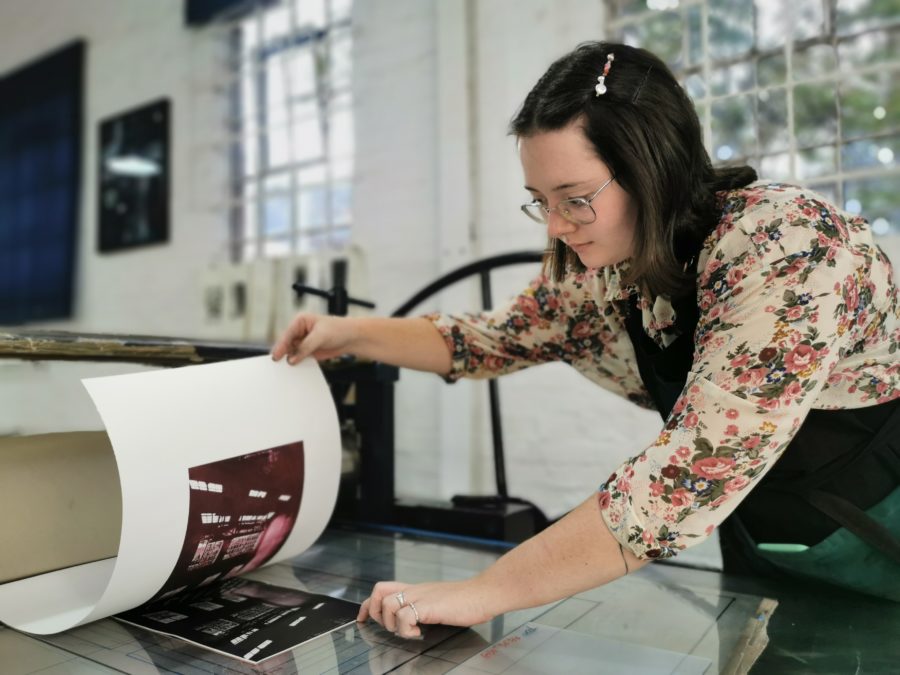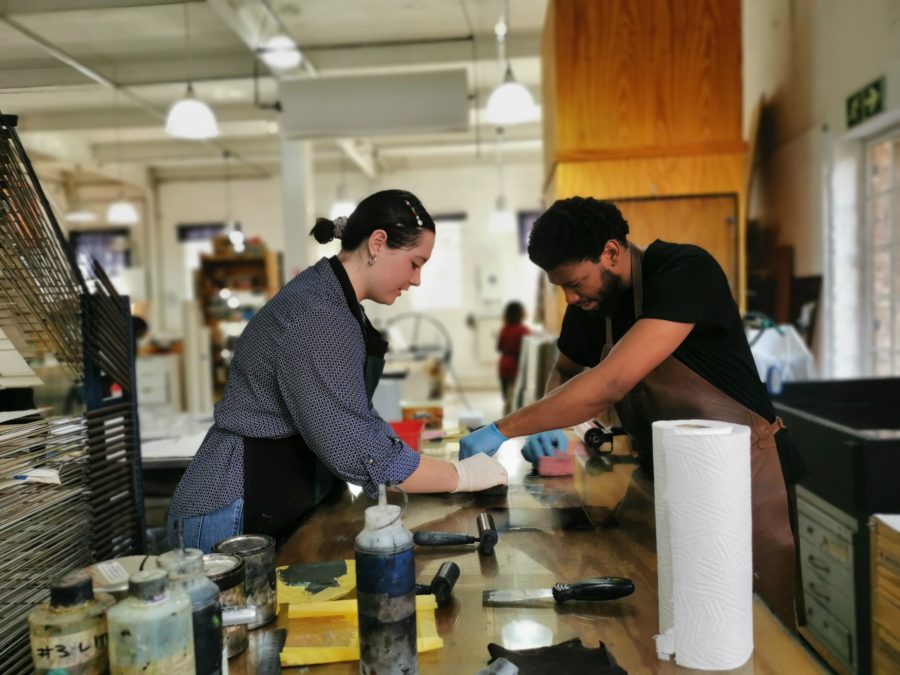 There was one moment I will never forget – I was busy polishing a copper plate, which makes your hands incredibly sweaty when you're wearing gloves. Whilst I was polishing, William Kentridge walked into the studio. I stood there not knowing what to do so I just kept polishing until one of the printers introduced me. I had to take off my glove and proceeded to give William Kentridge the most awfully wet handshake I think he's ever received.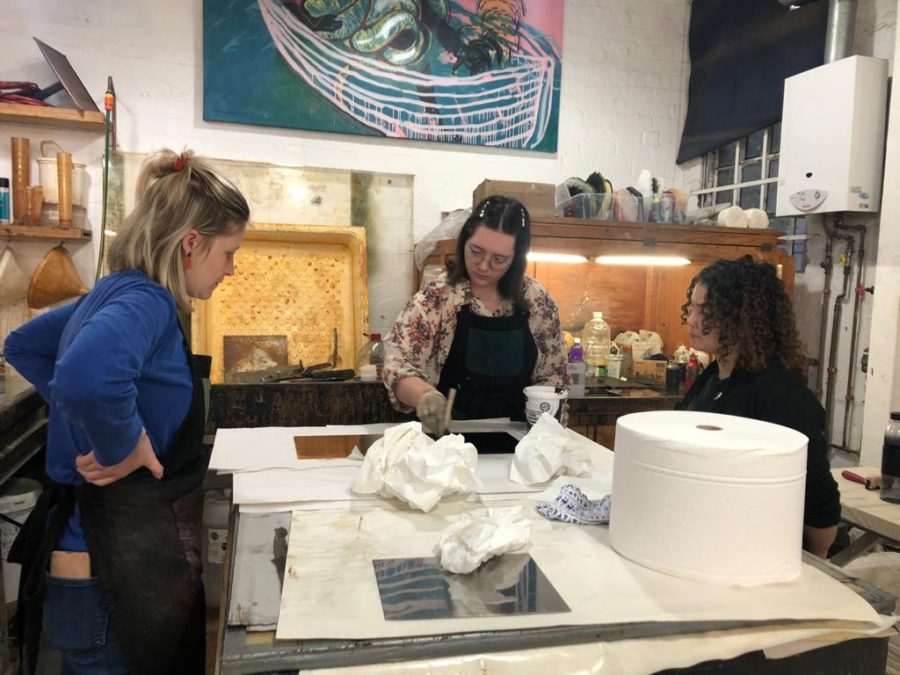 After being at the David Krut Workshop, I found myself exceptionally inspired and my work almost immediately improved from what it used to be. I implemented what I had learned in my own artistic practice. I was surrounded by art that sparked inspiration. I wanted to be better. I consistently asked questions about how they created it, what method they used, what kind of layering, what ink, etching times – anything I could think of to improve my own skills as a printmaker.  
 There is no hierarchy in the studio, I expected to be treated according to my skill (which is on a much lesser scale than the people who work there), but I was treated as an equal. The environment creates a sense of camaraderie and there is equal respect no matter your level of skill. I am now able to understand how a professional printing studio functions and the amount of great consideration they have for the artists who work with them. The internship gave me insight and the practical experience to widen my professional network. It reassured me that I am in fact doing what I am most passionate about – I have no reservations about whether I made the right choice. At times I felt apprehensive and intimidated that I was not good enough to complete a task I was given… although after accomplishing tasks, I often wondered why I always doubted myself. I realised that I can work outside of my comfort zone. The printmakers at David Krut; Sbongiseni Khulu, Sarah Judge, Kim-Lee Loggenberg, Roxy Kaczmarek, and Jesse Shepstone mentored me with patience and kindness. Jesse being a former student at UJ and friend allowed me to see that it is possible to do what you love and earn an income, to see him working as a professional filled me with a sense of pride.