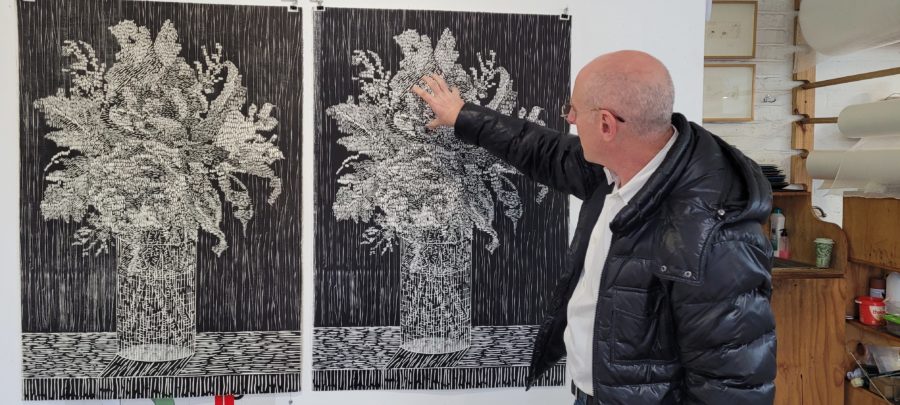 David Krut Projects is interested in creating experimental moments in which to interact with creatives from various fields as they look to expand their skills of professional practice into the visual arts arena. These explorations allow for a multi-disciplinary exploration of fine art mark making and, in the case of our collaboration with artist and architect Peter Cohen, bring creatives from other disciplines into the printmaking world.
We invited Peter Cohen to collaborate and experiment with our team in the workshop making oil-based monotypes. Cohen began making art 18 months ago when, during the early lockdowns of the pandemic, he felt a compulsion to create, and to do so more freely than what is typical in his profession.
Working with pastel and acrylic paints, Cohen began with creating still life images of objects he owns, using washes of black tones. He then expanded into large assemblages on brown paper and is now painting with oil on board and pastels. A very acute mark maker, Cohen uses small drawn lines, creating areas where the eye is drawn towards and held there for a while.
These works are quite phenomenal in terms of the sophistication of his mostly abstract imagery. He started painting with the need to become a little looser and attain a different mindset outside of the everyday architecture frame.
Over his first couple of days in the workshop Cohen made 4 oil-based monotypes (two additive oil-based monotypes and 2 reductive oil-based monotypes), these being the first prints he has ever made. He used block-out techniques with newsprint to create white areas, where the ink has seeped through the newsprint in some places, creating a mottled effect and adding differing depths to the image. He also incorporated little pieces of Arakaji chine colle to mimic tape pieces.
His monotypes to some degree reference line drawings of maps that Cohen has traced and collaged together with tape. Cohen's marks in these works resonate with the small repetitive lines in his oil paintings and chalk and charcoal drawings. He uses painterly methods of working as well as newsprint and paper letters to block out and create white areas.
Cohen further developed his printmaking skills when embarking on a large linocut work of a vase of flowers, made up of many small lines. A number of trial proofs were produced, including a print in white ink on black paper. The final choice was a more traditional print, with an added layer of watercolour monotype beneath the linocut, to accentuate and soften areas in the almost pixelated mass of flowers.
"The unique opportunity to learn from experienced printmakers in an environment where one is surrounded by work of such exceptional calibre was very exciting. The range of techniques one is exposed to at the studio makes one leave there wanting to learn more and do more. Most of all though, the creative process is encouraged by an atmosphere that is calm and friendly and that comes from the people you work with at the studio, all of whom are eager and willing to share knowledge and insight and a love for what they do. Can't wait to go back!"

Peter Cohen