A story by Master Printer Jillian Ross: Rainbow Tunnels and An Unfamiliar Heartbreak
Pebofatso Mokoena's first solo exhibition with David Krut Projects, Internal Probes, opened in January 2020. It was such a pleasure for the David Krut Workshop (DKW) team to begin 2020 working with Pebo to complete this major body of work.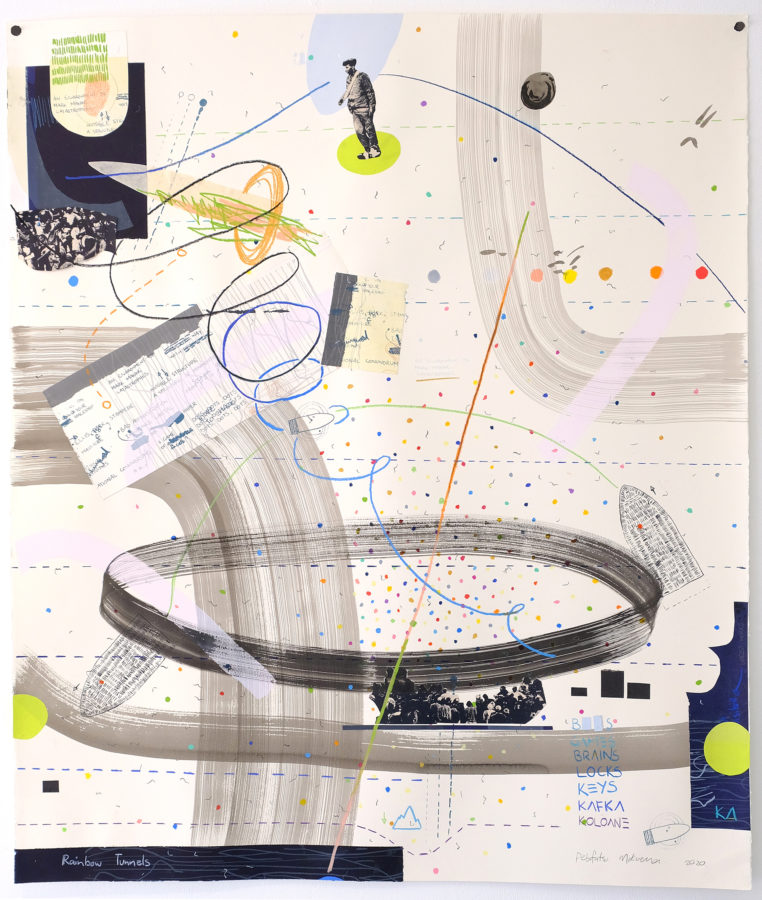 Pebo is a planner. He had carefully prepared for his exhibition for over a year. Pebo is thoughtful, deliberate, and meticulous. He very carefully chooses colours, lines, dots and marks that seem unplanned and spontaneous to the observer's eye. He is no stranger to the studio. He engaged the whole team in lively and creative discussions. Pebo completed the majority of the works almost effortlessly, and then he became adventurous.
DKW has always stocked beautiful papers that sit on the shelves waiting for the right project to come their way. One day, close to the end of Pebo's time with us, I suggested he try his last two works on different types of large sheets we had in stock. Textured 500 gsm pages sat next to smooth 400 gsm sheets – sheets that are far too large to fit through a press. I could see in my mind's eye the possibilities that could come of him playing with all of the components he was using, but on a larger scale.
Pebo was open to new ways of working, so we tried silkscreen test prints. He began using the DKW studio as his personal studio, and he built up a range and variety of marks in a myriad of colour combinations as he explored new avenues to create these last two large works. He surprised me by collaging parts of these silkscreened test prints onto Rainbow Tunnels and An Unfamiliar Heartbreak. When I asked him why he choose to use the collaged elements from the test prints, he remarked on the semblance of language to connect them to smaller works, and the test prints function as landing pads – perhaps for the spaceships that are a ubiquitous trope in this body of work.
Speaking to him now, nine months later, he reflected back to Rainbow Tunnels and An Unfamiliar Heartbreak. They stand out as different to the other works made in the same period because he had to figure out the colour structures in the moment. They were not planned, rather they evolved in the making, which, for a planner like Pebo, is outside of his usual way of working. They were the last two works produced for the show. They seem weightless and stark in contrast to the prominent heavy navy blue of the vast majority of the works on exhibition.
Text that can be found as the notes along the sides of the works and within: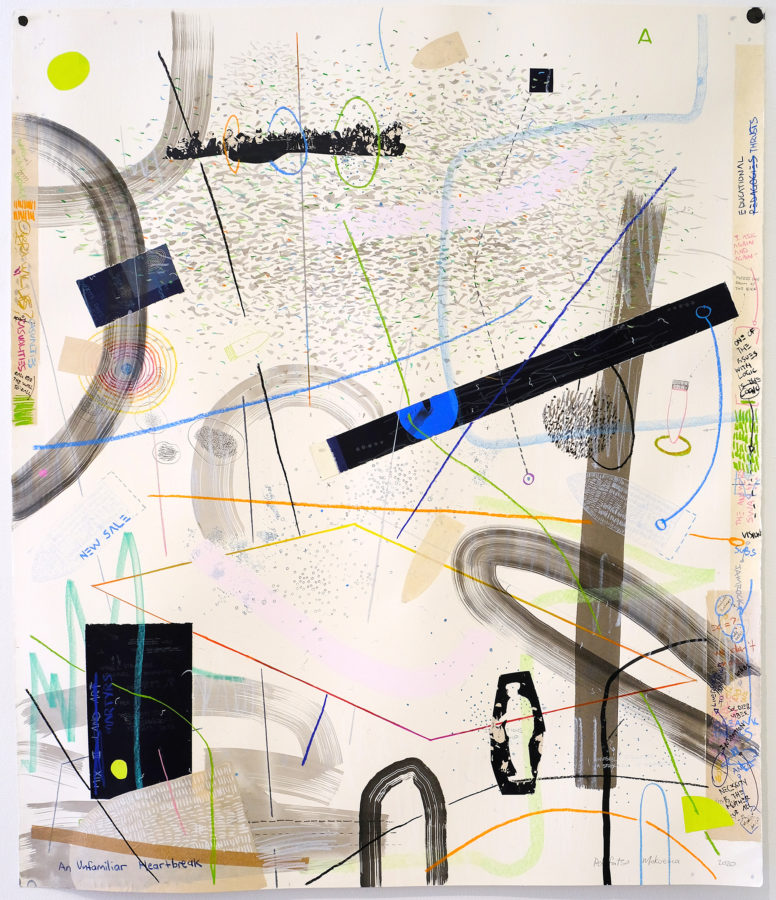 Educational pedagogies thrusts
I ask again
There's no room in the back
One of the issues with logic is the logic
Necessity is the mother of all
We don't know
Soldier vibes
Mix land art martyrs
Casualties
Call for the wall to fall
Dots dots dots
Things can change
New sale
Invisible structure
Hot spots
Swooshes
Test print with colbalt blue
Dots dots dots
Small space ships
soldier
An environment of mark making catastrophes
An invisible structure
Build your space ship
Bad administration
Insurance capital
Ellis park massacre
Educational conundrums
A game of faces
Dots dots dots, more dots
Games
brains
locks
keyes
kafka
koloane
largest works
To me, these works stand out somewhere between realities. It's the "what will come next" moment that happened when he as an artist lost himself in the process of making. This is the very reason the print studio offers artists a new way of producing their works. It's a way to challenge them in order to open new avenues of thinking and creating: they do things in the print studio that they wouldn't otherwise try.
Nine months later, Rainbow Tunnels and An Unfamiliar Heartbreak continue to keep him thinking.
In closing, in Pebo's own words, "A piece of paper is like a field of play. These are like sketches. All of the marks in Rainbow Tunnels and An Unfamiliar Heartbreak are like an emotional and visual rollercoaster. Things are going through, colours are changing. The eye never rests. Things are always in motion, counted, documented, tracked. The eye travels through the consistently changing elements/mechanics of the works and the ever-changing colours. They are a semblance of visual language that comes full circle back to the rest of the works produced for the exhibition, but due to their "seemingly" large amount of white space, they run in parallel. They serve to complicate the linear visual language."
Take a look at the progression of the artworks below, a major collaborative effort between the artist and the team at DKW ahead of their exhibition in Internal Probes at the David Krut Gallery.