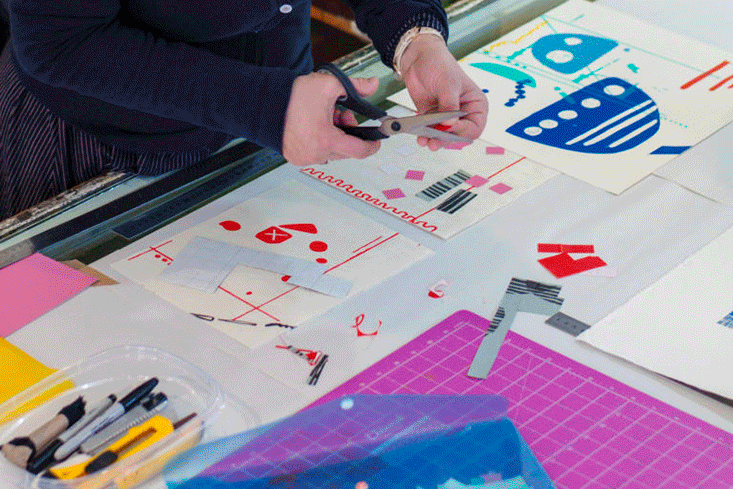 Maja Maljević has recently been hard at work with the team at David Krut Workshop on her latest collaboration – a collection of new editioned works.

These forthcoming editions are inspired by Maljević's previous series of unique works on paper, Winter Files and Documents for the People, and borrow a careful selection of their technical and stylistic elements to form new compositions. Each new image will be created by Maljević using etching, monotype and silkscreen, and collage; and each of these elements will then be editioned and assembled by the team at David Krut Workshop.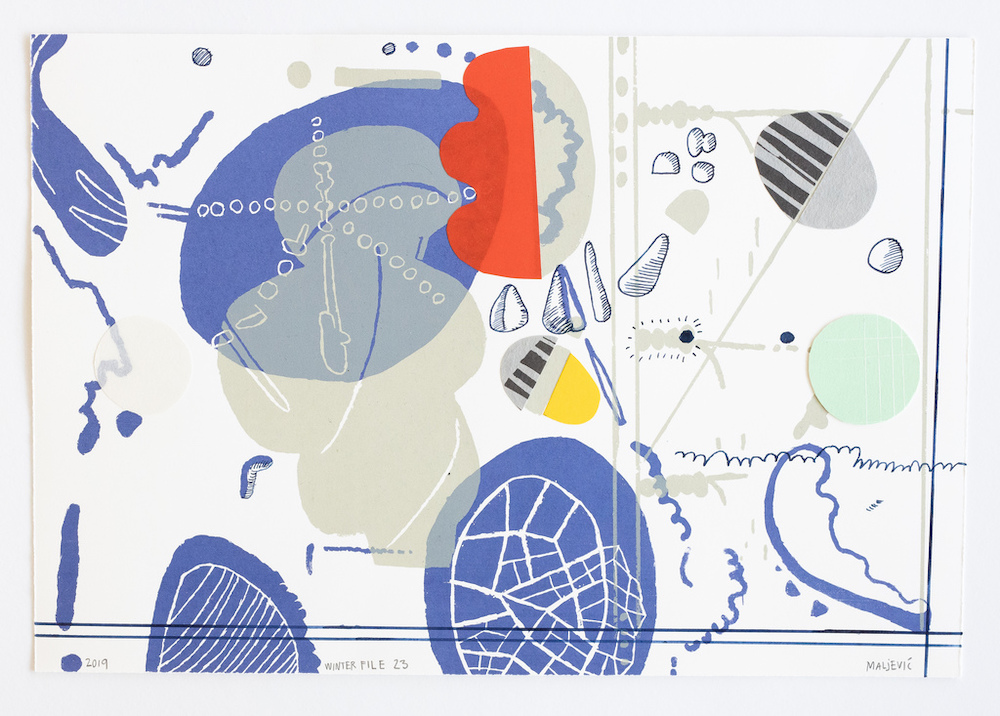 Maljević has been collaborating with David Krut Workshop since 2007, when she began experimenting with printmaking as a way to expand her painting practice. Her 2018 body of work, Documents for the People, integrated 8 printmaking techniques and resulted in the creation of 61 unique print collages. They were exhibited in Maljević's 2018 solo exhibition at David Krut Projects Johannesburg, Polytekton, which was reviewed by Sean O'Toole for ARTFORUM as a Critic's Pick.

Maljević's 2019 series of unique works on paper, Winter Files (featured in this newsletter), continued this investigation of techniques and materials, and marked a breakthrough in terms of the artist redefining her own relationship to the process of printmaking – a result of the sustained relationship between the artist and print workshop. The Winter Files series was created using 9 printmaking techniques with the addition of hand work.
Annabel Williams, David Krut Projects, Johannesburg's newest team member, recently visited David Krut Workshop for an introductory meeting about the editioning of Maja's work. She writes:
"The interconnectedness of the art-making process; the production, reproduction and distribution of it; is a powerful thing to understand, and witnessing the behind-the-scenes of Maja Maljević's editions process epitomized just that.
Maja's work is inspired and wholly abstract, incorporating graphic blocks, drippings and swirls of colour amongst both free-formed and structural lines. This composition reflects and strengthens what appears to be strong motives behind Maja's work – that is, her intuitive nature, the notion of 'appearing in the moment', and the very physicality of her craft."
Please visit the DKW blog linked here for more behind-the-scenes images and information, or email [email protected] for more information on available artworks by Maja Maljević.