In the 27 years since their meeting in 1992, Kentridge has collaborated with David Krut on numerous print editions, which have brought together Master Printers at print workshops in various countries. Upon reflection on Kentridge's substantial contribution to printmaking, the David Krut Workshop has revisited two linoleum plates that Kentridge carved in 1975, during his university years, creating current impressions in limited editions of images that encourage a contemplation of the historical arc of Kentridge's printmaking career.

The two linoleum plates from 1975 are some of the first that Kentridge carved after high school, when the extent of the facilities available to him was limited to "lino, cartridge paper and the back of a spoon". Prior to 2010, they were some of the only examples of linocut work by the artist. Kentridge returned to the medium with great gusto in 2010, beginning with a series of small works depicting various images relating to projects he was working on at the time. This series paved the way for the major linocut body of work, Universal Archive, which was created in collaboration with the David Krut Workshop over a number of years, beginning in 2011. As a tribute to the linocut as a truly democratic medium of political significance in South African art history, and very much as an appreciation of long-term collaborations, Kentridge suggested that the workshop edition each of the plates from 1975.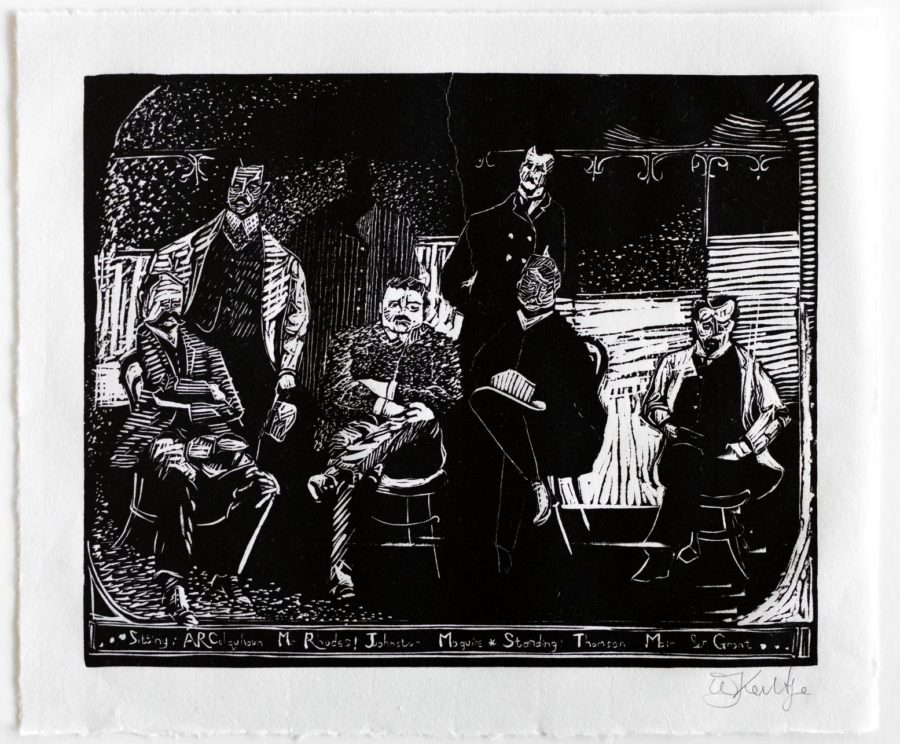 Pioneer Corps was created by Kentridge as a cover page for an essay he was required to write during his studies in African History. The work was originally titled The British South Africa Company Expedition to Matabeleland, and has subsequently been renamed Pioneer Corps. The image depicts Cecil John Rhodes and his team of associates who, in the late 1800s, planned the crossing of the Limpopo River into Matabeleland in the region of present-day Zimbabwe, with a view to exercising the mining rights they had obtained from the Ndebele King Lobengula some years earlier.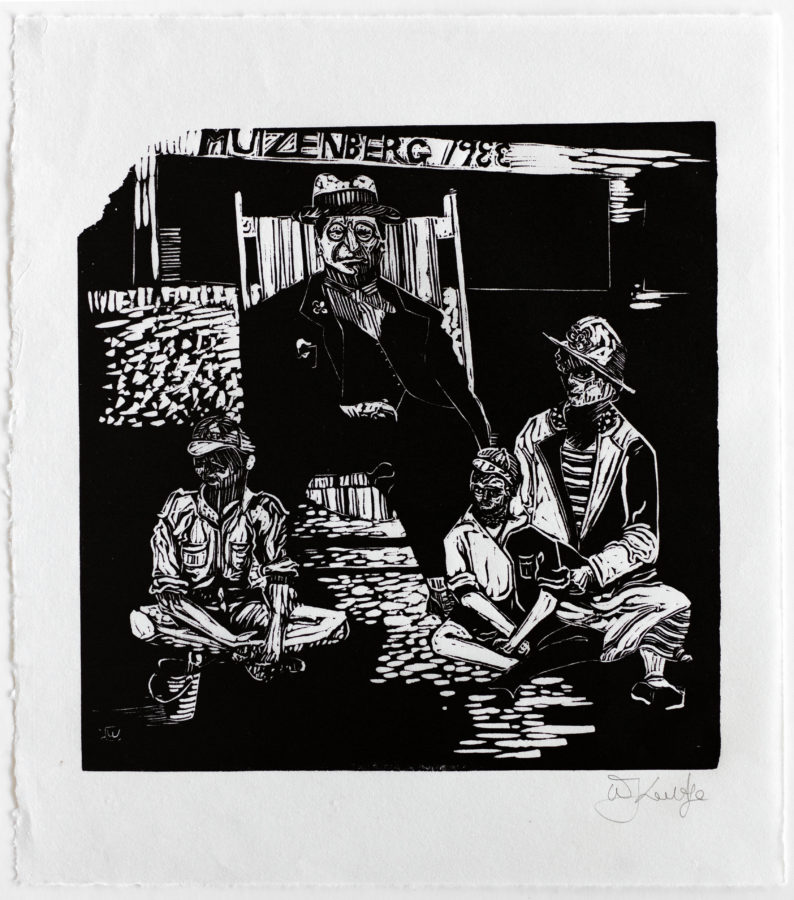 In Muizenberg 1933, the man in the deck chair dressed in a three-piece suit is based on a photograph of Morris Kentridge, the artist's paternal grandfather, while on holiday in 1933 in Muizenberg, just outside of Cape Town. One of Kentridge's most famous characters, Soho Eckstein, derived his outfit from this same photograph. The reversal of the numbers "33" in the image is an endearing indication of just how early in Kentridge's career this print was made – a time when one of the most accomplished printmakers of his generation was in the process of mastering the art of carving in mirror-image.
Text – Jacqueline Flint, 2019
To inquire contact: [email protected]