In anticipation of the Russia 2018 FIFA World Cup, David Krut Projects takes you down memory lane to the 2010 FIFA World Cup which took place in South Africa.
A successful and well planned event that saw the art industry contributing immensely with a publication of 17 limited edition FIFA posters, which were officially distributed by David Krut Publishing during the World Cup.
The poster collection comprised of 17 South African and international artists celebrating and paying homage to the 'beautiful game'. The posters are still available at our David Krut Publishing Stores and galleries in Johannesburg.
Below are the artists included and their posters that are still available for sale:
William Kentridge
Kentridge is one of SA leading artists with a wide and varied oeuvre and commitment to the arts. He has come to international renown for his work in fine arts including drawings, animations and prints. He is also highly regarded for his theatre and opera productions.

Bicyle Kick (2009)
Marlene Dumas
Dumas is an SA born artist now living abroad. She is one of the world's most important painters, and also the highest paid female artist. She is known for her ability to capture her subject with a frank and often chilling honesty.

World Cup World Cup South Africa 2010 (2009)
Zhong Biao
Biao is currently one of China's foremost artists, regarded as an influential master in his profession. Using fragmented cultural symbols he arranges and combines them to reveal their multiple meaning through often peculiar scenes.

Football Miracle (2009)
Romero Britto
Brazilian artist Brito, is a well regarded painter who creates exuberant, colourful works that relate his optimism and faith in the world around him.

South Africa 2010 (2009)
Julie Mehretu
Mehretu is an Ethiopian born artist who is known for her explosive and technically brilliant painting and prints. Her works draws on architectural or draughtsman-like exactness creating a beautiful and intricate work.

Stadia (2004)
Hassan Musa
Musa is a mixed media artist and art critic born in Sudan. He contributes regularly to several Sudanese periodicals and newspapers as well as abroad. Musa has been a vocal critic of the earlier generation of Sudanese modernist artists known as the Khartoum School.

The Good Game (2008)
Barthelemy Toguo
Toguo was born in M'Balmayo, Cameroon, later studying in the Ivory Coast, France and finally settling in Germany. Because of his migratory lifestyle, political geography and personal boundaries have been an implicit subject in his studio work and an explicit one in his performances.

Color Your Life (2008)
Kendell Geers
Geers is one of SA's most compelling artists. His work was born out of the highly charged atmosphere of Apartheid SA. He was an open critic of the suppressive regime of the Apartheid government and his work continues to be confrontational and unfailing in its critique of social issues.

Free Balling (2008)
Charles Fazzino
One of the most prolific and cutting-edge artists of our time, Fazzino is a famed 3-D Pop artist. For more than thirty years his name has been synonymous with bright, whimsical, and wonderfully detailed work infused with frenetic energy.

The World Watches…World Cup South Africa (2009)
Soly Cisse
Cissé is a Senegalese artist born in Dakar. He is a prolific painter, sculptor, designer and photographer. He is concerned with the growing danger of man's self-destruction through the increasing dissolution of moral thresholds. Cisse does not intend to advise the viewer, rather he tries to reach their consciences.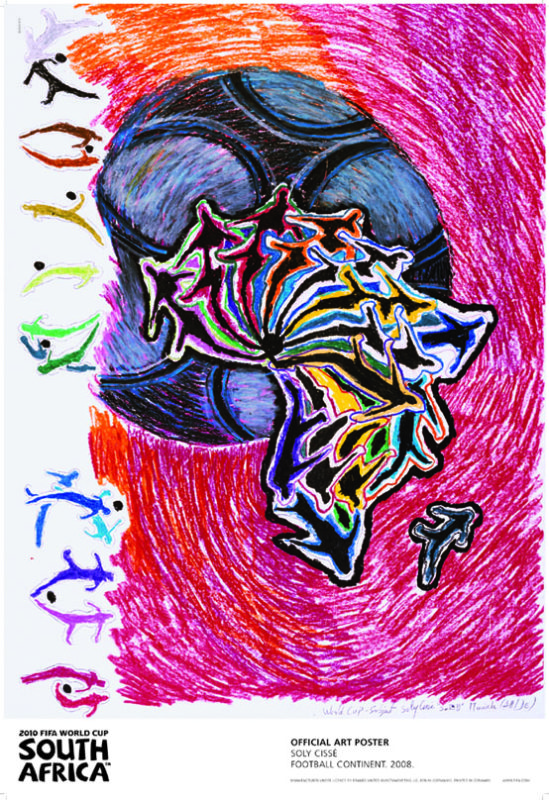 Football Continent (2008)
Akira Yamaguchi
A relatively young painter, Yamaguchi has taken Japan's art world by storm. His work combines the techniques of classical Japanese painting with the observant eye of a modern-day Peter Breughel and the humour and draughtsmanship of a manga cartoonist.

Shoo(t) Q Taro and Ten Braves (2009)
Robert Slingsby
Slingsby's iconography revolves around the trade-off between security and personal spaces. His art is predominantly the product of an acute emotional instinct. Intuition and intellect converge and seamlessly merge in the work of artist described as a humanist and cultural activist.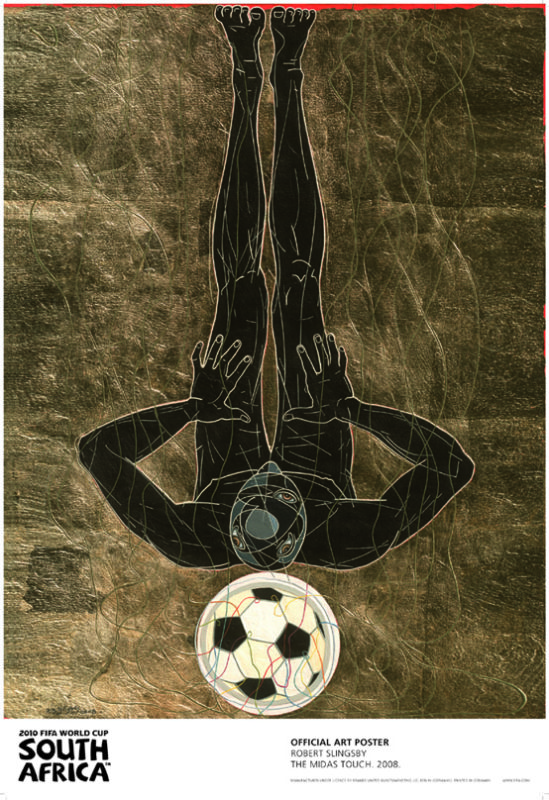 The Midas Touch (2008)
Kay Hassan
Hassan is a SA artist known for his large paper construction pieces, made from recycled posters such as Black Label and Coca-Cola. Their transformation speaks much about the urban regeneration of inner city and the migrant tendencies of Johannesburg.

Swanker Ball (2009)
Cameron Platter
SA born Platter is a stylist of attitude. His work is at once irreverent, witty, sharp and more than a trifle nostalgic. The nostalgia he keeps at bay through an almost unrelenting focus on living the good life: what could be characterised in his terms as "fast cars, fast women, cocktails and cronies".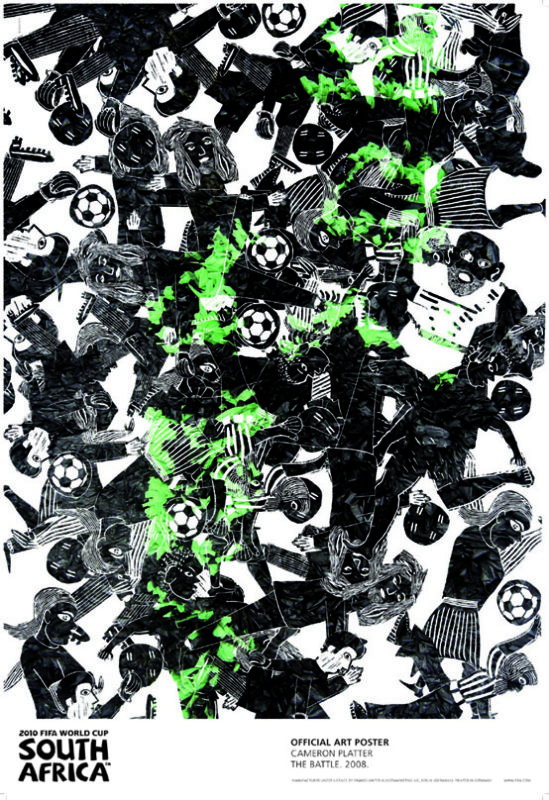 The Battle (2008)
Isolde Krams
A German sculptor and performance artist, Krams has a strong link to SA. For most of her artistic career she has been working from a feminist perspective, while more recently her focus has shifted to a concern for the preservation of nature, animals and the earth.

Red Elephant (2009)
Peter Eastman
Eastman is a SA artist who famously dropped out of art school foregoing formal education for a practical one. His slightly unconventional approach to painting sets him apart from his contemporaries. Eastman's choice of subject matter is sometimes a little arcane and many of his paintings are very difficult to see, serving to articulate Eastman's concerns around the viewer's relationship to his work, and to painting in general.

Stadium (2009)