On the 30th May David Krut Projects Cape Town (DKCT) had the honour of launching Asuka Nirasawa's residency showcase, MULTIFINITY.  The showcase marks the completion of the month-long residency programme Nirasawa experienced at DKCT.  The showcase consists of circular fabric collages on handmade paper and stretched canvas. To accompany these colourful mixed media works Nirasawa created a vibrant wave-like installation which stretches across the gallery's ceiling and walls.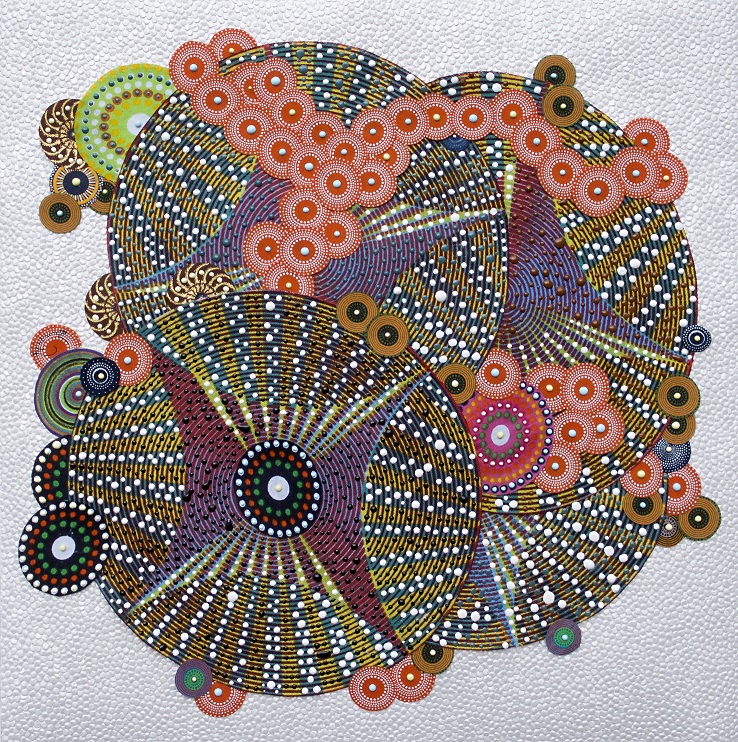 In MULTIFINITY, Nirasawa explores the obscure parts of reality, going beyond one's general sense and cognition. It is through this new body of work that she delves into the complex mechanics, forms, and colours of particles, microscopic worlds and the universe.  Nirasawa explains how exploring these worlds assists one to escape from the threat of a monotonous and often dull world that can exist in daily life.  These monotonous moments bring out areas of our subconscious and confront us with our pasts, regrets, and fears. By exploring hidden microscopic worlds Nirasawa's works aim to release us from those monotonous moments. People invent a large part of their lives simply to avoid self-reflection. Entering into a microscopic world we cannot see but rather believe because of the scientific verification, allowing one to escape their daily reality; entering into a biologically generated fantasy fiction.
Nirasawa has always been fascinated by animal and human anatomy, especially at a microscopic and cellular level. At first glance, cellular forms, with their vivid colours and structures are fantastical and ruthlessly efficient in nature; converting matter into energy and obeying the irresistible chaotic universe.  The showcase title MULTIFINITY came about as a word play between multiplicity and infinity, both ideas are vast and continuous, similar to the microscopic and cellular worlds Nirasawa explores. The artist's makes exclusive use of circular fabric design. She has always been instinctively drawn to circles and organic shapes, as they lend themselves to the notion of infinity and the life cycle. Therefore, her choice in fabric designs is intrinsically linked to these shapes and forms.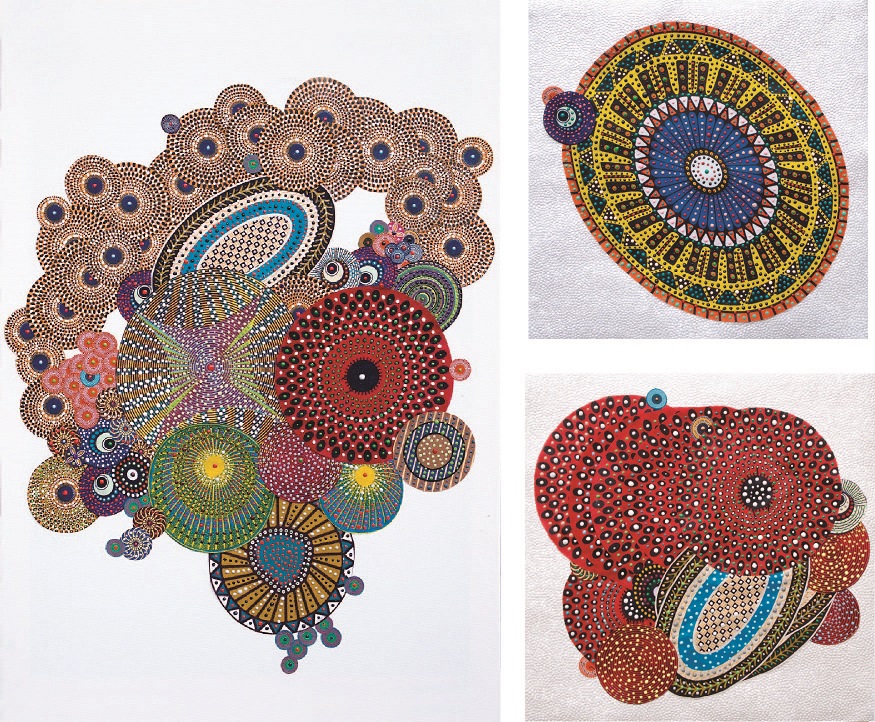 It is through the versatile medium of Southern and East African fabrics that she is able to create these biological fantasy fiction scenes. Drawing from their unique geometric patterns and colour combinations, Nirasawa is able to facilitate the viewer's. During the residency, Nirasawa created ten fabric collages either on stretched canvas or on delicate, bubbled handmade paper. Once she completed the fabric collages she would begin to meticulously add colourful acrylic and gel medium domes to the surface of the fabric using a thin stick. As colour plays such an important role in her works, Nirasawa continuously considered how complimentary colours, colour's luminosity and tonal values worked together to create compositional balance.  These colourful painted domes elevate the collages into a tactile multiverse.
As in nature, the cells within the collages aggregate in a seemingly chaotic sequence. However, Nirasawa methodically orders the sequences, stabilising the seemingly chaotic. To further emphasise the circular metaphor, Nirasawa meticulously applies circular dots to the surface of the fabrics resulting in a series of dome shapes across the collage that gives the works a more organic appearance. Much like Yayoi Kusama's work of the 1960s – which plays with the recurring shape of the circle- it is through the collages and installation that Nirasawa creates a means of escape for viewers, into a more colourful reality, an escape from life's monotony.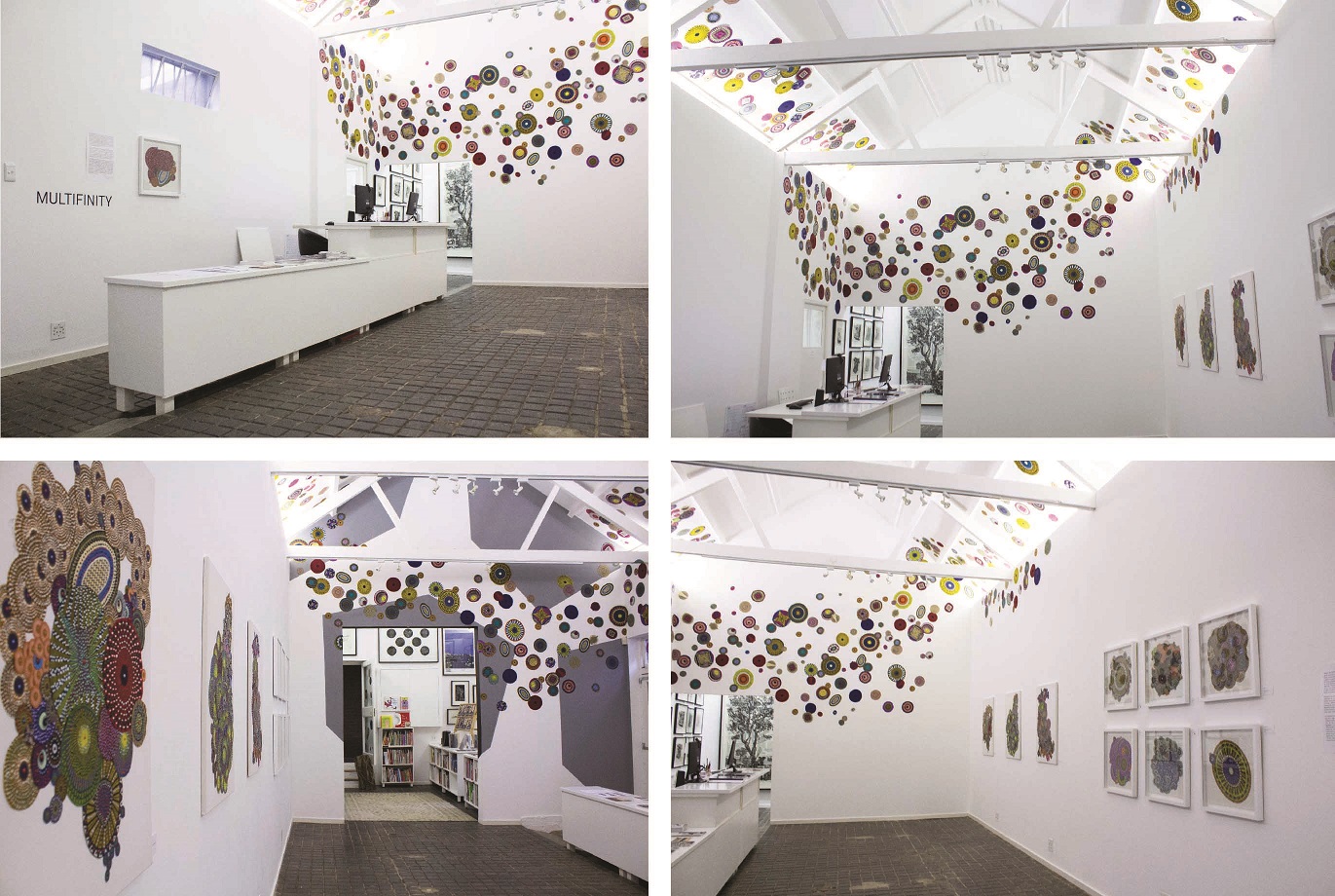 It has been a pleasure to host this talented artist for DKCT's May artist-in-residence programme . It has created the opportunity for the public  to see an artist at work, and to see the work's development from digiatl simulation, to conceptualisation,  to the final artworks showcased on the gallery walls. DKCT is a multipurpose arts and projects space for creative conversations and sharing.

Opening Night:
MULTIFNITY brought a bright colourful chaos to DKCT and Montebello Design Centre. The evening began with a private viewing by Yasushi Naito, the Counsellor and Consul of the Japanese Office of Consul, the Chairman Yas Naito of the Cape Town Japan Club  and Sae Torii, a member of the Japanese Office of Consul.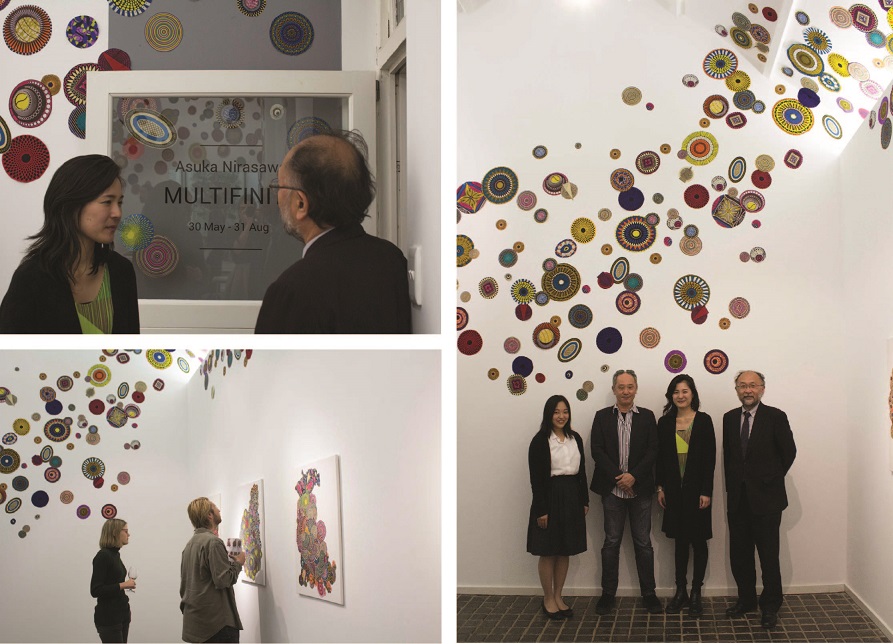 Save
Save
Save
Save
Save
Save
Save
Save
Save
Save