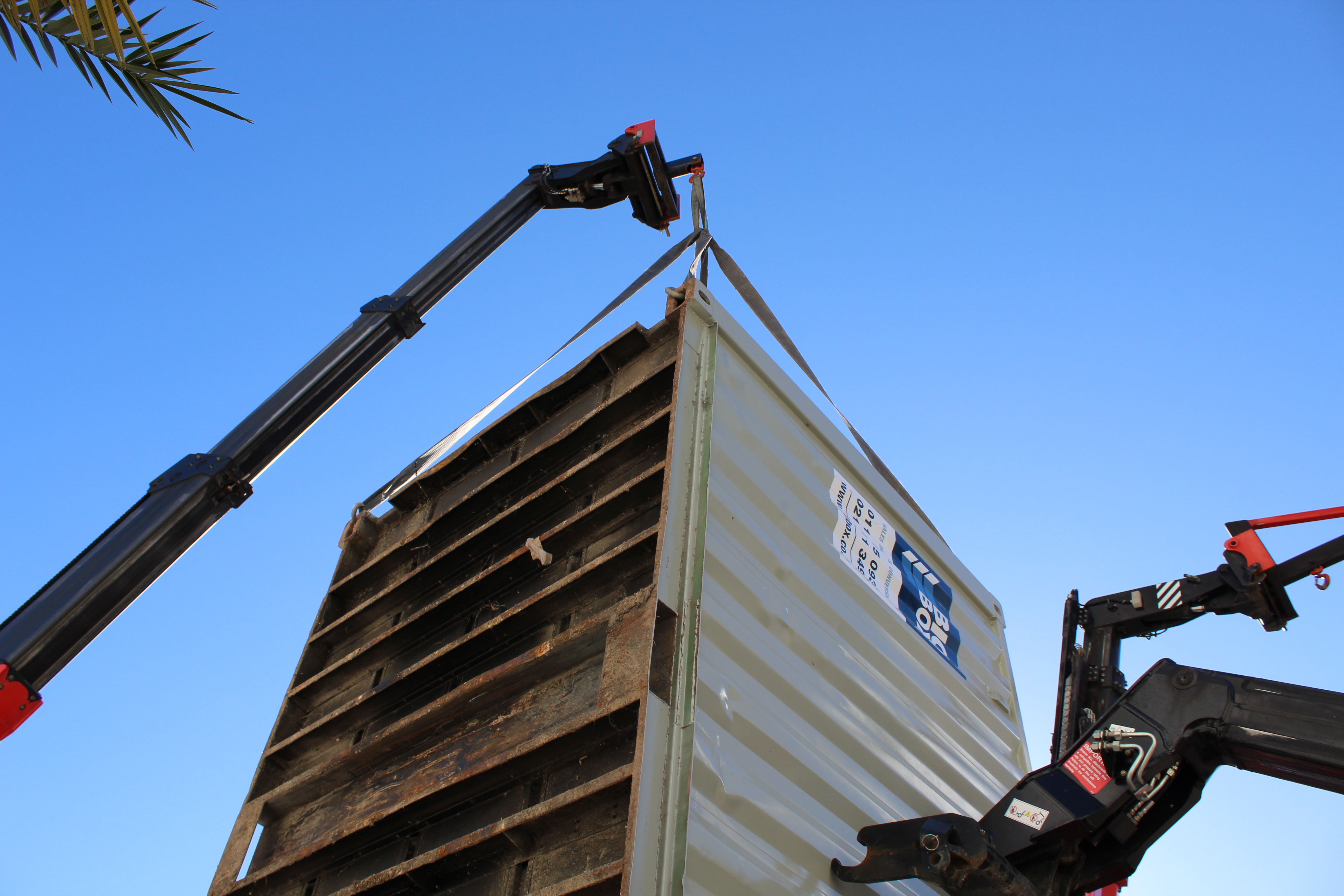 On Monday 19 October 2016 there was an intriguing intervention on Buitenkant Street in the East City by Jacob van Schalkwyk, who studied at the
Pratt Institute
in New York City. The
OpenDialogBox
 program is being curated by Claire van Blerck from
Artthrob
.
The intervention involved three
Manitou
cranes on the site, which by day is a parking lot. Shortly before 6pm one of the cranes lifted up the one container that enabled van Schalkwyk to project a video of himself creating artworks inside his studio in Cape Town. Members of the public and art viewers were able to walk into the now raised container and experience the performance piece. Throughout the intervention, van Schalkwyk moved around the interior of the container.
In order to solidify the container from a persistent wind cables were used to hold the container in situ.
This open car park site work was particularly effective for this type of intervention as it could refer to a multitude of gritty, inner city spaces, not just Cape Town.
A live feed of the event occurred from 18:00 – 19:30.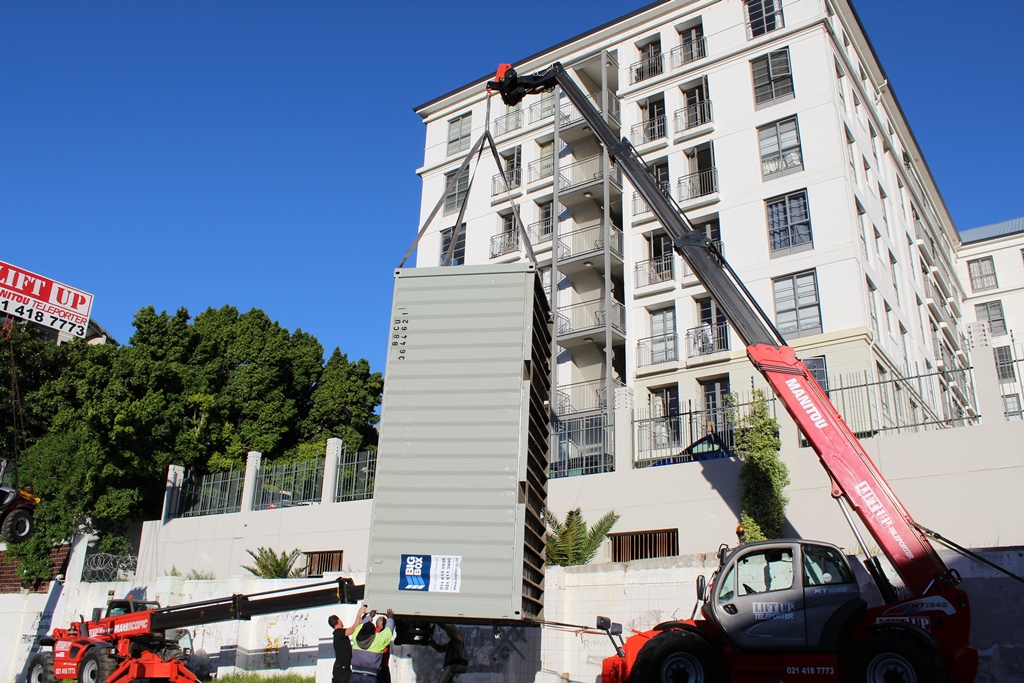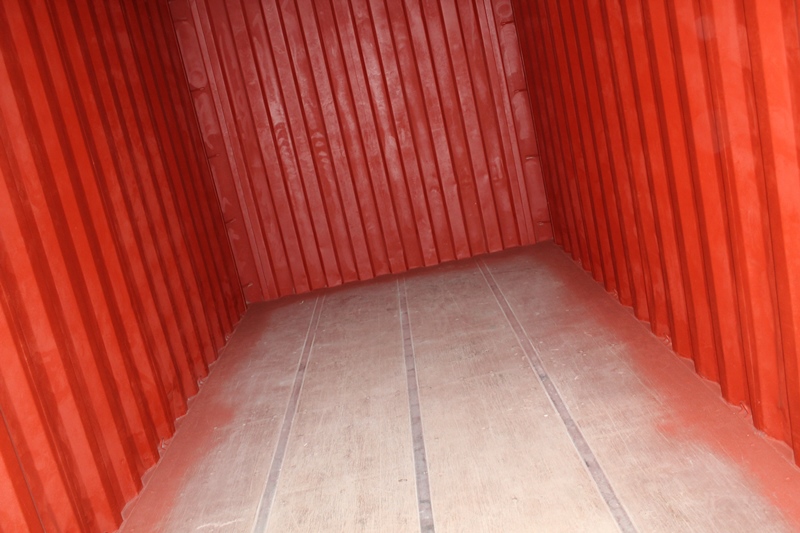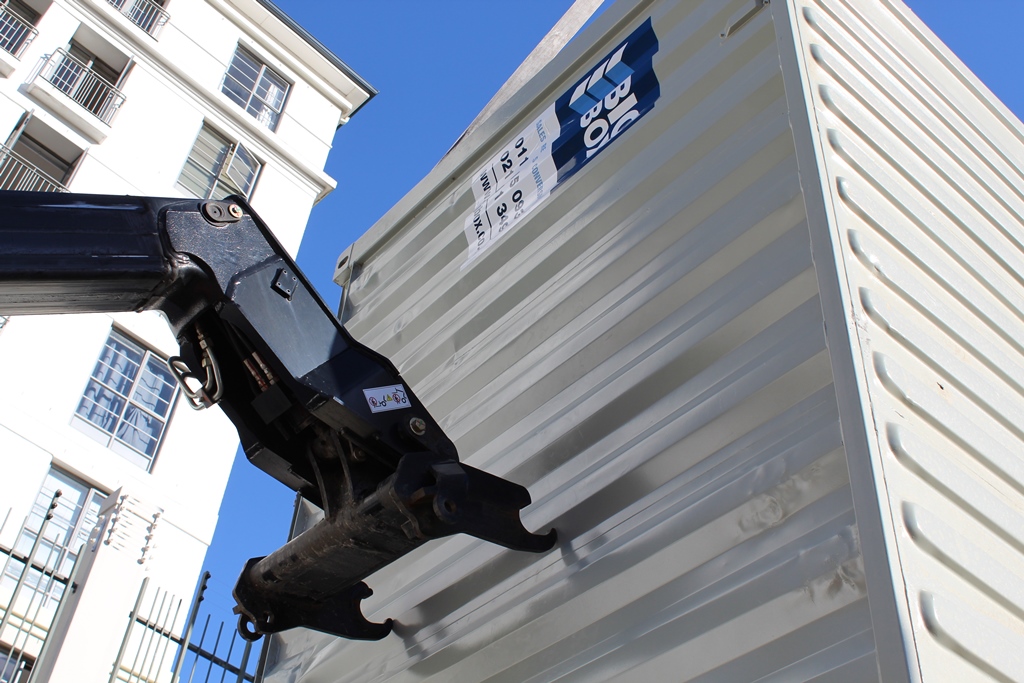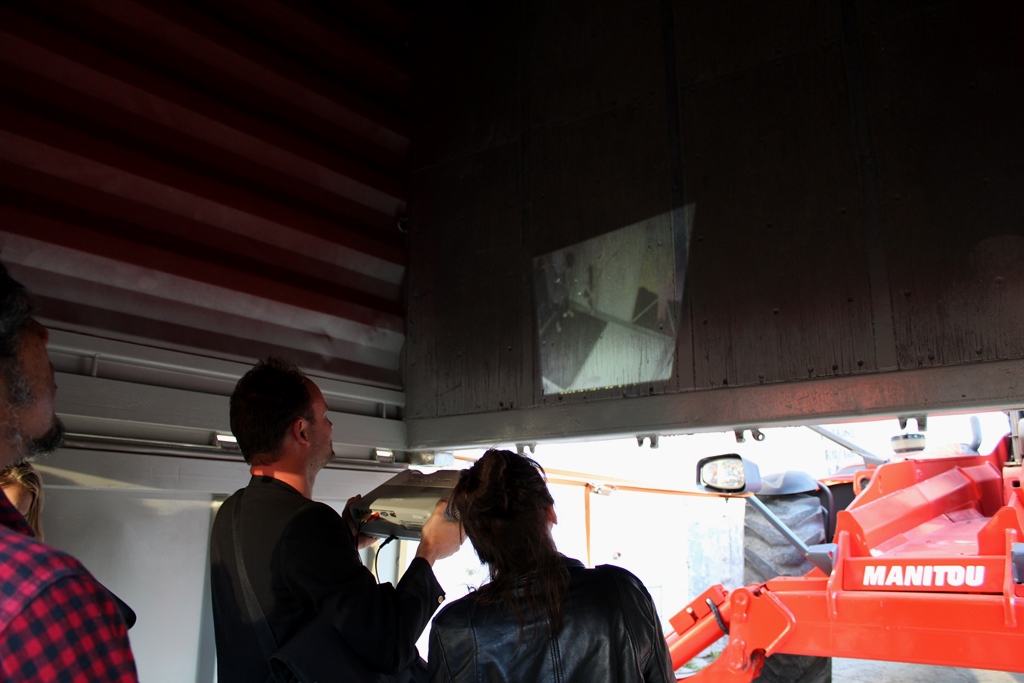 During the course of this event the following words were handed out to viewers/readers:
In the interests of honesty I will begin with the facts.
At the time of writing, this work exists as a video, a few diagrams, a Facebook event and the successful surmounting of a bureaucratic obstacle course.
One of two things containing certainty is that scheduled for a few hours on the 17th of October is the showing of a sculpture titled Liftup 0214187773. In this work, a shipping container is suspended in a crumbling parking lot on Buitenkant Street and in it a video is projected on a loop. By standing inside the (possibly groaning) machinery you will see man in black jeans, a white T-shirt and a butcher's apron wielding a stick with something softer than a stick attached to it. You will watch as he proceeds to make Art through gestures that resemble medieval torture, interpretive dance or elaborate food-preparation – I've heard art students describe this as 'mark-making'. It remains hard to tell if he knows he is being watched. In the white-noise of the surveillance footage we cannot hear his breathing but there is no hysteria in his movements.
This carries on for a few minutes. A drawing falls to the ground, he tosses it and carries on. The violence does not appear choreographed but it is neat.
I am at my desk but in putting myself in your shoes I can imagine this work come into being. This is all so modern. We're at the edge of home-time traffic in a city that has been described as a 'design capital', a Global Destination. There is a discreetly gated museum across the road, the neon lights of a tavern are humming on one side of us and some sort of design shop (?) is sleeping on the other. The corner of that shop's window provides you with the Instagram handle of those responsible for the display. We are standing at the winning end of a millennium of fashioned and improved-upon tools. Liftup 0214187773, however temporary, can be measured in metric tons, it's the by-product of 'progress', 'engineering', 'innovation' and other words used in brochures for German vehicles and transnational mining operations. The title of the sculpture is the result of brute commerce; advertising was swapped for discounted rates through deft negations.
Consider, Reader, that what you hold now, the piece of paper in your hands, is borne of an orgiastic combination software and hardware. This moment is the aftermath of carbon footprints, digital signatures and the continued thriving of innumerable industries. Our communication is miraculous and commonplace.
Stay with me, hold the page a little closer, I have shifted in my seat for and from the agonising sincerity of this moment.
Tradition holds that I speak to you from the pages of an art magazine or authoritatively describe The Work to you from the 'art and culture' section of a website. But this evening I am addressing you personally, Reader, because the distance placed between us is a myth and Liftup 0214187773 is the proof.
I have told you of one thing of certainty; the other thing is that 

You are here.

In its conception, Liftup 0214187773 makes reference to Vito Acconci, Bruce Nauman and various writings by elegant and lauded Frenchmen. Like the movements that conspired in its making, this work is fleeting – but the endeavor behind it is not.
This is not an art opening. There is nothing to purchase here. There is nothing to take away from this interaction adie from a drink and a letter handed to you by a stranger. There is no pat on the back, being here does not make you interesting. See, together we are beholding. In this instalment of the Open Dialog Box, all the planning, timing, scheduling is dressing for the incalculable.
Reader, all the visible infrastructure of 21st century living, the manufactured ideas of high-culture, the years of aesthetic theory and the best curated graces of 'art-goerism' cannot fully account for the fact that you have placed yourself in (mitigated) danger in order to experience something that calls itself Art. 
In my last conversation with Jaco, he told me about pursuing an algorithm that would make it possible to tap into the musical potential of the universe. Now you have seen him, skirt-clad, clubbing sheets of canvas so tell me, in what way is this different from the shamanic shudderings that motivated the painted caves of Sulawesi?
Regarding 

Us

, despite the glistening accoutrements of our modernity and the bleeping rectangles in our pockets ready to provide us with the answers to any questions we may think to ask, it needs to be asked how is this act of looking different from the votive gaze of Nongqawuse?
You may have noticed that in the course of this century we've been told about the death of many things. The most recognizable names in our libraries and course-readers; the people who occupy the first entries of our google search results and the various commentators on 'Culture' have given us luminous arguments about the death of Art, the author, God and autotone. Yet here we are. We have left our workplaces, gyms, couches and pets to prolong this fucking Monday from the sheers expectation of wonder. We have departed from the ease of the known and routine in an attempt to witness something new, to feel something unexpected, to be somewhere not yet mapped. We are gathered in a dusty parking lot fulfilling a prehistoric imperative.
Wherever you stand on whatever ladder you subscribe to, whatever set of statements and catechisms constitute your beliefs, 
You are here
. The irresistible impulse that's responsible for the fired moth at the bottom of your light fixture; that reflex urge to suck on a papercut or hover your hand over a hot stove; the pressing need to remember a sunset after thousands days of being is manifested here. Whether you hate this or love it, whether it is meaningful or derivative, whether you are stuck or numbed, bored or excited, fixed in helpless incomprehension or unspeakable resonance, 

You are here

, this is happening and You have made it.
You have always made it. You will continue to make it still.