In preparation for the Carved: Lino and woodcut group exhibition, Robyn Penn spent time in the David Krut Workshop (DKW) working on a lino print.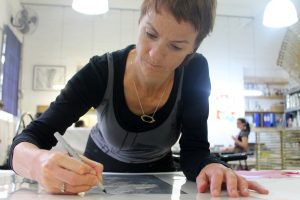 C'est n'est pas un nuage, 2015, Linocut
This image is adapted from a plate made back in 2011 and was part of her Pretty World solo exhibition.   The body of work was centered on the subject of clouds; c Clouds appear as her subject matter and as metaphor for the distractions she negotiates daily.  She describes her work as a product of "the madness of the space [she] works in," a small home studio in an apartment where she is surrounded by the constant interruptions of domesticity and the streets below.
'Ceci reiste pas un nuage' was initially printed black and white, this year, she has revisited it to add color using chine colle, this will serve to lift the image and push it in a different direction to make a variation to what it was.
Penn works closely with photographic reference; she draws an image from a photograph and transfers it to a lino mat or draws directly onto the lino and then carves into it.
She expresses the pleasure she had in playing with color, finding which color works best with for the image.
Penn looking through test prints, to decide which color works best
Master Printer Jillian Ross and Robyn Penn sorting through color tissue.
More on Robyn Penn's work
http://davidkrutprojects.com/artists/robyn-penn
12 Feb 2015