Upon returning to New York City from my first semester of graduate school at the Rhode Island School of Design to intern at David Krut Projects New York, in Chelsea, NYC for my winter studies session, I was quite excited by the exhibitions that were on show. Specifically I was interested in Chris Ofili's exhibit at the New Museum, here in New York City. Previous to viewing Night and Day, a retrospective of sorts by British artist Chris Ofili at the New Museum in NYC, my relationship to his work was more formal, or conceptual due to his appropriation of art historical images rather than emotionally driven.
Upon entering the exhibit, it  became impossible for me to deny the tremendous, overwhelming, immediate emotional response to both the sheer volume, ouevre of subject matter, and deftness of hand in his newest works. Clearly, there was a shift, a change, something similar to the title, there was both night and day at play in Ofili's show. His earlier works exemplified his mash-up style, mixing appropriated art historical images, highly decorated backgrounds, collaged media and use of elephant dung. Set in a brightly lit gallery, these earlier works represented the day in the title of the show.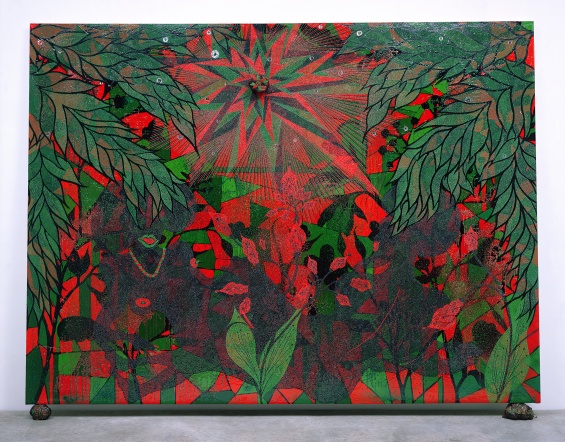 Installation detail, Chris Ofili's 'Night and Day' Retrospective at the New Museum, NYC.
Moving through the floors of the museum to his most recent works, dusk set in. The mood and lighting of the gallery spaces became subdued, and quiet set in as I viewed works inspired by his series from 2005, 'The Blue Rider' . Installed together for the first time, these nine large scale paintings speak to formal qualities of both sight and paint through the use of darkly hued blues and violets. In keeping with his previous subject matter, these pieces were inspired by time spent in Trinidad as well as literally interpreting the blues of music. His newest works follow a distinctly Post-Impressionist influence in the languid, exotic and abstracted representation of figures upon differently patterned backgrounds. His figures drip and glide off the canvases, conversing with themselves as the backgrounds move independently forward and back, creating a space that vacillates between present and past, foreground and background.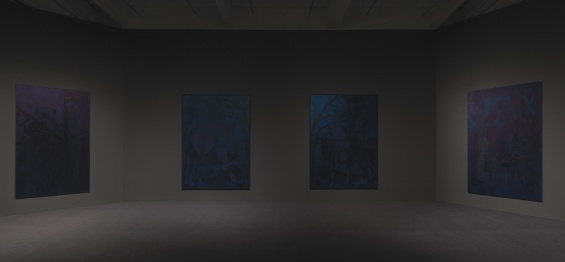 Installation detail of Chris Ofili's 'Night and Day' retrospective at the New Museum, NYC. Paintings from 'The Blue Rider' series.
Ever an interesting artist to follow, I look forward to seeing what comes next. Meanwhile, take a look at David Krut Projects collection from the portfolio 'Paradise By Night.'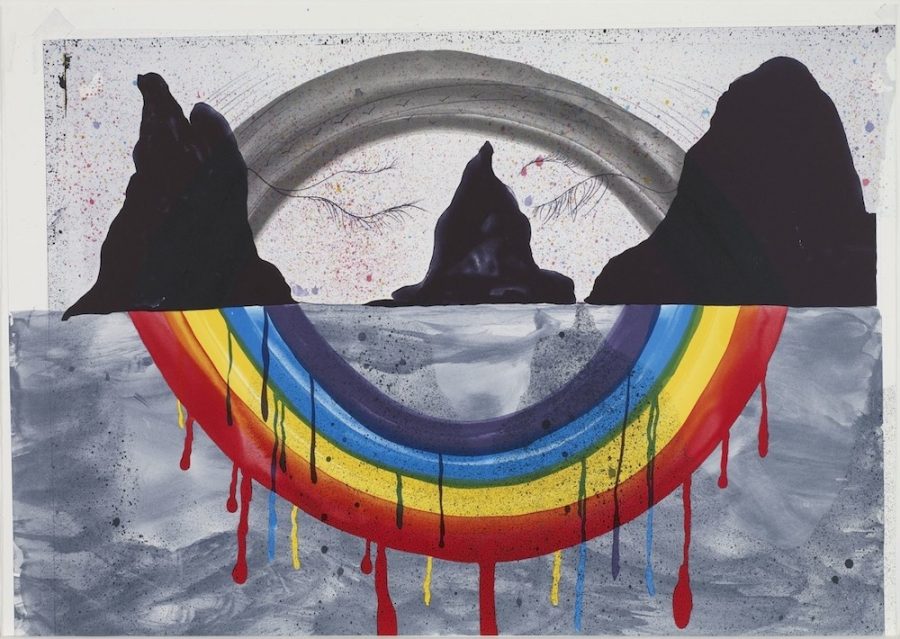 Chris Ofili, When (From Portfolio: Paradise by Night, includes 10 poems and 10 prints), color lithograph, 2010.
Posted by Hannah Bigeleisen, David Krut Projects New York Intern Winter 2015.