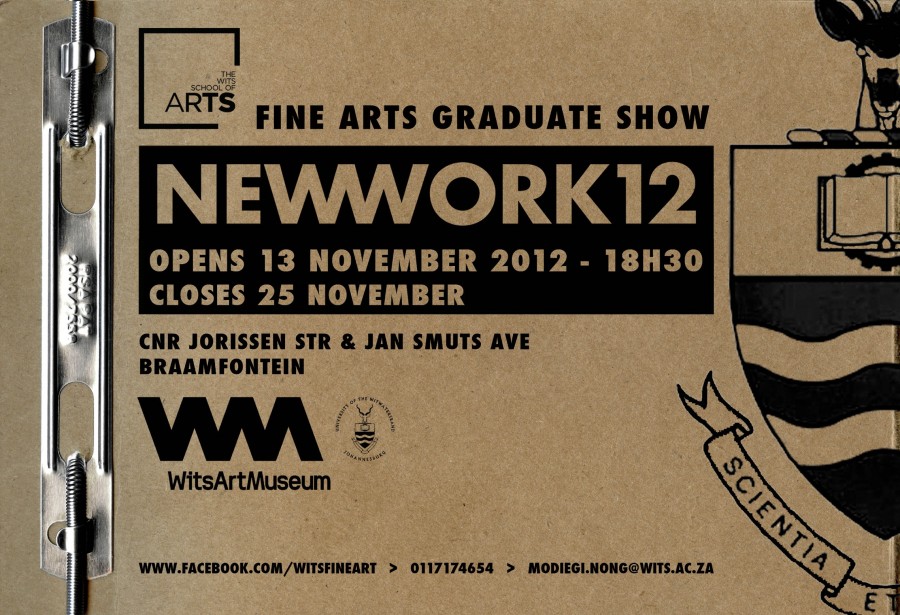 NEWWORK12 FINE ARTS GRADUATE SHOW – WITS SCHOOL OF ARTS
WITS ART MUSEUM, BASEMENT GALLERY
OPENING 13TH NOVEMBER 2012 – 18H30
EXHIBITION CLOSES 25TH NOVEMBER
TALKABOUTS ON SATURDAY 17TH AND 24TH NOVEMBER – 12H00
NEWWORK12 is an exhibition of the work of graduating 4th year Fine Arts students from The Wits School of Arts (WSOA) Division of Visual Arts (DIVA). It marks the most important moment in an art student's career: their graduation. For the first time, this
NEWWORK12 is a group show with a difference. The works on exhibition are diverse, innovative and challenging. From full blown institutional critique, to personal dramas played out with nuance and subtlety, the works seriously take on ideas, concepts and formal concerns that resist neat order­ing even within this institutional context. The work spans a range of media: printmaking, painting, photography, sculpture, installation, performance as well as conglomerations of these media, which are mobilized to challenge numerous positions and perspectives. From how urban space is construct­ed to how our identities shift, are unsettled and unresolved. Personal, political, formal or colloquial, the work can be seen as a snap shot, a provisional incursion into the creative concerns that shape a moment.
NEWWORK12 can be seen as a statement of intent, a sign for what is to come from a group of tal­ented young artists. The students and staff of the Division of Visual Arts at The Wits School of Arts, invite you to the 2012 graduate show.
*************
WSOA emphasises comprehensive practical training (at both an undergraduate and postgraduate level) combined with intellectual and academic rigour, and the school's graduates are among the top professionals working in the arts world. Some well-known graduates of the Division of Visual Arts programme include Tracey Rose, Senzeni Marasela, Clifford Charles, Jane Alexander, Candice Breitz, Paul Emmanuel, Kendell Geers and many others. Furthermore, WSOA encourages interdis­ciplinary partnerships allowing for professional relationships and collaborations to develop and continue beyond graduation.
A first this year for NEWWORK is the involvement of the fourth year Arts Management students from the WSOA Division of Dramatic Art in marketing the exhibition. In addition to course work, the Arts Management students participate in traineeship programmes to prepare students for the profession­al world of work – teaching them how to operate within organisations and developing skills enabling them to create their own livelihoods.
For more information contact Matilda Nong on 0117174654 or [email protected]