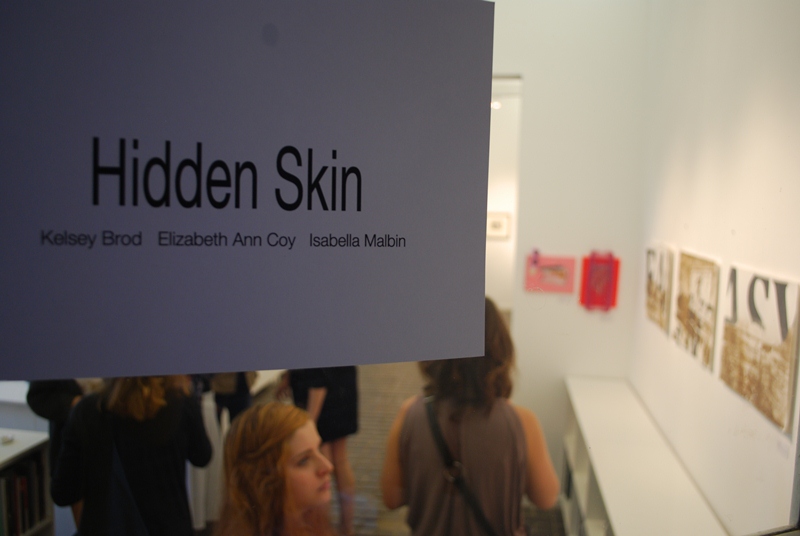 On Friday 1 June, David Krut Projects Cape Town hosted a one-afternoon exhibition of work by three American students who have been on exchange at Michaelis for the first semester of 2012.
Hidden Skin showcased painting and printmaking completed by the students as part of their time spent in Cape Town.
Elizabeth Ann Coy is a third-year Painting major at the University of Southern California.  Being abroad allowed her to realize and understand the close relationship she has with her mother. Painting in visceral gestures with fleshy colors and provocative material was a
way of figuring out herself in respect to the relationship she has with her mother.
Kelsey Brod is a third-year Printmaking and Environmental Studies major at Washington University in St. Louis. Kelsey's work, "FAN-ANT-ASY" is a silkscreen and carborundum triptych, made in response to her experience in Cape Town. She had the following to say about the work:
My work for Hidden Skin uses images from my experience in Cape Town with part of the word "fantasy" in appropriate and ironic plays.  The photos are taken from AfrikaBurn, Milnerton, and Kalk Bay (respectively).  I studied the South African environment and environmental management at UCT, and I look at these images I have taken and see beauty in the landscape, natural and unnatural.  But when I think about the images, I wonder whether the beauty is superficial because I know that bringing 5,000 people out to the Karoo damages the environment, and I know that managing shorelines is extremely cost inefficient and futile and such a symbol of man's quest to dominate nature, and I know that there was a forest fire on table mountain that day.  It ends simply and perfectly (in my mind) with "ASY" because the image is of a sea.
Seas, oceans, water accept these plays, tensions, ironies as one body, and everything crashes into something seemingly cohesive, and you feel calmed.  But also the sea can spit back these plays, tensions, and ironies and you realize its sublimity.  This calm to chaotic,
accepting to diminishing cycle of the sea almost mocks human thought. I think, then, maybe the piece doesn't end with "ASY," but rather lingers only to begin again."
Kelsey has moved on from Michaelis to an interning post at David Krut Print Workshop at Arts on Main. Her work from Hidden Skin will feature in an upcoming exhibition at David Krut Projects Cape Town, entitled Cross-Currents.
The following images are from the afternoon event held at David Krut Projects Cape Town.