As part of a very busy travel schedule for 2012, Faith47 and DALeast have spent some time in Melbourne for the Carbon Festival and their collaborative show, Antenna Garden, at the RTIST Gallery.
In her work for Antenna Garden, Faith47 is exploring scratchings on walls – 'marks left behind by vagrants and stowaways, emotional scrapings, subliminal words scribbled in jest that betray the underlying breath of the city.' DALeast is inspired by the relationship between the material and spiritual worlds and the infinite space that surrounds us. Using different mediums, disciplines and spaces, the couple exhibit for the first time in Australia. The exhibition will consists of found objects from their Australian visit woven together with unique surfaces and painted stories.
Faith47 is also currently interested in the symbolism of trees and what nature can teach us, a theme that comes out in her new 7-storey high mural entitled "When Winter Comes". The mural is located in Prahran in Melbourne.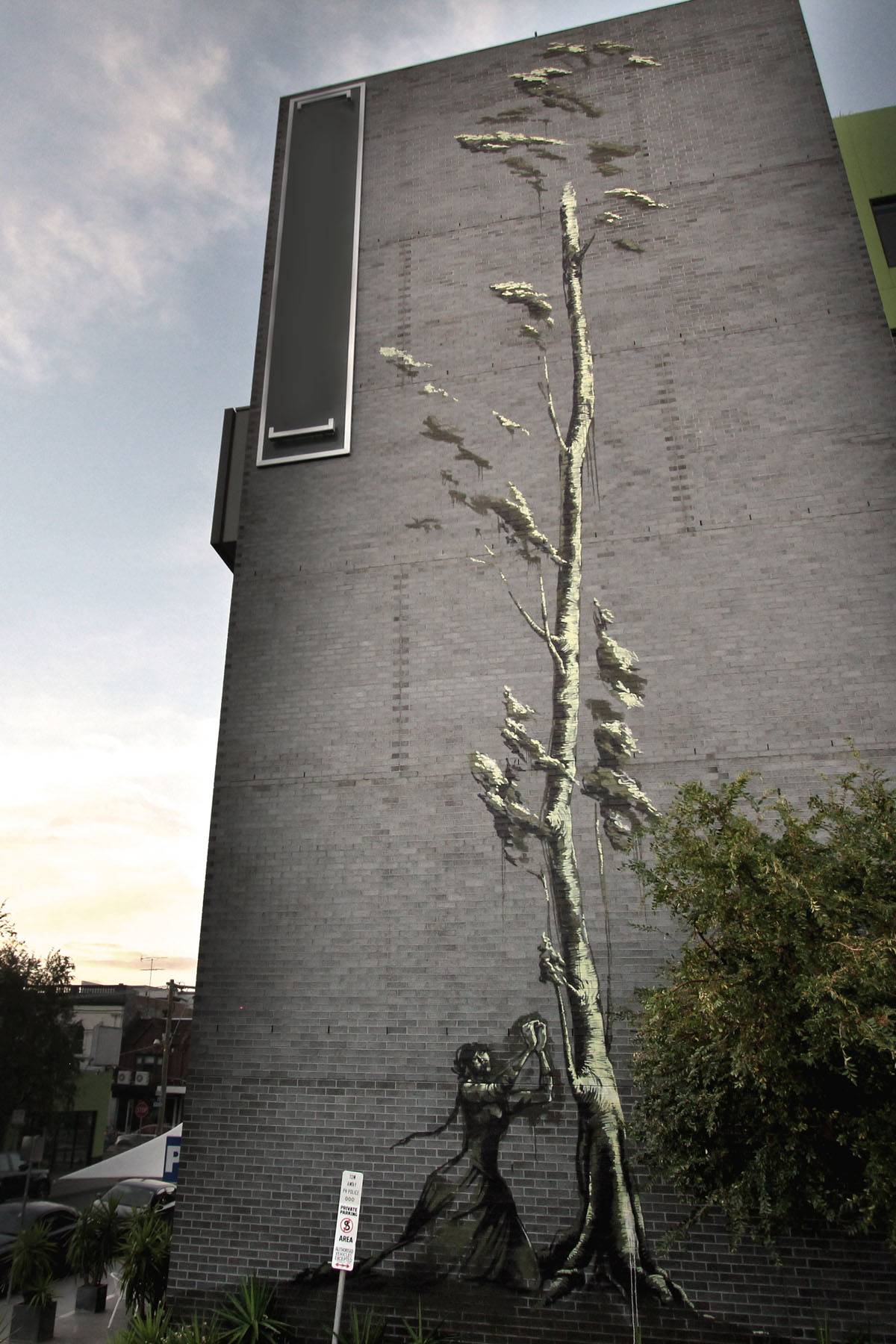 This year, Faith47 has also participated in International Woman, a group show at Warrington Museum in London and Crossing Borders at the MSAGallery in Paris. After her time in Melbourne, she will be travelling to Tel Aviv to take part in the Catro Mural Project, to Stokholm for the group exhibition Kulturhuset, and to Melun in France, Rochester in New York and Lima in Peru for further mural projects. Towards the end of the year, Faith47 will have a solo exhibition at David Krut Projects, Johannesburg.
The following video documents the time the artists spent in Melbourne.
DAL EAST & FAITH47 – ANTENNA GARDEN – MELBOURNE 2012 from FAITH47 on Vimeo.